If you're planning your first trip to Jordan to see the sandstone city of Petra, the High Place of Sacrifice, the Treasury, and the Royal Tomb, remember you may need to apply for a Jordan visa to enter the country.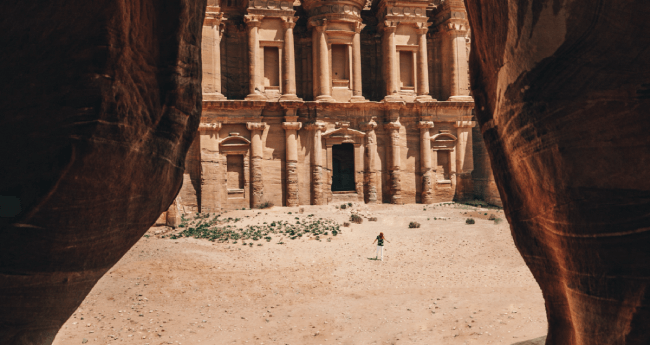 Let's learn to walk before we can run towards Jordan's dream-like landscapes. To enter Jordan, a Ghana citizen must apply for a Jordanian visa. The electronic travel document grants you plenty of time to explore the majestic country.
Here is everything you need to know about the Jordan visa policy, visa requirements, and the step-by-step process to get your visa online.
What COVID-19 travel restrictions should I consider before traveling to Jordan?
Due to the COVID-19 pandemic, all passengers arriving in Jordan must obtain a Jordan Health Declaration Form, whether they're foreigners or nationals. It is no longer mandatory to quarantine or present negative PCR test results or proof of vaccination to enter Jordan.
Visitors will also need health insurance. As COVID-19 requirements can change overnight, we recommend checking your airline and relevant government websites for the most up-to-date information before your trip.
What is the Jordan visa?
The Jordan visa is an electronic travel authorization that all citizens of Ghana need to obtain before their trip to Jordan. The Jordan Tourist Visa is a Single Entry visa valid to visit the country for a maximum of 30 days Per Entry.
You cannot obtain a Jordan tourist visa on arrival as a Ghanaian and must apply for this travel authorization before entering any port, including the Queen Alia International Airport, the country.
How do I apply for a Jordan tourist visa?
There are three steps to complete when applying for your Jordan tourist visa with iVisa. They are:
Application: Use your passport and national ID to complete our digital form. In the form, you must complete fields related to your personal information and travel details, so having the documents handy will help you avoid making mistakes.

Confirmation: Review your application form carefully and confirm that all the details are correct. The most common errors in visa applications are misspellings of names and last names and mistakes when filling out the dates of birth and passport numbers. You want to avoid discrepancies between your visa application and personal documents, which can result in the visa being rejected.

Payment: After confirming that all your personal and travel information is correct, you'll be asked to upload any supporting documents, select your processing time and pay the visa application fee.
Make sure the documents are legible before uploading them to your application. The scans must have no glares or smudges that will prevent immigration officers from reading them.
What are the Jordan visa requirements?
To qualify for a Jordan tourist visa, you must meet the visa requirements. You will need:
a Passport valid for at least six months after your date of arrival in Jordan.
Proof of Residence.
National ID Card.
Email address to receive your Jordan visa.
A credit or debit card to pay the visa fee.
What are the processing times and fees for the Jordan Visa?
The Jordan tourist visa has a government fee of USD 3. You will also be charged a processing fee by iVisa, which varies depending on how fast you want to receive your Jordan Visa.
There are three processing options to choose from:
Standard Processing costs

USD $53.99

and takes

7 days

.
Rush Processing costs

USD $88.99

and takes

5 days

.
Super Rush Processing costs

USD $129.99

and takes

3 days

.
These costs include the government fee. After we receive your application, one of our visa experts will review and process it. If we find any errors, we'll reach out to you via email and help you fix them at no extra cost.
There's no need to visit a Jordan embassy, as the Jordan tourist visa application is processed entirely online. Once your visa is ready, you will receive it in a PDF document via email.
Besides your Jordan tourist visa, you will also need to apply for a Jordan health declaration form, which you can also get through iVisa.
To extend your stay in Jordan after your arrival, you can request a visa extension at a local police station. You must bring your valid passport and electronic visa. Please note that you may need to pay an additional visa fee.
If you're interested in working or studying in Jordan, you will have to reach out to your local Jordan embassy to apply for a work or student visa.
Can I apply for a visa on arrival?
The visa on arrival is only available for citizens of certain countries. U.S. citizens may be able to get a 30-day Jordan visa on arrival. Unfortunately, Ghana is not on the list of countries that can do so.
Those who can get a visa on arrival should note that not all ports of entry process a visa on arrival. For example, if you arrive through King Hussein/Allenby Bridge land border crossing, you won't be able to obtain a visa on arrival.
What is the Jordan Pass, and how is it different from a Jordan Visa?
The Jordan Pass is a travel document implemented by Jordan's Ministry of Tourism to promote international travel. It includes a tourist visa and discounts to enter Jordan's most popular attractions. You can also apply for a Jordan pass online as you would for a Jordan Visa.
With the Jordan pass, you can visit Jordan only once, as it is also a single entry visa.
Where could I find more information?
You can use our visa checker tool to see what else you may need besides a Jordan visa. If you require human assistance, you can also reach out through the chat bubble on our website or via email and speak to our customer support team, who is available 24/7 to answer.