Are you ready to travel to a destination full of magic? Do you want to visit destinations in a country where you can enjoy mountains, beaches, archeological wonders, and more? Then, Jordan is the place for you if you are traveling abroad!
But you must know that as an Iraqi citizen, you must have a health certificate and a tourist visa to enter the country.
If you don't know how to get these travel documents, don't worry. At iVisa, we have a group of experts who will help you through the entire application process and dispel any doubts you may have. So choose us and get ready to travel soon!
If you want to know more about this product and iVisa, please continue reading this article.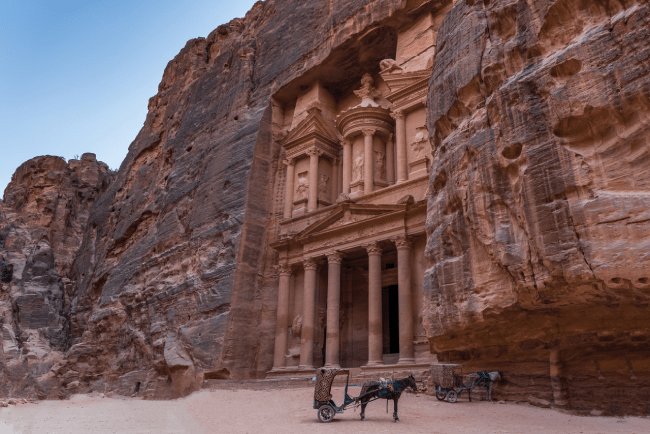 Everything you need to know about the Jordan Tourist Visa and more
Continue reading about the country's requirements, prices, documents, and COVID-19 travel restrictions. You will always be in the company of our experts if you need something else.
What is the Jordan visa, and how to obtain it?
The visa for Jordan is an electronic travel document that allows you to enter the country for tourism purposes such as leisure, adventure, animal sighting, or visiting friends or relatives. If you do not have a residence or occupation in Jordan, you need to apply for this document as an Iraqi citizen.
The Jordan Visa is only valid for a Single Entry for a maximum period of 30 days Per Entry. This means once you leave Jordan, you cannot enter again with this document.
Please remember this document is not a residence permit, visa on arrival, or student visa. For that, you will need to go to the nearest Embassy and ask for information.
iVisa makes it easy to get a visa. Just follow a few simple steps, submit the required information, and then we'll process your visa. We need your personal information, processing time, required documents, and a means of payment. It takes 20 minutes or less.
Does everyone have to apply for this type of document?
A small group of countries is exempt from the visa requirement. These countries are Bahrain, Egypt, Kuwait, Lebanon, Oman, Qatar, Saudi Arabia, Palestinian Territories, Turkey, and the United Arab Emirates.
However, everyone must apply for a tourist visa for the country. Regardless of age, each passport holder must have a visa. But if the minor cannot complete it alone, the parent or guardian will have to fill it out for him.
What documents do I need to apply for this travel document?
You will need to present the following documents with your application form:
Valid photo - You must present a passport-size photo no older than six months. You can request one from our photo service if you do not have one.

Valid passport - You must scan your passport with at least 6 months of validity remaining on the date of travel, and have 2 blank pages minimum.

Flight and hotel reservations - It is vital to have a round-trip ticket as well as a hotel reservation with information about the destination and length of stay.

Bank statement - You must be able to justify that you have enough money to pay for your trip through a statement of work or savings account.

Other documents - You may need to submit an official letter confirming everything is correct and a criminal record certificate to the Jordan Embassy.

Email - You must provide your email address, so we can deliver your visa or contact you if necessary.

Payment method - To pay, you only need to have a credit or debit card.
What is the cost of this travel document for Iraqi citizens?
There are 3 processing times available. These are as follows:
Standard Processing Time: USD $53.99 – 7 days.

Rush Processing Time: USD $88.99 – 5 days.

Super Rush Processing Time: USD $129.99 – 3 days.
When is the best time to visit Jordan?
If you want to visit the eastern desert region, the summer heat is less oppressive than in other areas. However, it is still a strong climate, so it is advisable to go between April and November. You can discover the eastern desert of Jordan and its ancient buildings decorated with frescoes, mosaics, and marble built by the first Arab rulers while walking through a cool climate.
Other exciting attractions are the castles, which were an oasis to rest and feast in the middle of the desert. They also served as a bridge for pilgrims on their way to Mecca. Feel like part of the culture by taking these tours with other tourists.
Another must-see destination is the city of Aqaba, known by Jordanian citizens as "the Jordanian beach," where the Red Sea is located. In addition to the city and the surrounding activities, you can enjoy its warm waters and rich marine life.
COVID-19 Requirements and Restrictions in Jordan
Jordan has no restrictions on entry for travelers, such as a negative PCR test on arrival, a vaccination certificate, or quarantine.
There are some requirements to be aware of before entering Jordan. You must have valid travel health insurance for your trip and a Jordan Health Declaration that allows the government to control the spread of COVID-19.
But we always advise you to check for the latest travel updates in the days leading up to your trip.
Where can I contact you?
If you have concerns about the Jordan visa or other products offered, we recommend that you contact our or customer service team or email us at [email protected]. Our experts are available 24 hours a day to assist you.