Want to travel soon to Jordan, but don't know how? Want to apply for your visa without having to leave your home? Well, we have the solution with our online application process.
Ready to visit the beautiful country of Jordan, but worried about how tedious applying for travel documents can be? You may just be in luck with Jordan.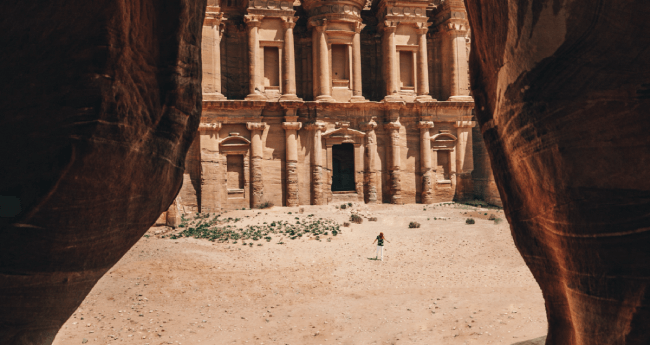 As a citizen of Pakistani national, you can apply for this document electronically. You can prepare for your trip from your couch and skip the long queues. So, what are you waiting for? Jump right in!
Here is everything you need to know about visiting Jordan as a Pakistani national, including the Jordan tourist visa requirements and prices and COVID-19 restrictions.
What is the Jordan visa?
The Jordan visa is an electronic travel document that allows travelers to enter the country for tourism purposes, such as leisure, adventure, animal spotting, or visiting friends or relatives.
As a Pakistani citizen, you must apply for this document if you do not have a residence permit or work in Jordan. This is not a business visa, a visa on arrival, or a student visa.
Travelers can use this single entry travel document for a maximum stay of 30 days Per Entry.
Does everyone have to apply for this type of document?
Not all countries must apply for the Jordan e-visa to travel to Jordan. A small group of countries is exempt from the visa requirement. These countries are Saudi Arabia, Bahrain, Egypt, United Arab Emirates, Kuwait, Lebanon, Oman, Qatar, Palestinian Territories, and Turkey.
Since Pakistan is not on the exempt list, all citizens, including minors, will need to apply for a Jordanian tourist visa to enter the country. Each passport must have a visa.
How to apply for a Jordan visa?
The visa application process at iVisa is straightforward. You just need to follow a few simple steps to submit the requested information, and then we will take care of your visa.
Documents needed to apply for the Jordan visa?
These are some Jordan Visa requirements you will need to include in the application:
Valid photo—You must present a passport-size photo, not six months old. You can request one from our photo services if you do not have one.
Valid Passport—You must scan your passport, have at least six months of validity remaining on the date of travel, and have at least two unmarked visa pages.
Copy of the DNI—You must scan your DNI as well. This data must be the same as the passport.
Accommodation information—You must have a hotel reservation(s) with destination information and length of stay.
Travel reservations—It is essential to have a round-trip ticket.
Bank statement—You must be able to support that you have enough money to pay for your trip.
Other documents—You may need to submit a visa application letter to the Jordan Embassy, a police character certificate, or a bank account maintenance cover letter.
Email—You must provide your email address to deliver your visa to you or contact us if we have any additional requirements.
Payment Method—To pay on iVisa, you only need a credit or debit card.
What is the cost of this travel document for Pakistani citizens?
This document can be processed through 3 processes, which vary in price depending on the processing time. These are as follows:
Standard Processing Time:

USD $61.99

–

7 days

.
Rush Processing Time:

USD $103.99

–

5 days

.
Super Rush Processing Time:

USD $150.99

–

3 days

.
This cost includes two parts: the mandatory embassy visa fee and the services fee.
When is the best time to visit Jordan?
If you wish to travel to the country's north and visit Amman, the best time to visit is spring and autumn. Temperatures are delightful at that time.
Amman is a modern and conservative city at the same time. You can enjoy a dynamic cultural life with cafés and bars during your visit. You can also discover the Roman theater and visit the National Museum before heading to the mountains north of the country.
Another exciting destination is the center of Amman here. You will find travelers from all over the world walking through the streets full of mini-stories, where you can buy a souvenir for your friends or family. You can also visit the Souq el Dahab, a nice place in the city's center, with showcases full of gold, silver, and other precious stones. Also, a must is the King Hussain Mosque and the seven mountains.
COVID-19 Requirements and Restrictions in Jordan
According to the country's medical authorities, Jordan is a country without any restrictions. You do not need a negative PCR test on arrival, vaccination certificate, or quarantine.
However, there are other requirements. For example, all travelers must enter the country with valid medical insurance for the duration of the trip. Also, you will need to apply for the Jordan Health Declaration, a document that allows the government to control the COVID-19 spread.
However, this information can change quickly, so we always advise you to check for the latest travel updates in the days leading up to your trip.
Where can I contact you?
If you have any questions about the Jordan visa, the Health Declaration, or other products offered, we recommend contacting our or customer service team at [email protected]. Our experts are available 24 hours a day to assist you.