Did you know that Jordan has some of the most beautiful destinations in the world and is home to one of the seven wonders of the world? Do you want to visit places like the Dead Sea and Petra but don't know how? Well, this article will answer your questions.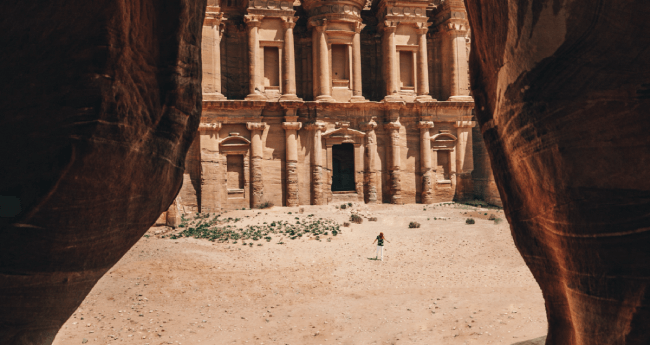 iVisa strives to offer the best travel document process and advice on the market with our comprehensive guides about the travel documents you need for your trip.
For example, you require a visa to enter Jordan for tourism as a Nigerian citizen. If you don't know how to get this travel document, don't worry! At iVisa, we have a fully online process to help you get it.
This process can take a long time at embassies and consulates, but with iVisa, that is not the case. You can apply for a Jordanian visa from the comfort of your home or work without moving. Keep reading if you are wondering, "how can I get a Jordan Visa as a Nigerian citizen?"
About the Jordan tourist visa
From visa application requirements, prices, and required documents, to COVID-19 restrictions, here's everything you need to know about preparing for your trip to Jordan.
What is a Jordan tourist visa?
A Jordan tourist visa allows visitors to enter the country for tourism, including adventure travel and animal-watching. A Nigerian citizen must also apply for this visa if they wish to visiting friends or relatives in Jordan.
However, you won't need a tourist visa if you are employed in Jordan or have a Jordan residence permit. The tourist visa is not a visa on arrival. This single-entry travel document allows you to enter the country for a maximum of 30 days Per Entry.
Who needs to apply for a Jordan visa?
A small group of countries is exempt from the visa requirement. These countries are Bahrain, Egypt, Kuwait, Lebanon, Oman, Qatar, Saudi Arabia, Palestinian Territories, Turkey, United Arab Emirates, and the United Arab Emirates.
Since Nigeria is not among the exempt countries, all Nigerian citizens must apply for a visa to enter Jordan. Each passport must have a visa of its own associated with it. Minors who cannot apply alone will need their parent or guardian to do so on their behalf.
How to obtain a Jordan tourism visa?
To apply for a Jordan visa with iVisa, follow these simple steps. First, provide us with basic personal information and details about the Visa you require. Then we will take care of the rest by submitting your application to the appropriate authorities on your behalf. We will also email you the information necessary to complete this process.
What documents do I need to apply for this travel document?
Valid passport—You must present a Nigerian passport with a minimum validity of 6 months from the date of intended arrival. You must have two blank pages for visa stamping at the border.
Passport photo—You must have passport-size photographs (45 × 35 mm in dimension) taken with white background. If you do not have this type of photo, iVisa provides a photo service.
Proof of financial support—It is essential to present proof that you have the financial means to support yourself on the trip.
Proof of accommodation—You must present all the reservations you have made during your stay.
Copy of your return airline ticket—You must present your round-trip airline ticket.
Other documents—You need documentation showing ties to your home country and a document confirming the purpose of the trip.
Email address—You must provide your email address for visa delivery.
Payment method—To pay on iVisa, you require a credit or debit card.
What is the cost & processing time of the Jordan visa for Nigerian citizens?
The Jordan visa has a government charge of USD $3.00. If you apply with iVisa there are three options to process your document, which vary in price depending on how quickly you want it done. The total prices depending on the processing time you choose are:
Standard Processing Time: Takes

7 days

and costs

USD $53.99

.
Rush Processing Time: Takes

5 days

and costs

USD $88.99

.
Super Rush Processing Time: Takes

3 days

and costs

USD $129.99

.
When is the best time to visit Jordan & what places should I see?
If you want to have fun in the south, remember that it is a desert and temperatures can get very high in summer. It is best to travel in spring or autumn to truly enjoy the theater of Petra, the royal tombs, and all the other treasures of this beautiful city. You can also visit Wadi Musa, where you will discover the magnificent oasis, splendid landscapes, and many dunes.
Another destination of interest is the Dead Sea, which is 304 meters deep and is considered the deepest hypersaline lake in the world. Travelers from all over the world come to float on the Dead Sea. It is known for having great health benefits from the salt and minerals in the water.
COVID-19 Requirements and Restrictions in Jordan
Jordanian authorities have lifted restrictions on entry to the country, such as the need to present a negative PCR test upon arrival or a vaccination certificate.
As you plan your trip to Jordan, you will only need to purchase an international health insurance plan that covers any COVID-19 risk and a health plan.
To make sure you know about any changes to COVID-19 restrictions and your travel plans, we advise you to check our website in the days leading up to your trip.
Where can I contact you?
If you have questions about iVisa services, we recommend contacting our or customer service team at [email protected]. Our experts are available 24 hours a day to assist you.
Remember to also read about the Jordan health declaration and Jordan Pass to be more confident about planning your trip to Jordan from Nigeria.