Do you want to visit Kazakhstan and enjoy its incredible tourist attractions? Well, the first thing you'll need to do is to have all of your papers up to date in order to travel with peace of mind.
As an American citizen with iVisa, we offer you the Health Entry Pass, a mandatory health document that the government of Kazakhstan requires for all travelers entering the country.
The iVisa application process is extremely user-friendly. Just follow three simple steps and then leave everything in the hands of our experts.
If you want to know more about this document, keep reading this article.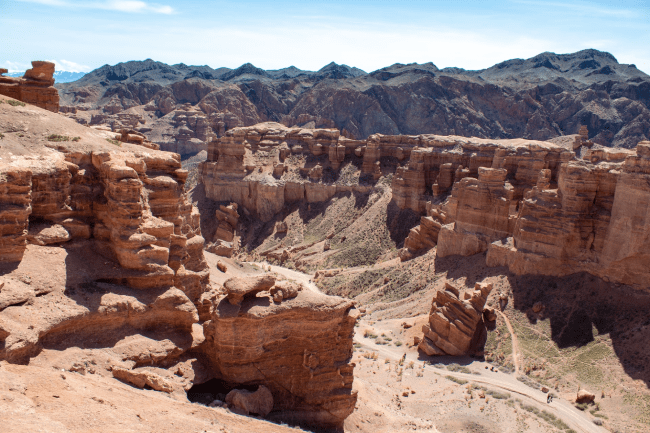 Everything you need to know about the Kazakhstan Health Entry Pass and more.
Continue reading about the travel document application requirements, processing time, required documents, and COVID-19 restrictions.
What is the Kazakhstan Health Entry Pass, and how to obtain one?
As a foreign traveler, you need to complete this entry document at least 72 hours before departure. This document is a way of registering your current health status with the Kazakhstan Government. Therefore, border guards may ask to see proof of your completed form when you arrive in the country.
You'll need to fill out a new Kazakhstan Entry Health Card each time you enter Kazakhstan. This does not replace a tourist visa for foreign citizens. Please keep in mind US citizens do not need a tourist visa to enter Kazakhstan.
When you get your vHealth Entry Pass, you'll be given a QR code that you must show at airport check-in and upon arrival in Kazakhstan. The process is online, so you can do it from any electronic device. You won't need any other internet sites to get your travel document.
To apply for a vhealth pass at iVisa, you only need to provide us with some basic personal information. Then, we will confirm the information and make the payment for the process. And finally, just wait for us to finish the process in the given time, and we will email your travel document with a QR code attached.
Does everyone have to apply for this type of document?
All travelers must apply for this travel document in order to enter the country. You may be delayed at the border if you do not have it. Unlike multiple entry visas, you can only enter once with this document.
This document is not age specific. Therefore, both minors and seniors can apply for it. If they cannot fill it out independently, a family member or friend can help them complete the form.
What documents do I need to apply for this travel document?
To apply for this travel document, you will need to submit the following information:
Valid passport – We need your personal information to complete the form. The passport works as an official ID. You don't need to have blank passport pages for this travel document.
Flight information – We need the flight information and flight number.
Email - You must provide your email address to have the document sent to you.
Payment method - To pay on the iVisa platform, you only need to have a credit or debit card.
What is the cost of this travel document?
This travel document can be processed 3 different ways, depending on your budget and needs:
Standard Processing Time:

24 hours

–

USD $29.49

.
Rush Processing Time:

8 hours

–

USD $52.99

.
Super Rush Processing Time:

4 hours

–

USD $89.99

.
When is the best time to visit Kazakhstan?
If you want to travel to discover the fauna and flora, you must choose your travel date wisely. To enjoy the sighting of bears, lynxes, argali, as well as wolves, wild boars, and much more, you should travel between May and September. Moreover, if you are very lucky, you may encounter snow leopards and antelopes.
A perfect place for this type of visit is the Ustyurt Plateau, a desert region between the northern part of the Caspian Sea and the Aral Sea, full of abnormal areas and traces of ancient civilizations. During the tours here, you will be able to see different animals.
You can also find Kaindy Lake, located in the center of Kengei-Alatau, which was formed by an earthquake in 1910. The tall trees were not completely submerged: their tops stick out above the lake. This new natural attraction has allowed some unique fauna to grow, attracting different animals to the area.
COVID-19 Requirements and Restrictions in Kazakhstan Jordan
According to local authorities, no entry restrictions are currently in place.
However, to avoid any problems with the migration police, we recommend that you consult this information before traveling to the country. You can find updated information on our website or other external links.
Where can I contact you?
Suppose you have concerns about the Health Entry Pass or are looking for other documents such as a work or residency permit, we recommend contacting our customer service team or writing to us at [email protected]. Our experts will assist you at any time.