German citizens, like most of the nationalities in the world, can travel to Kenya without going to an embassy to apply for a visa. Instead, you can apply for a Kenya visa online. Using iVisa's services means that you can get your travel document in just 2 hours. All you have to do is to fill in an on online application.

Frequently Asked Questions
What is a Kenya e-Visa?
A Kenyan e-Visa for the citizens of Germany is an authorization document that allows travelers to visit Kenya.
What are the requirements for the online application?
Before you go ahead and access the application page to fill in the form, we recommend that you put together everything that iVisa asks of you for the online process. You only need the following:
Valid passport – you cannot apply for a Kenya visa online unless you are a passport holder. Furthermore, the passport needs to maintain its validity for at least another 6 months from the arrival date in Kenya.
A scan of your passport's information page – you will have to upload it at some point during the application process.
A digital photo of yourself – you need to make sure that the picture is taken as recently as possible.
A return flight ticket – this just ensures the immigration officers that you plan to not overstay your visa.
Proof of accommodation – this can either be a hotel booking or an invitation letter from your host in Kenya.
Travel itinerary – this does not have to include every little activity you will do while in Kenya. Just the cities you plan to visit.
E-mail address – the Kenya visa arrives via e-mail in PDF format, and you need to print it out.
Means of payment – iVisa accepts multiple methods of payment. You can use a credit/debit card, PayPal, Alipay, or WeChat.
What are the fees and processing times ivisa offers?
You are provided with three options:
Standard processing – this is the slowest option you have at hand, but most people go for it because it is also the cheapest. Your application is processed within 6 Business Days, and the cost is USD $133.19.

Rush processing – this time, things move a little bit faster. You receive your [Kenya Visa] within 4 Business Days since you submit your application. You are charged USD $189.19 for this option.

Super Rush processing – this is the fastest option you can choose, but the most expensive as well. Your request is processed within just 2 Business Days, the price will be USD $228.19.
How is the online application form for the citizens of Germany?
iVisa created a 3-step application form that you should finish in about 20 minutes. However, you should know that our customer support is at your disposal 24/7, and it is entirely free of charge just in case you need some help or have some questions.
As mentioned above, there are three steps you need to complete.
The first one wants your personal information, as well as passport info and some details about your trip. You are also required to make a choice as far processing time goes, a factor that weighs in the cost of your Kenya visa.

The second step consists of payment and revision. You have to be very careful with the information you provide because any discrepancy between your visa and your passport or ID card leads to an invalid travel document.

Finally, the third step is the moment when you have to upload your application's supporting documents such as the copy of your passport and the digital photo. When you are done, you can hit the submit button, and iVisa will take it from there.
How long is the Kenya e-Visa valid for?
The Kenya eVisa fro the citizens of Germany is valid for 90 days after issued.
How many times can I entry the country with this eVisa?
This is a Single Entry. Meaning you can only enter once to Kenya.
How long can I stay with the Kenya eVisa?
This eVisa allows you to stay for a maximum of 90 days in Total.
What if I want to stay longer?
You may apply for an extension inside Kenya at the Immigration Headquarters in Nairobi. But remember that as a visitor you can only stay for a maximum of 6 months. Unfortunately, we cannot help you with this extension.
What reasons are acceptable for applying to this eVisa?
If you are going for tourism, business, education, employment, religion, medical, settlement/family and "other", it's acceptable to apply for a Kenya eVisa.
Do I have to apply for my children?
Yes, you need to apply for them. Every visitor needs to apply for a Kenya eVisa, regardless of their age.
Can I see an Kenya e-Visa sample?
Sure, here it is: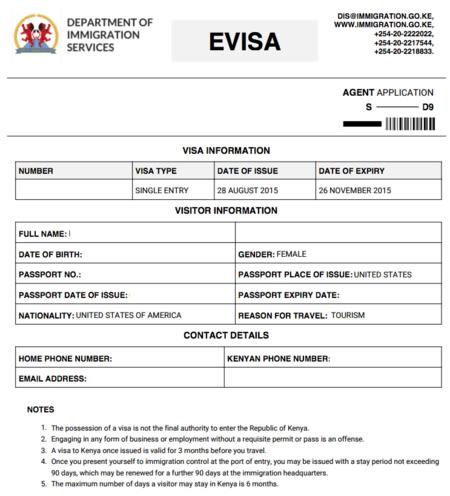 If I have more doubts, where can I look up more information?
You can always contact our customer service for a private chat and a faster response. They are always available and will happily help you with any doubts. If you want more answered questions you can click here.
The bottom line is that the Kenya visa application for the citizens of Germany is a piece of cake when you choose iVisa as your visa service. We will help you get through this stressful process so you can focus on your trip!