If you want to go on a safari in an African country, you shouldn't overlook Kenya, as it is an excellent destination for this type of tourism. Now, keep in mind that if you are arriving as a citizen of China, you will most likely need the Kenyan eVisa to enter this place.

This document is not complicated to obtain because it only requires minimal effort if you use iVisa.com. We can guarantee that this is the document that works like the Kenya Visa for Chinese citizens since you don't need a Paper Visa if you have a Chinese passport.
Do you want to know how to apply for the Kenya Visa for Chinese citizens? Then we invite you to keep reading this article.
Frequently Asked Questions
What is a Kenyan eVisa?
An eVisa is an electronic travel authorization that gives you the opportunity to enter this African country through a Kenyan entry point. This document is available through online processes like the one iVisa.com offers.
What are the requirements to obtain a Kenya visa for Chinese citizens?
Like any eVisa process, a set of requirements is necessary. We advise you not to rush things and go through them one by one. For a successful application process, it's important to first put together the requirements, and only after that, move on to the application form. You will only need the following list:
Valid passport: you cannot apply for a Kenya eVisa online unless you have a valid passport. Furthermore, the passport needs to be valid for at least 6 months from the arrival date in Kenya.
A scan of your passport's information page: you'll have to upload it during the application process.
A digital photo: you need to make sure that the picture is as recent as possible. You can receive help by using iVisa.com's passport photos.
A return flight ticket: this just confirms that you don't plan to overstay in the country.
Proof of accommodation: this can either be a hotel booking or an invitation letter from your host (e.g. friend/family) in Kenya.
Travel itinerary: this doesn't have to include every little activity you will do during your trip. Just the cities you plan to visit.
E-mail address: you receive the Kenya eVisa via e-mail in PDF format, and you'll have to print it out. That's why you must offer a valid email address.
Means of payment: you can pay for this eVisa with Paypal or a debit/credit card.
What are the processing times and fees to get a Kenyan eVisa?
The amount of money you will spend on your Kenya eVisa depends on the processing time option you choose when applying. iVisa.com has three alternatives and you're free to decide which one is the best according to your travel plan. They're as follows:
Standard processing: this is the basic option and you'll wait only

6 Business Days

, and the cost is

USD 100.49

.
Rush processing: this processing time is faster. By choosing this one, you'll get the Kenya eVisa in

4 Business Days

. That's why the price will be

USD 109.99

.
Super Rush processing: if you want to get your document asap, this is the best option. Your application is processed in only

2 Business Days

, but the price goes as high as

USD 194.99

.
What are the steps for the application form?
Once you feel ready with the documents required, you can fill in the application form. This process is easy enough to make you spend only 15 minutes of your day. Don't worry if you have doubts while applying, in that case, you can contact iVisa.com's customer support for help using the online chat function. The service is open 24/7 and you don't have to pay anything extra to message us.
This online form has 3 easy steps:
The first one asks you to offer your general information. You also have to select the processing time for your online form.
The second step is based on payment and revision. Remember iVisa.com accepts different means of payment, including Paypal. Don't forget to review your form to avoid mistakes.
The third and last part of the process is to upload the documents that support your application.
When you are done, submit your request, and iVisa.com will work on the rest so you can relax and wait for your Kenyan Visa for Chinese citizens via email inbox.
How long does the Kenya eVisa stay valid for?
The Kenya eVisa is valid for 90 days after issued. If you want an extension, you can apply for it only at the immigration headquarters in Nairobi. Nevertheless, you should know that in that case, you'll probably be able to stay as a visitor for a maximum of 6 months.
Is the Kenya Visa for Chinese citizens valid for single or multiple entries?
The Kenya eVisa only has a Single Entry permission. If you want to visit Kenya on another occasion, you'll have to apply once again as the eVisa you issued before will be already used.
Do I need to get a special vaccination to visit Kenya?
This will depend on the countries you've visited before, but most of the time you'll need a Yellow Fever Vaccine. Try to make sure that you have this vaccine ready before applying for the Kenyan eVisa.
Do you have a sample of this eVisa?
Yes, of course. You'll receive something similar to this image via email: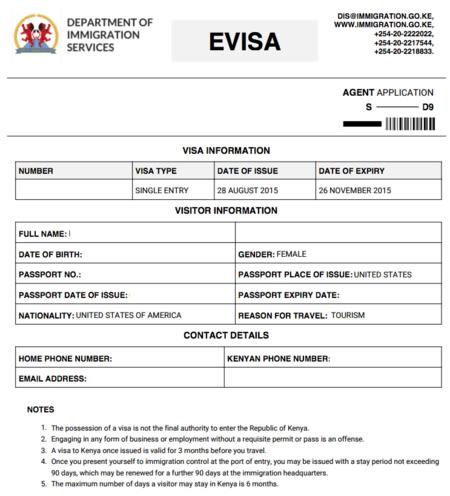 Where can I have more information?
Do you still have doubts about this online process? Click here to get all the information you need.
You can see now that a Kenya Visa for Chinese citizens is easy to obtain when you apply on iVisa.com. We'll help you with the stressful processes and leave you with the planning of an adventurous trip. Get ready to have an experience of a lifetime and give us the chance to make that possible!