As an Egyptian citizen, you are given the opportunity to apply online for a Kenya visa if you wish to spend your vacation there. That is because you are eligible for an electronic visa (eVisa). iVisa puts its services at your disposal so that you can enjoy a smooth and fast application process.

Frequently Asked Questions (FAQs)
What is an eVisa?
A Kenyan eVisa is an authorization document that allows travelers to enter Kenya.
What are the requirements for this eVisa?
The requirements for a Kenya eVisa for Egyptian citizens are the same as for everyone else. You need to put together a set of documents and information that are required during the online application process. Here is what you need:
Passport – travelers who want to get a Kenya eVisa online must have a valid passport. The travel document needs to remain valid for at least another 6 months from the date of arrival in Kenya.
A scan of the information page of your passport – iVisa will ask you to upload it when you fill in the application.
A digital passport photo – there are a few rules for this requirement as well. For example, the picture needs to be taken recently.
Return flight ticket – this will make the immigration officers believe that you plan to go back to your country before your visa expires.
Proof of accommodation – you can use a hotel reservation confirmation or, if you stay with family or friends, you can have them write an invitation letter.
Travel itinerary – you must write down the cities you wish to visit while in Kenya.
E-mail address – iVisa will send you the Kenya eVisa via e-mail in PDF format, which is why you need a valid address to which you have access. You need to print out the document before departure.
Means of payment – iVisa accepts multiple methods. Credit or debit cards are accepted, but you can use PayPal, Alipay, or WeChat too.
How much does it cost to get a Kenyan eVisa with iVisa?
iVisa gives you three options so you can choose which one suits your trip the most. Keep in mind that the choice you make establishes how much you will be charged for your Kenya visa. Here are your options:
Standard processing – most applicants go for this option because it is the least expensive. Your Kenya visa is ready within 6 Business Days, and you are charged USD $109.19.

Rush processing – if you go for this option, your application is processed within 4 Business Days, but the fee is USD $153.19.

Super Rush processing – being the fastest option means that it is also the priciest. Your application is processed within just 2 Business Days, but you are charged USD $202.19.
How's the iVisa application form?
After you succeed in putting together all of the above, you can proceed to the application page where you can fill in the form. The task should not take more than 20 minutes to complete, but if you feel like you need some help or have some questions, feel free to contact iVisa's customer support. The service is available non-stop and free of charge.
The form you are asked to go through consists of three steps.
The first one wants only your personal information and to choose between the three processing time options mention above for your application.

When you get to the second step, you need to take care of the payment, but you also have to ensure that there are no mistakes in your form. If you do not review your form, you may miss some errors, and they can invalidate your visa.

The last step is reserved for documents upload. iVisa needs the supporting documents of your application. As soon as you provide them, you can submit your request, and iVisa handles the bureaucracy that follows.
How long is the Kenyan eVisa valid for?
This eVisa is valid for 90 days after issued.
How many times can I entry the country with the eVisa?
This is a Single Entry. Meaning you can only enter once.
How long can I stay with this eVisa?
You can stay a maximum of 90 days in Total.
What happens if I want to stay longer?
An extension may be granted inside Kenya at the Immigration Headquarters in Nairobi. But remember that as a visitor you may only stay a maximum of 6 months.
What reasons are acceptable for applying to a Kenyan eVisa?
If you are going for tourism, business, education, employment, medical, religion, settlement/family and "other", you are free to apply for an eVisa.
May I see an Kenya eVisa sample?
Here it is: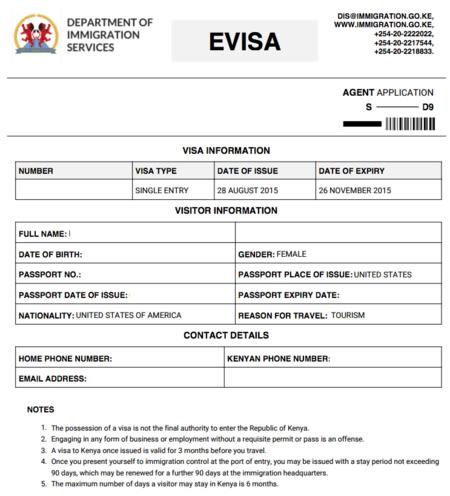 Do I have to apply for my kids?
Yes. Every traveler needs to apply for a Kenyan eVisa.
Do you have more doubts?
Feel free to contact our customer service. They are always available and will gladly help you fill in your questions. If you want more information you can click here.
As you can see, there is nothing challenging about the process of getting a Kenyan eVisa for Egyptian citizens. The Kenya eVisa remains valid for 90 days since issue and you can use it for a single entry. Once you arrive, you can stay for up to 90 days. iVisa takes all the heavy lifting part of this process for you. Trust us and have the adventure of your life in a beautiful country.