Jomo Kenyatta International Airport, formerly known as the Nairobi International Airport, is Kenya's largest airport and also the busiest airport in East Africa. It is named after the 1st Kenyan Prime Minister and President, Mr. Mzee Jomo Kenyatta and is located 15 kilometers southeast of Nairobi. Remember to check if you need a visa to enter.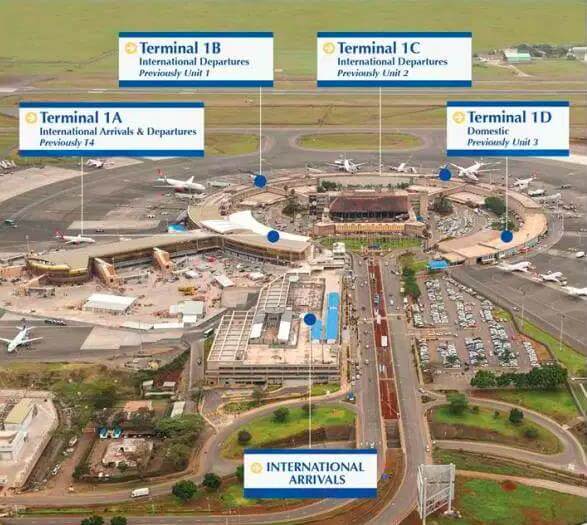 The airport consist of 5 different units:
Terminal 1A, 1B and 1C: International departures and arrivals, check-in counters, with security checkpoints, etc. It has 3 levels with parking facilities, duty-free shops, food court and more.

Terminal 1D (Previously known as Unit 3) - Domestic flights and check-in desks

International Arrivals - International Flight Arrivals/Immigration: this is where you will land when arriving in Kenya in an international flight
Frequently Asked Questions (FAQs)
How can I know if I need a visa for Kenya?
You will be eligible for an eVisa depending on your nationality. To check that, please use our Visa Checker. Select your nationality and Kenya as your destination to check the information.
What is the Kenyan eVisa?
This eVisa is an authorization document that allows visitors to travel to a Kenyan entry point.
Is a Yellow Fever Vaccines Required for Kenya?
Depends. Yellow fever is a risk in certain parts of Kenya, so it is always recommendable to get the yellow fever vaccine if you plan to travel to Kenya.
IMPORTANT NOTE: The Kenyan government requires proof of yellow fever vaccination if you are traveling from a country with risk of yellow fever. See HERE a list of countries.
How many entries does the Kenya Visa hold?
The Kenya Visa is for Single Entry only, and it grants a maximum stay of 90 days in Total.
How long is the Kenya eVisa valid for?
Visa for Kenya is valid for up to 90 days after issued.
What do I need to apply for the Kenyan eVisa online?
In order to apply online for your visa to kenya you will need all of the following:
A digital copy of your Passport Photo.

Scanned copy or photo of the main page on your passport (the page with your photo, name, and biodata).

A credit/debit card or a Paypal Account.

Additional Documents e.g. Invitation letter, Hotel Booking or travel Itinerary, flights, etc.
What are the processing times and prices?
We offer three options:
Standard processing – your visa application is processed within 6 Business Days, and the price is USD $108.19 (service fees included).

Rush processing – you will receive your visa within 4 Business Days, and the total price of it is USD $147.19 (service fees included).

Super rush processing – this is the fastest option. You will get your eVisa in only 2 Business Days, and you will be charged USD $191.19 (service fees included).
Click here to start your application.
How can I apply for a Kenyan eVisa?
You need to follow these steps:
Apply online by completing a simple and quick online form.

Check that all information provided is correct and pay for your online Kenya visa application.

Upload additional documents.

Receive your visa via email.

Print the visa
What happens after I have applied?
Once the application is done, you will receive the Kenya eVisa by email. No need to deal with the embassy. We do it for you so you don't lose valuable time.
Is it safe to use iVisa to get my Kenya eVisa?
Many people think that online information leaks and that their personal info is at risk of getting into the wrong hands. However, that is not the case with our services. We provide maximum safety for your personal data, confidentiality, and we invest a lot in the security of our database. Your personal information could not be safer. You can check what hundreds of happy customers say about us here.
I have more unresolved questions, where can I find more info?
For a faster resolution click here and start chatting with one of our customer service representatives. Alternatively, you can find more info and FAQs here.