Belgium is world-known for its chocolate truffles, and also for having some of the world's most stunning castles. If you're in search of a musical destination, it was in Belgium where the saxophone was invented, and you can keep an eye out for saxophone sculptures decorating your path.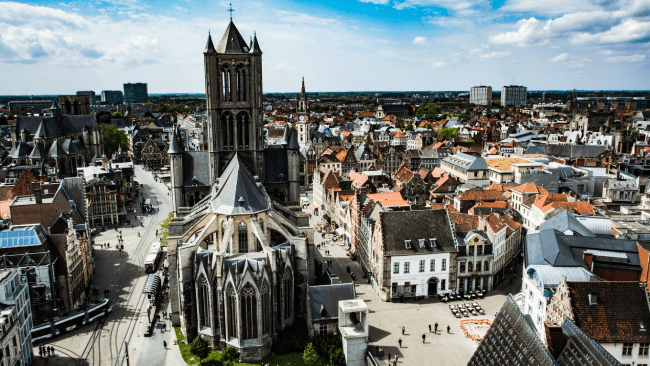 And yet, not everyone can plan a trip to visit medieval cities from the XIII century or see the EU headquarters up close. That's the advantage citizens of Kiribati have by being part of the Schengen visa-exempt program, that they can discover every corner of Belgium.
But just as the world and technology are continuously changing, so do travel requirements. To continue visiting the Belgian wonders, citizens of Kiribati will soon have to apply for ETIAS documentation. Don't be scared because it's all done digitally, because with iVisa.com you can find a straightforward application process to continue your quick journey.
In this article, you will find important FAQs that will guide you to understand in detail everything about ETIAS, from its limitations to how to apply online.
FREQUENTLY ASKED QUESTIONS
Why must citizens of Kiribati apply for ETIAS?
All foreigners traveling from visa-exempt countries and wanting to arrive at any of the Schengen countries must soon first apply for an ETIAS. It's a new security measure implemented by the Schengen states to increase their local security, reduce illegal immigration, and eliminate terrorism. Any traveler wanting to land in the Schengen territory must have already applied for the ETIAS and have it at hand on their mobile phone when arriving.
Can I visit all EU countries with a Belgium ETIAS?
Traveling with an ETIAS allows the foreigner to visit any of the countries that are part of Schengen. You may visit multiple times any of the Schengen Zone states, some of which may or not be part of the EU.
Must I present my passport to get the ETIAS?
Because the ETIAS is a digital document, its application is also done virtually. It's not likely that you'll need to present your passport, but it must be biometric, and you will need to provide the number. Your application will be analyzed through international immigration databases to validate your data.
For how long is the ETIAS valid for citizens of Kiribati?
Although the ETIAS authorization is valid from the duration of your trip to a maximum of 3 years to visit any of the Schengen states, because its purpose is for travelers on a short stay basis, you must limit your visits to 90 days. If you want to stay in one or many countries for more than 90 days in 180 days, you will need to apply for a long term visa.
Can citizens of Kiribati visit Belgium twice a year with ETIAS?
Traveling with an ETIAS allows you multiple entries to any of the Schengen zone countries under the only condition that you can't stay more than 90 days in a 180 day period.
How complicated is the Belgium ETIAS application process?
The ETIAS application process will be very simple for preparing a trip to Belgium and any other Schengen country. The application is filled out online, and by following a simple form.
Apply by using the iVisa.com platform to ensure a fast and easy process, as well as being able to request an even quicker application processing time.
These are the steps to follow:
1.Fill out the online form with your data, and select a processing time for your ETIAS application.
Standard processing - the document is ready in 24 hours
Rush processing - your ETIAS authorization is ready in 4 hours
Super rush processing - you can receive your ETIAS within 30 minutes.
2.You then have to double-check that the data included in step one is correct, and make the online fee payment.
3.The third step is for you to fill out a poll and send any additional information the ETIAS will request from you. The final step is to click on "Submit".
You have finished your application; now, just wait to receive the ETIAs within the processing time you requested.
Is the iVisa.com website safe?
We are aware of all the threats and hackers there are on the internet, that's why we use state-of-the-art security measures at every step of the process, on our platforms, and in our data centers. This way, your data stays confidential and secure from any hacking.
We understand your doubts. To answer any questions, you can see some of our clients reviews about our service, or even contact the 24/7 user contact service to help you.
I still have unresolved questions, where can I find more info?
The internet is an ample space where you can find information regarding the ETIAS for citizens of Kiribati. But we don't want you to get confused with so much information, so please write us a message, and we can contact you with specific data that will solve your doubts. There is also more information about the ETIAS on iVisa.com's website.