In 2016, the Government of Kuwait gave the facilities for more than 50 countries (including those from the Gulf Cooperation Council) to apply online for a Kuwait eVisa. This has helped a lot of tourist people to get their eVisa in a short time. In some cases, people get confused and frustrated because they do not know how to apply or which documents they need to get this eVisa. Fortunately, our iVisa.com website has the perfect tools to make your processing time easier and practical. Just fill out a simple form with your data and then we will work on your eVisa.
Please continue reading this article and get all the important details for this type of eVisa.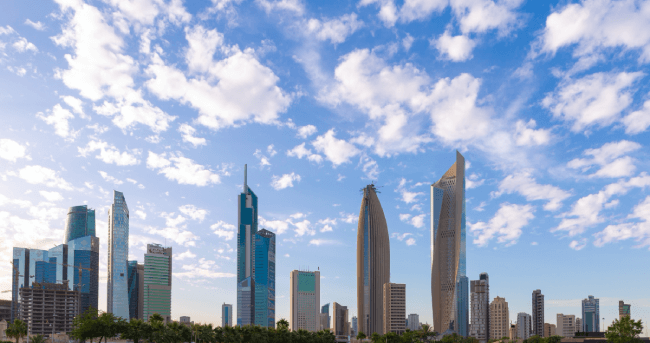 Frequently Asked Questions (FAQs)
Do I need a visa to visit Kuwait?
All will depend on the nationality you have. To check if you are eligible for an e-visa, please see our Visa Checker.
What is the electronic visa?
The eVisa is an authorized document that allows visitors to travel through a Kuwait entry point.
How long can visitors stay in Kuwait with an eVisa?
They can visit this country and stay 90 days in Total. This eVisa also grants a Single Entry. Please keep in mind, that this eVisa only allows you to visit this country for tourist or business reasons (not for employment.)
What are the documents required to apply?
In order to complete your online application, we will need this info and documents:
GCC Residence (Valid Residency Card) - if applicable.
Credit/Debit card for the payment.
You may also need these documents:
Passport Personal Details Scan

Last Page of Passport (if applicable)

Birth Certificate (if applicable)
How long is the Kuwait eVisa valid?
You can enter in 30 days after issued the eVisa.
What are the processing times and prices?
We offer three options with different prices and processing times:
Standard processing:

8 days

-

USD 32.00

.
Rush processing:

6 days

-

USD 74.00

.
Super rush processing:

4 days

-

USD 104.00

.
All service fees are included. Click here to start your application.
How does the Kuwait Tourist eVisa work?
The Ministry of Foreign Affairs from the Kuwait Government issues all their eVisas electronically.
Luckily, our website uses the same system as the Government of Kuwait to process this document. The process works by entering the information from the applicant into Kuwait's eVisa system and after they revise it, we are notified of the outcome of the application.
How long does it take to apply for a Kuwait eVisa?
It will not take you more than 10 minutes. After you finish the submission of your form, we will take care of the rest! You do not need to be worried about the status of your application, because we will inform you of any advance.
How can I apply for a Kuwait eVisa?
The application form consists of three simple steps:
1. Complete your general data. Also, select the processing time from the options aforementioned.
2. Review your info and make the corresponding payment. We implement these options of online payment: credit/debit card.
3. Answer a questionnaire. And add other documents (this may change depending on individual circumstances.)
Click here to start. Finish the application form, submit it, and wait for your visa to arrive. In case you need assistance to fill your application, iVisa.com has a fantastic support service that you can call 24/7.
What happens after I have applied?
After you apply online, wait for us to send you the eVisa in the timeframe chosen.
How do I know if my visa is approved?
We will notify you by email as soon as the Kuwait government approves your visa. As soon as the Kuwait government approves your visa, we will send you the response in your email account.
I am traveling with children. Do I need to create a separate application for them?
Each adult visitor to the Republic of Kuwait is required to submit an eVisa application in their accounts. Parents are also allowed to make the application in the same form as their kids.
I made a mistake on my application. Can I modify the eVisa after it's issued?
Once your application is issued we can not change neither modify any information. However, if this happens to you, we recommend you to contact us as soon as possible by chat or email ([email protected])
Is it safe to use iVisa.com to get my Kuwait Tourist eVisa?
Of course! We provide total safety for your data privacy, confidentiality, and we invest a lot in the security. Please check what hundreds of our customers say here.
I have more unresolved questions, where can I find more info?
Click here and start an online conversation with one of our customer service team.