Since 2016, the Kuwaiti Government has allowed the use of the Kuwait Online Visa (Kuwait eVisa), which is an electronic document designed to speed up the Kuwait visa process. This recent system reduces time at border checkpoints and it also eliminates the visit to the embassy or consulate in person, making it a lot easier to visit Kuwait if you're a foreign traveler.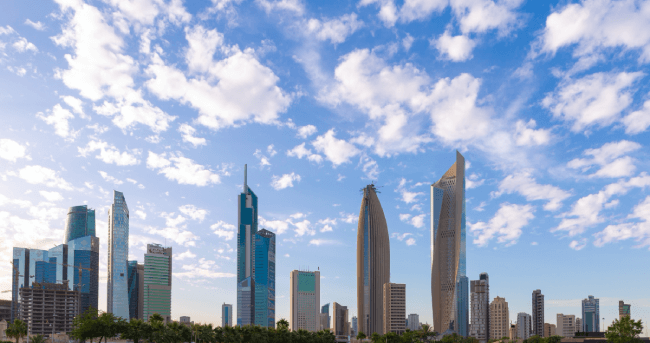 We invite you to read the following questions to learn more about the Kuwait visa process online and how to get the Kuwait eVisa easily with the help of iVisa.com.
Frequently Asked Questions
What are the current COVID-19 requirements to travel to Kuwait?
As the COVID-19 information changes often depending on your country of origin and other conditions, please go to our Kuwait eVisa page to receive the most recent details about this topic.
To learn more about the Kuwait visa process, please read the information below.
What is a Kuwait eVisa and how is the Kuwait visa process online?
The Kuwait eVisa is a travel authorization document that permits visitors to travel to Kuwait entry points. By having this document, applicants don't need to make an appointment or present original documents to the Embassy or Consular Office.
Applying for this document with iVisa.com is not complicated. The process is based on these three easy steps:
Step 1: Complete the online request form and select a processing speed.
Step 2: Review the information to avoid mistakes and pay for the fees.
Step 3: Upload and add the required items or documents to the form and click 'submit' to finish.
Receive your Kuwait e-Visa by email inbox. Then, present your passport and this document at the entry point once you arrive.
Learn more about the Kuwait visa process below.
What are the requirements to apply for the Kuwait eVisa?
Since the process is completely online, you won't need many things, only the following:
Copy of passport personal details (your passport's information page).
Your current passport with a valid expiration date.
A valid email address to receive the eVisa.
A credit/debit card to pay for your eVisa
What are the costs and processing times for the Kuwait eVisa?
The price varies depending on the processing speed you choose. As for the processing options, we offer the following:
Standard Processing Option:

USD 30.00

-

8 days

Rush Processing Option:

USD 70.00

-

6 days

Super Rush Processing Option:

USD 90.00

-

4 days
Learn more about the Kuwait visa process by reading the questions below.
Is it safe to use iVisa.com?
Yes, it is! We have an automated system that does not put the information in our database in danger, and we also have an incredible team ready to help you at any time. Visit our comments section if you have doubts about it!
Where can I learn more about the Kuwait visa process?
Don't worry if you still have doubts about the Kuwait eVisa or its process, we can help you at any time! Simply contact our agents via chat online or keep exploring iVisa.com.
iVisa.com Recommends
Kuwait is located between Saudi Arabia and Iraq, and it is one of the most ancient corners of the world, which is why it still attracts so many visitors each year. This nation may be as oil-rich as other countries in the Arabian Gulf, but it still has an architectural landscape that reminds you of old times with strong Muslim roots. In comparison to the neighboring countries, Kuwait has decided not to give in to commercialism, at least not the same way.
This Arabic country has a lot of interesting tourist spots, including the Grand Mosque in Kuwait city. It opened in 1986, and luckily, it completely survived the Iraqi invasion. Its extravagant features include a palm tree-lined courtyard, huge chandeliers from Germany, and teak wood from India. Since this is a sacred place, you can only visit it with authorized tours by knowledgeable staff. Be aware that women must wear an abaya and headscarf (both provided in the place). Other places you can visit in Kuwait include the Tareq Rajab Museum, the Kuwait Towers, and Mirror house.