The Government of Kuwait simplified the visa process in 2016 because since then this country has implemented the eVisa system. Therefore, more than 50 countries (including those in the Gulf Cooperation Council) can now apply online for a Kuwait eVisa.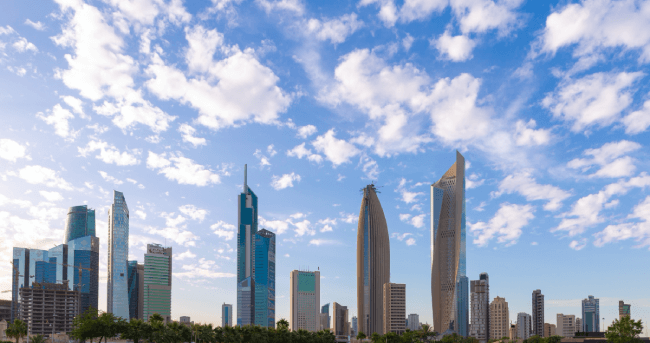 This has helped a lot of tourists to get their eVisa in a shorter time spending less effort than before. But, in some cases, people get confused and frustrated because they don't know how to apply or which documents they need to get this eVisa.
Fortunately, iVisa.com's website has the perfect tools to make your visa process easier and practical. All you have to do is to fill out a simple form with your data. The rest of the process, which tends to be the most complicated part, is up to us.
By reading this article, you'll be able to get all the important details about the Kuwait Visa Requirements.
Frequently Asked Questions
Do I need a visa to enter Kuwait?
It all depends on the nationality you hold. But, you can discover this information quickly by using our Visa Checker, a special tool that allows you to verify what documents you need to visit certain countries.
Its use is not very difficult. You have to select your nationality from the upper menu you see on the screen, and then select the country you want to visit (Kuwait in this case). Then, just wait a few seconds to see if you're eligible for the document or not. In this case, you'll soon know if you can apply for the Kuwait eVisa or not.
What is a Kuwait eVisa?
The eVisa is an authorization document that allows visitors to travel to Kuwait. This document works with an electronic system, so it's not necessary to visit an embassy to apply. In fact, you can apply from home by using services like the one we offer on iVisa.com.
What is the maximum-stay allowed with an eVisa?
All visitors who plan to visit Kuwait have a stay limit of 90 days in Total with a Single Entry type of visa.
Don't forget that these visits must be for business or tourism purposes, nothing else. It means that you shouldn't seek paid work, as it wouldn't be legal with this document.
If you want to study, live, or work long-term in Kuwait, we recommend you to contact the embassy. The Kuwait eVisa is a document that is only to be used for short-term stays. Remember that the eVisa has a maximum validity of 30 days after issued. This means that after these 30 days, your eVisa will expire automatically.
What are the Kuwait visa requirements?
One thing you have to consider before applying is that the list of requirements might vary from nationality to nationality. Plus, the following list includes some items that are necessary to receive your eVisa on time and pay for the service correctly:
You need a valid passport as it's probably the most important document on the list.
You also need a scanned copy of the passport bio page.
A GCC Residence (Valid Residency Card) might be necessary depending on your nationality.
Credit/Debit card or Paypal account so you can pay for the service.
An email address where you'll get your eVisa safely delivered.
What are the processing times and prices?
Another thing you have to consider when applying is the price. We never charge you anything unless you know the total price to pay. Besides, we don't offer only one option, but three depending on how fast you want to get your eVisa:
Standard Processing Time:

8 days

for a total price of

USD 32.00

.
Rush Processing Time:

6 days

of waiting for a price of

USD 74.00

.
Super Rush Processing Time:

4 days

for a price of

USD 104.00

.
Don't forget that our prices include all the fees. You can start the form on this link.
How does the eVisa system work?
The system that we utilize to process your eVisa is the official one announced by the Ministry of Foreign Affairs. What we do is to insert your information in this system, then the government of Kuwait reviews the application and notifies us of their response (which will be approval or rejection).
Will I need a lot of time to apply online?
No, you'll only need 10 minutes to apply. We'll take care of the rest and we'll also let you know about the process through email, including the approval or rejection of the application.
How is the application process?
Our application form has three easy stages:
Complete the first part of the form with your personal details. Also, select the processing time from the options aforementioned.
Review your info and make the corresponding payment in the second step. We implement these options of online payment: credit/debit card or Paypal account.
Upload the requirements needed in the last part. This might vary from nationality to nationality.
That's basically all you'll need to do, so don't worry about visiting the embassy, you won't need to. When you submit your application, your job is done. Then, just wait for us to send you your Kuwait eVisa by email in the timeframe chosen.
We will notify you by email as soon as the government of Kuwait approves your visa.
I'm traveling with kids, do I need to apply for them separately?
Each person visiting Kuwait needs to apply for an eVisa, even children. Parents can apply online for their children or any other person, you just need their personal information and the required documents (mentioned above).
If I made a mistake, what could I do?
As we can not change or modify any details on the eVisa once it is issued, immediately contact one of our customer service representatives if you make a mistake while applying. You can also contact us at any time, especially if you have concerns or queries while completing the form.
Can I trust iVisa.com's services?
We provide total safety for your data privacy, and we invest a lot in the security of our database. You can see what thousands of customers say about us here.
If I still have doubts about the Kuwait visa requirements, what can I do?
If you still want to see more information about the Kuwait visa requirements, then we invite you to keep reading our blog page. You can also click here to go directly to the chat function and start an online conversation with one of our customer service agents.