If you plan to travel to Kyrgyzstan in the near future, you must check if you need a visa or not. According to the visa policy of Kyrgyzstan, 62 nationalities are visa-exempt, and if you are among them, you may leave without a visa for up to 90 days or even indefinitely, depending on your nationality. If not, you need to apply for a Kyrgyzstan visa.
Learn more about this document by reading the information below.

Frequently Asked Questions // FAQs
How can I know if I'm eligible for this eVisa?
You can know this information by using the iVisa's Visa Checker. This is a tool that allows you to know if you need an eVisa or not.
You only have to enter this link and write your nationality in the first field of the drag-down menu. After that, you'll know at once if you can apply for this eVisa.
What are the requirements?
In case you need a Kyrgyzstan eVisa, you'll need the following:
Applicant Photo

Passport Personal Details Scan

Selfie holding the physical credit card used for the transaction is need to verify payment. Only the last 4 digits of the credit card must be visible in the picture. Only one image is needed per order. (if applicable)
You'll also need a valid e-mail address and a payment method (credit/debit card or Paypal Account) if you apply with iVisa
What are the processing times and fees?
The following information is based on the processing times and fees for Indian nationals who want to visit Kyrgyzstan for tourism, but this also works great to perceive a general idea of the prices and times. Nevertheless, if you prefer to check more details about it according to your nationality, then we recommend you to click here and pick your nationality from the drag-down menu.
Standard processing – this option ensures that you obtain your Kyrgyzstan visa in

9 Business Days

. The cost is

USD 86.50

.
Rush processing – if you choose this alternative, your application is processed within

7 Business Days

and you have to pay

USD 116.50

.
Super Rush processing – in case you want your eVisa as fast as possible, this is the best option you have at hand. Your application is processed in just

5 Business Days

. As you can imagine, this is the most expensive option as well. It costs

USD 151.50

.
How much time do I need to apply?
You only need a few minutes to complete the online form. Most of the time, you won't need more than 20 minutes.
How can I apply?
While there are a few requirements that you need to meet in order to get your Kyrgyzstan e-visa, one of them entails an application form. However, you don't have to worry about it. iVisa designed a simple and short application form so that you do not waste too much time completing it.
Furthermore if you need any help with the form, iVisa puts at your disposal an excellent support service. It's available 24/7, and it is entirely free of charge.
The Kyrgyzstan eVisa application form from iVisa consists of three easy steps:
The first one covers your personal information such as name, address, date of birth, passport info, and some details regarding your trip. At this point, you must also select one of the processing time options iVisa puts at your disposal. One of them should suit your needs. Keep in mind that your choice determines the cost of your Kyrgyzstan e-visa.

The second step of the process consists of payment and revision. iVisa accepts multiple methods of payment. You can use a credit or a debit card, but iVisa takes Paypal, Alipay, and WeChat as well. As for the revision, you need to be very careful as to what information you put in your application. Check for typos and inaccuracies since a single mistake can invalidate your visa.

Lastly, the third step requires you to upload some documents. You must upload a scan of the information page of your passport, as well as some other additional documents. The truth is that your personal circumstance can affect what documents you need to upload, but iVisa will let you know precisely what you need.
Once you complete all three steps, you can hit the submit button and wait for you Kyrgyzstan e-visa to arrive in the timeframe of your choice. iVisa will send you your document via e-mail in PDF format. Do not forget to print it out before departure. We recommend that you print more than one copy so that you have a spare or two.
How many times can I enter Kyrgyzstan with an e-Visa?
With your Kyrgyztan e-Visa, you just have a Single Entry, so you can enter the country juts one time.
How does the Kyrgyzstan e-Visa look like?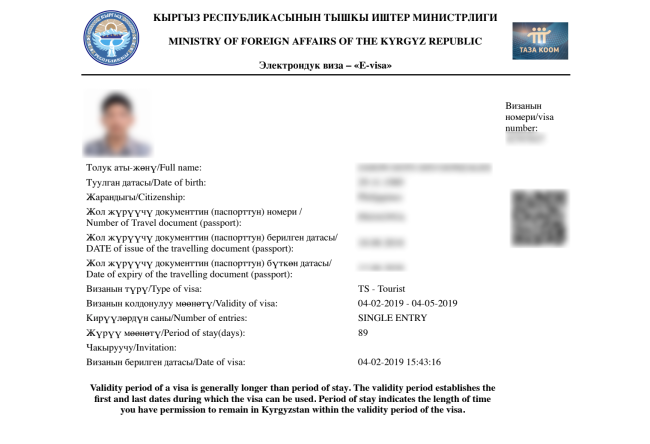 Where can I get more info about this?
If you need help, you can contact one of our customer service assistants, we're always pleased to assist you with this. If you prefer to read more extra info, then click here.
You can see now that getting a Kyrgyztan e-Visa is not hard at all. Let us simplify your visa process and just relax while planning your adventure.