IMPORTANT NOTE: WE CANNOT OFFER YOU THE KYRGYZSTAN E-VISA AT THE MOMENT, BUT STAY TUNED BECAUSE WE WILL LAUNCH THIS PRODUCT VERY SOON
As stated by the visa policy of Kyrgyzstan, Iraqi citizens will be able to apply for a Kyrgyzstan e-Visa very soon. It does not matter if your trip is for business or tourism purposes.
iVisa can help you get this document in a few hours. However, bear in mind that only a few specific points of entry will allow you to enter Kyrgyzstan with an eVisa. Manas and Osh International Airports are among them, and so are a few land border checkpoints.
Learn more about this upcoming document with the information below.
Frequently Asked Questions (FAQs)
I'm from Iraq, do I need a visa to visit Kyrgyzstan?
If you're from Iraq, yes, you require a visa to travel to Kyrgyzstan. You can only get a consular visa by now, but you'll be able to apply for a Kyrgyzstan eVisa very soon.
What is a Kyrgyzstan e-Visa?
The Kyrgyz eVisa is a document that permits you to enter this country legally.
How long can Iraqi Citizens stay in Kyrgyzstan?
Iraqi citizens can stay 60 days in Total in Kyrgyzstan
What are the requirements?
What you will love about the online application process is that your effort is limited. iVisa surely makes things easier for you. Here is what you need for a successful application process:
Valid passport – all applicants must get a valid passport. You need to make sure that the document is valid for 6 months from the date on which the eVisa expires. Also, it needs to have at least one blank page.
E-mail address – you cannot apply for a Kyrgyzstan visa online if you do not have an e-mail address. iVisa will send you the e-visa via e-mail in PDF format, and you need to print it out before departure.
Method of payment – iVisa accepts multiple means of payment. You can use a credit or debit card, but you can also pay using PayPal.
Invitation letter – this requirement applies only to Iraqi citizens who travel to Kyrgyzstan for business purposes. The invitation letter must contain the name of the company, the contact information, and the registration number.
How long is the Kyrgyzstan e-Visa valid for?
Your eVisa expires 60 days after arrival.
What are the processing times and fees?
These two aspects are mentioned together because one of them affects the other. With iVisa you can select any of these options:
Standard processing – You receive your Kyrgyzstan eVisa in

9 Business Days

and you pay

USD 86.50

.
Rush processing – If you select this alternative, your application is ready in

7 Business Days

and you'll be charged

USD 116.50

.
Super Rush processing – If you want your eVisa as soon as possible, this is the best option you can choose. Your application is ready in only

5 Business Days

. As you can guess, this is the most expensive option too. You'll have to pay

USD 151.50

.
How can I apply?
One thing that you must do to get your eVisa is to fill in an application form. It should not give you troubles, but if you have questions, iVisa's customer support is at your disposal 24/7. The service is free of charge.
The online form has three steps, and you should complete all of them in about 20 minutes:
The first one is easy. It requires you to provide your general information such as name, address, date of birth, etc. You must give your passport info and travel details as well. Also, at this point, you must select a processing time.

The second step is not difficult either. You must make the payment and revise your application. The revision is of the utmost importance. People who miss spelling mistakes get an invalid visa. Avoid that by reading your form carefully before you proceed to the next step.

Lastly, iVisa asks for the documents that support your application. You need to upload them. Once step three is complete, you can send your application form and you're ready!
The bottom line is that the citizens of Iraq will easily apply for a Kyrgyzstan eVisa without having to go to the embassy.
Can I enter through any port of entry with the Kyrgyzstan e-Visa?
No, you can't. Iraqi citizens who have received a Tourist e-Visa need to enter and exit Kyrgyzstan through certain checkpoints that you can check here.
How does the Kyrgyzstan e-Visa look like?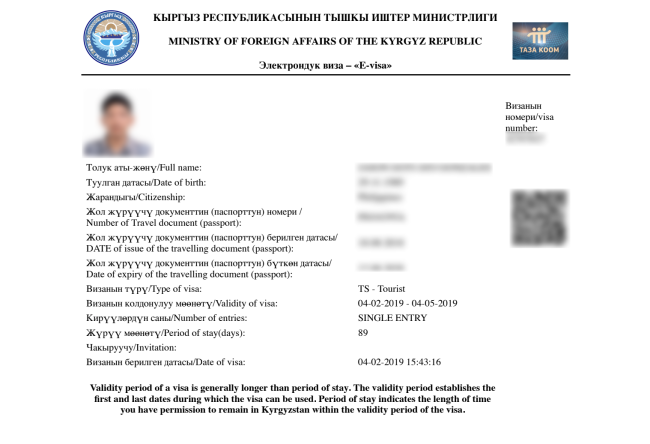 Where can I find more info about this?
If you need help, you can reach our customer service center, we're always happy to help you with this. If you prefer to read more FAQs, then click here.
Let us simplify your visa process and just relax while planning your trip!
IMPORTANT NOTE: WE CANNOT OFFER YOU THE KYRGYZSTAN E-VISA AT THE MOMENT, BUT STAY TUNED BECAUSE WE WILL LAUNCH THIS PRODUCT VERY SOON