If you're from Jordan and you want to go on vacation or a business trip to Kyrgyzstan, you need to get a visa. However, as a Jordanian, you are eligible for a Kyrgyzstan e-Visa, in which case you can obtain the document online.
iVisa can help you with the online process. Just remember that the Kyrgyzstan e-Visa allows you to cross the border through the following points of entry: Manas and Osh airports and land crossing with Uzbekistan (Dostuk), Kazakhstan (Ak-Jol, Ak-Tilak, and Chaldybar), China (Irkeshtam and Torugart), and Tajikistan (Bor-Dobo, Kulundu, and Kyzyl-Bel).
Learn more about this online process with the information below.
Frequently Asked Questions / FAQs
I'm from Jordan, do I need a visa to travel to Kyrgyzstan?
If you're from Jordan, you will need a visa if you plan a trip to Kyrgyzstan, but you can get the electronic version by applying online.
What is a Kyrgyzstan e-Visa for Jordan?
This is a document that permits you to enter Kyrgyzstan. You can find the application here
How long can Egypt Citizens stay in Kyrgyzstan with the eVisa?
You can stay 60 days in Total once you arrive in the country.
How many types of e-Visas for Kyrgyzstan are there?
There are three types:
Kyrgyzstan Tourist e-Visa
Kyrgyzstan Business e-Visa
Kyrgyzstan Transit e-Visa
What are the requirements?
When you apply online for a Kyrgyzstan eVisa, you don't need to meet as many requirements as for when you apply at a consulate. iVisa asks for the following:
Valid Passport – Your passport must be valid for the duration of your trip. Take a look at the expiration date.

E-mail address – your Kyrgyztan e-Visa will be linked to your passport electronically, but we will send you the updated information via e-mail, that's why you need to offer a valid e-mail address, to confirm your information.

Means of payment – You have to pay for your visa and the service fee. You can do that by using a credit/debit card or a PayPal account.

Invitation letter – this item applies only to Jordan citizens who travel to Kyrgyzstan for business purposes. The invitation letter must have the name of the company, the contact information, and the registration number.
How long is the Kyrgyzstan e-Visa valid for?
If you're from Jordan, you can have your e-Visa for 60 days after arrival.
What are the processing times and fees?
The price of your Kyrgyzstan eVisa depends on what type of visa you want (tourist, business or transit), and how fast you want to get it. As for the second factor, the processing time, you are given three choices:
Standard processing – you receive your Kyrgyzstan visa in

9 Business Days

. The total prcie is only

USD 86.50

.
Rush processing – if you select this option, your application is processed within

7 Business Days

and you will be charged

USD 116.50

.
Super Rush processing – in case you want your eVisa as soon as possible, this is the best option you have. Your application is ready in just

5 Business Days

. As you can imagine, this is the most expensive option too. It costs

USD 151.50

.
Keep in mind that the prices above apply for the Kyrgyzstan Tourist Visa. If you travel for business purposes, you need a Kyrgyzstan Business Visa, for which the processing time options are the same, but you will be charged USD 127.70, USD 157.70 and USD 192.70 respectively.
How long does it take to apply for the Kyrgyzstan e-Visa
You'll only need 10 or 15 minutes to complete your application form.
How can I apply?
What you must do next is to fill in the application form. iVisa created one that is short and simple so that you find it convenient. Plus, in case you need some help, iVisa's customer support service is open 24/7 and free of charge.
There are three steps you need to complete:
The first one requires you to provide your basic information, passport info, and some details about your trip. You also need to select a visa type and processing time at this point.

The second step asks you to review your application and to make the payment.

The third step asks you to upload the supporting documents for your form. When you are finished, just hit the submit button and you are done!
How many times can I enter Kyrgyzstan with an e-Visa?
If you have your Kyrgyztan e-Visa, you get Single Entry.
Do I need a vaccination certificate?
Yes, you probably need a Yellow Fever Certificate, which is extremely important if you want to obtain your e-Visa. To check if you need it, enter this link.
Do I need this Kyrgyzstan e-Visa if I am just transiting through?
In this case, you won't require to apply for the Tourist eVisa, what you'll need is a Kyrgyzstan Transit e-Visa which you can easily obtain here.
What if I made a mistake on my application after the e-Visa was issued?
If your eVisa was already processed, we cannot change or modify any information. You'll have to apply again.
If you realize you made a mistake while completing the online form, then please contact us ASAP online.
How does the Kyrgyzstan e-Visa look like?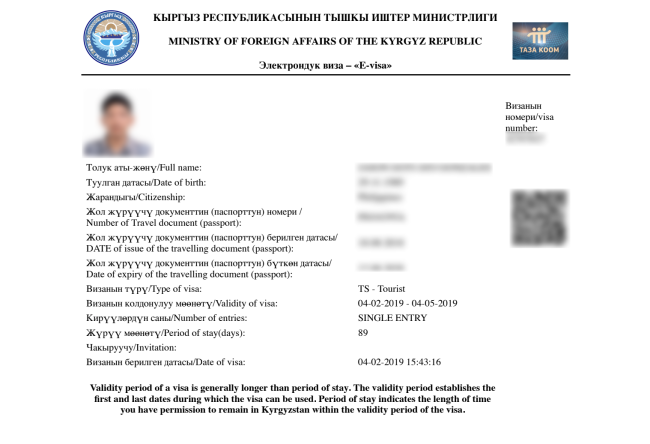 Where can I find more info about this?
If you need assistance, you can contact one of our customer service agents, we're always glad to assist you. If you prefer to read more about this eVisa, then click here.
As you can see, getting a Kyrgyzstan eVisa for the citizens of Jordan is incredibly convenient when you use iVisa as your visa service. Start your adventure today!