All travelers are concerned, at one point or another, about the visa policy of the country they wish to visit. It is a natural concern since that policy dictates the terms under which you can enter the country. But when it comes to Kyrgyzstan, you shouldn't worry too much because the Kyrgyzstan Visa Policy is one of the most lenient policies you will ever read.
We will make a short synthesis so that you can see it for yourself. Read the information about the Kyrgyzstan eVisa below so you'll get a better idea of its Visa Policy.
Frequently Asked Questions / FAQs
Are there visa-free countries that can enter Kyrgyzstan?
The first thing that you need to know is that the Kyrgyzstan visa policy contains a list of 62 countries that are visa-exempt. Their citizens are allowed to travel to Kyrgyzstan without applying for a visa, and they can stay there for periods that vary from 30 to 90 days.
Furthermore, 11 of those nationalities can stay in Kyrgyzstan indefinitely, and the citizens of Kazakhstan can cross the border with a national ID only.
Is there a Kyrgyzstan Visa on Arrival ?
The next thing that you should be aware of is that many nationalities from all around the world are eligible for a visa on arrival. However, that is possible only at the Manas International Airport. Any other point of entry in Kyrgyzstan requires a different type of visa, but you can contact iVisa's support service and ask if you are interested in using another point of entry.
At the same time, some of the nationalities that qualify for a Kyrgyzstan visa on arrival also qualify for a Kyrgyzstan e-Visa. If that is the case with you, we suggest that you take the second option. An eVisa is far easier to obtain, and it takes less time. Plus, you do not have to stand in line at the visa on arrival counter.
Something that is worth mentioning as far as the visa on arrival is concerned is that the document allows some nationalities to stay in Kyrgyzstan for up to 30 days, while others cannot stay for a period that exceeds 60 days. You should take a look at the Kyrgyzstan Visa Policy yourself and look for your country of origin on the lists. The policy is easy to find in an online search.
How do I know if I am eligible for a Kyrgyzstan eVisa?
We move on to the eVisa system. Kyrgyzstan adopted the policy on September 1st of 2017. The measure was and still is a massive success. According to Kyrgyzstan's Visa policy, all travelers are eligible for a Kyrgyzstan e-Visa. As you can imagine, it refers to travelers who are neither visa-exempt nor eligible for a visa on arrival. However, let's not forget that the electronic visa is meant for some of the nationalities that are also eligible for a visa on arrival.
As far as transit visas go, the Kyrgyzstan visa policy refers to Russia constantly. Since the most frequent international flight connections are with Russia, you need a transit visa for Russia. Again, that depends on your nationality.
If you want to check if you can get a Kyrgyzstan eVisa, we recommend you to use iVisa's Visa Checker. For this, you have to click on this page and enter your home country.
Can you tell the required documents?
If you want to get a Kyrgyzstan eVisa, provide the following documents:
Applicant Photo

Passport Personal Details Scan
Besides, you will need a current email address and a payment method like credit or debit card or even a Paypal Account.
May I know the procedure times and costs for the Kyrgyzstan eVisa?
The following information is only for people from India who wish to travel to Kyrgyzstan for tourism. If you wish to obtain additional information, you can enter here. Now, look at the choices:
Standard – selecting this alternative, you'll get your Kyrgyzstan visa in 9 Business Days and the total price is USD 86.50.

Rush – in only 7 Business Days your electronic visa will be ready and you'll need to pay the sum of USD 116.50.

Super Rush – with this option, you can have your travel document in 5 Business Days. The price will be USD 151.50.
How long does it take to apply?
You will not need more than 30 minutes of your time.
How can I apply?
Gather all the documents for your Kyrgyzstan e-Visa and then you will be ready to fill out the online form. iVisa has created an easy application form.
This Kyrgyzstan eVisa application form is based on 3 parts:
Put your general data and pick a processing time.

Make the payment and reread your application. We offer different means of payment. You can use a credit or debit card. Take into consideration that before submitting your request, you must verify the information you entered.

Attach the requested documents and some extra documents if necessary.
Once you finish all these steps, submit it, and wait for the document in the time you selected. We will send your travel authorization by email.
How many entries do I have with an e-Visa?
You'll get a Single Entry eVisa
How does the Kyrgyzstan e-Visa look like?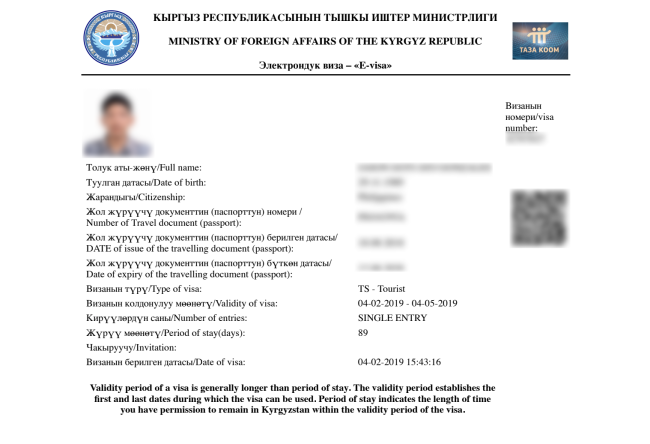 Is there another way to read more info?
If you require some help, you can talk to one of our agents. If you want to read additional info, just click here.
As you can imagine, the Kyrgyzstan visa policy is lenient. The bottom line is that if you are not visa-exempt or eligible for a visa on arrival, you can apply online for a Kyrgyzstan eVisa and be done with it. Keep in mind that that statement applies only to tourism and business.
You can avoid an embassy only if you travel to Kyrgyzstan as a tourist or for business. If you wish to stay for more than 90 days (or as much as your visa allows) or if you wish to work in Kyrgyzstan, you need to contact the nearest diplomatic mission of this country.