Love watching waterfalls? Ever visited a village of the ethnic hill tribes in Laos? Luang Namtha in Laos is the largest city in the northwestern part of Laos. Many people visit this place while traveling to China from Laos as it is one of the famous stop points there. If you like trekking, you can trek into the surrounding mountains and visit several ethnic hill tribe villages. Don't want to trek, you will get an option to rent a bicycle or a motorcycle to see surrounding waterfalls and villages. You can also relish local street food and indulge in the herbal saunas. If you are traveling from any other country, you can enter Laos only if you have Laos eVisa.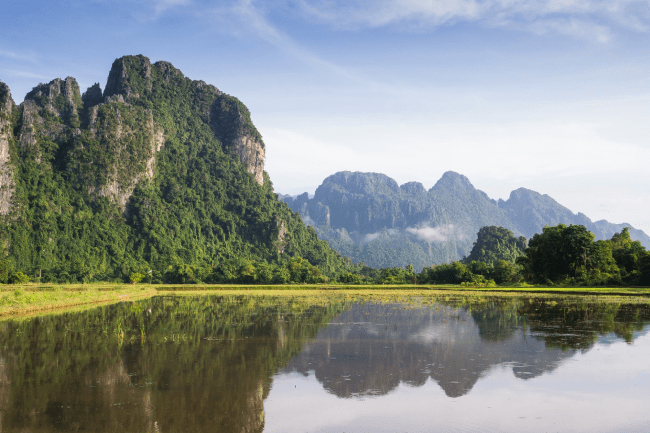 Obtaining Laos eVisa is simple when associating with iVisa.com. You will have to fill an application form with your basic personal information and provide your passport details. This is an online travel authorization document that is very helpful while arriving at Laos airport as you will not have to wait for a visa on arrival.
Here is the list of FAQs that you can check to get more information regarding the Laos eVisa:
FREQUENTLY ASKED QUESTIONS
How can I know if I am eligible for a Laos eVisa?
You can check your eligibility for Laos eVisa by utilizing the iVisa.com Visa Checker Tool. To use this tool, you will have to write your nationality in the drop-down menu and your destination will be Laos. This will help you in getting an idea about your eligibility for eVisa.
Can I get information about the requirements for the Laos eVisa?
Yes, you must know the requirements for a Laos eVisa before processing the application. Gathering all the required details and documents is not difficult for this travel document. You will need:
A passport with a validity of minimum six months from the date of arrival to the country. Also, your passport must have a blank page for getting eVisa stamp
Passport photograph was taken recently
Your valid email address to obtain eVisa in PDF format
You will also need payment methods like credit or debit card or PayPal account for paying the fees for your eVisa
What are the procedure times and prices?
At iVisa.com, we have 3 types of processing time and each one with its respective price. Read carefully these 3 alternatives:
Standard Procedure:

7 Business Days

-

USD $103.99

.
Rush Procedure:

5 Business Days

-

USD $141.99

.
Super Rush Procedure:

3 Business Days

-

USD $183.99

.
How can I apply with iVisa.com?
The steps you must follow are very easy and it will not take you long. Just make sure you have all the documents on hand so you can fill out the form quickly. These are the steps:
First, complete your form and select the procedure time that you prefer.
Second, make sure that your information is correct and make the corresponding payment.
Third, upload your documents and that's it.
Once you have finished the whole process, you just have to wait for your approved eVisa at the chosen time.
If while you are completing the form, you have any questions, you can contact our operators so they can help you.
Can I get multiple entries with Laos eVisa?
No, you will not get the Lao visa multiple entry feature with this Laos eVisa. You can only enter Laos using this travel document for a Single Entry. Once you enter the country with this e-visa, you can stay for around 30 days Per Entry in Laos.
When will Laos eVisa expire?
When you apply for a Laos eVisa, you will receive online eVisa through email and it will have a validity of a maximum of 60 days after issued. You must have to enter Laos within that period. Once you enter Laos, you can stay there for a maximum of 30 days Per Entry.
Can the Laos eVisa be used at any checkpoint?
No, you can use a Laos eVisa at only two border checkpoints. If you are arriving at any other border than these two, then you will have to apply for a standard visa. The two border checkpoints utilized for entry using eVisa are:
Thai-Lao Friendship Bridge
Wattay International Airport
Can I trust iVisa.com for obtaining Laos eVisa?
Yes, you can totally trust on iVisa.com for obtaining Laos eVisa or other travel documents. Our eVisa procedure is very simple and fast. Your personal details will be in safe hands. We use advanced security systems to protect your information, so protecting your personal details is our responsibility.
How to get more info about Laos eVisa in case of any doubt?
Still, have doubts regarding Laos eVisa processing? Email our friendly customer care executives and they will resolve all your queries in a jiffy. You can also visit our webpage and get more info about the procedures for eVisa.