If you are interested in visiting archaeological sites and confused about the location to visit this year, then don't worry. We have found a splendid place to visit this year for you. Wat Phu is a UNESCO World Heritage site that is preserved in a mountain of southern Laos. This temple is one of the oldest archaeological worship places in the country that is located at the base of holy Phu Kao mountain. It is a Buddhist temple, but some Hindu relics can also be seen here. You will also find many other small temples near this temple if you walk beyond the paths of the mountain. To witness this archaeological beauty and serenity, you will need Laos eVisa if you are traveling from Kazakhstan.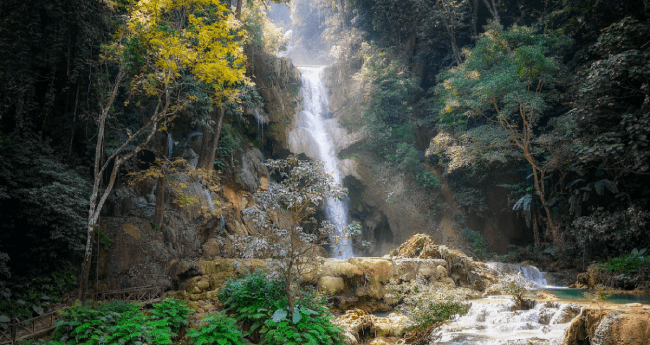 Finding it difficult to understand the procedure of Laos eVisa and confused about how to apply for it? We are here to help you. You will have to fill an application form with your basic personal details and we will get your document ready in a jiffy.
You can get more details about Laos eVisa for the citizens of Kazakhstan by reading FAQs given below:
FREQUENTLY ASKED QUESTIONS
I am a citizen of Kazakhstan. Do I need eVisa to visit Laos?
Yes, you will need to apply for Laos eVisa before your travel date to enter Laos. Any citizen of any country other than Laos will require eVisa to visit the country.
Can I utilize Laos eVisa for work or study in Laos?
No, you cannot use eVisa for work or study in Laos. This travel document will only be utilized for tourism purposes. If you wish to work or study in the country, you will have to apply for another visa category and visit the embassy for getting approval on the same.
What are the documents required to complete the procedure of the Laos eVisa application?
If you wish to apply for a Laos eVisa, you need to check whether you fulfill all the requirements. As this is a very simple procedure, you will not need a lot of documents or information to fill the application form. Below is the list of data and documents required for your Laos eVisa application:
A passport with more than six months validity from the date of departure of your travel. Also, you must check that your passport has at least one blank page.
You must have a recent passport-size photograph of yourself.
You will also be required to submit your accommodation details like hotel booking confirmation or any other detail that you may have about your stay in Laos.
You will also need a valid email address to receive eVisa in PDF format. You have to print this PDF before your trip.
When you utilize iVisa.com services, you will need to have a payment alternative such as PayPal, Credit or Debit card details.
What are the prices and procedure times for the Laos eVisa?
iVisa.com provides 3 types of alternatives in order that you can choose so you can choose the one that best suits your budget when applying online. These are the options:
Standard Procedure:

7 Business Days

-

USD $90.49

.
Rush Procedure:

5 Business Days

-

USD $119.99

.
Super Rush:

3 Business Days

-

USD $150.99

.
How can I apply for my Laos eVisa?
iVisa.com has created an easy form that shouldn't take you more than 15 minutes. All you have to follow is what I will show you below:
First, fill out the application form with all your information. After that, you're ready to select your processing alternative.
Second, read your information so it doesn't have any mistake and then pay for the service using your preferred mean of payment.
Third and lastly, just upload the documents required, make a last revision of the information, and send your application form.
In case you have more doubts about it, you can contact our customer.
How many entries do a Laos eVisa offer to Kazakhstan citizens?
When you receive Laos eVisa, it will be valid for 60 days after issued and you need to travel to Laos within that period. Once you enter Laos with this travel document, you can stay for a maximum of 30 days Per Entry in the country. You can enter only a Single Entry with this travel document.
Can I trust iVisa.com for getting Laos eVisa?
Yes, you can completely trust iVisa.comto get your Laos eVisa. When you associate with us, you will find our services transparent, cost-effective, simple, and safe. You can check our existing clients reviews to get a better understanding of our services.
What should I do to resolve my queries?
To resolve your queries, you can visit our page and also, contact our friendly customer care executives to get more details about services related to Laos eVisa and other travel documents.