Laos is a beautiful country with lots of stunning places to visit. When you plan a trip to Laos, you must visit Vang Vieng, which is one of the best backpackers' locations in Laos. It sits between Luang Prabang and Vientiane. Many visitors go to this place to enjoy a vibrant nightlife in Laos. Another major reason for which you must visit this location is to enjoy capturing lush green jungle scenery while tubing down to the Nam Song River. You can also visit certain other places like the Tham Phu Kham Cave, which is famous for its lagoon and statue of the Buddha made up of Bronze. Visiting Laos is very easy if you are traveling from Ukraine. You will have to apply for a Laos eVisa to get authorization for entering Laos.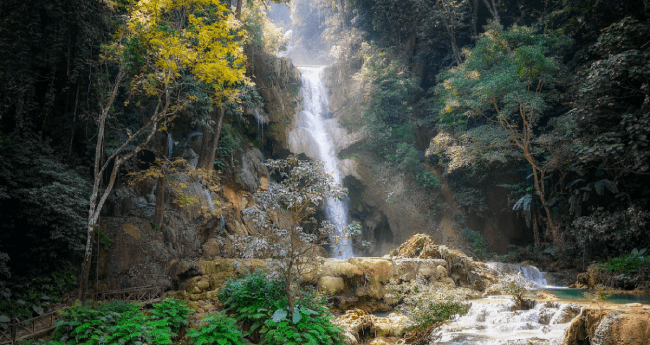 You can get Laos eVisa for the citizens of Ukraine fast and easy by associating with iVisa.com. We understand how difficult it is for you to apply for a eVisa while completing all your daily chores. Hence, we offer our budget-friendly visa services to all our customers so that they can enjoy their vacation to the fullest.
To know more about this travel document, you can check the following questions and answers:
FREQUENTLY ASKED QUESTIONS
What is Laos eVisa?
Laos eVisa is an online travel authorization document that can be applied online. You will receive your approval through email in a PDF format. Apply online this travel document with iVisa.com and save your time from standing in a long queue for getting a visa on arrival.
Can a citizen of Ukraine apply for Laos eVisa?
Yes, a citizen of Ukraine qualifies for Laos eVisa if he or she is planning this trip for tourism purposes. If you are planning this trip for work or study purposes, you will have to apply for a different visa category.
What are the documents that I must gather to apply for this Laos eVisa?
If you apply with iVisa.com the documents will not be very complicated to obtain. All you need to gather is:
Passport: ensure that your passport scan is visible and it has a valid expiration date.
Photo: if you want to obtain a perfect photo, you can use iVisa.com Photos.
Your valid email Address.
Payment method: use a debit/credit card or a Paypal account.
Does it take a long time to receive a Laos eVisa?
No, the procedure of Laos eVisa is very simple and it doesn't take a long time for its processing. Also, when you apply for this travel document with iVisa.com, you will get an offer to choose among the options of processing times. Based on your selection, you will receive your document. These processing time options are:
Standard Processing Option: Choosing this option for the processing of your travel authorization document will allow you to receive your travel document in

7 Business Days

. This is the most utilized option.
Rush Processing Option: If you need your travel authorization a bit early, you can select this alternative and receive your approval in

5 Business Days

.
Super Rush Processing Option: If you need your travel authorization urgently, you can choose this option and get your travel document ready in only

3 Business Days

.
What are the prices?
The prices will vary according to the processing time that you choose. Read carefully these alternatives that we have for you:
Standard Procedure Option:

USD 82.00

.
Rush Procedure Option:

USD 102.00

.
Super Rush Procedure Option:

USD 122.00

.
For how long I can stay in Laos with this eVisa?
When you apply for eVisa, you will get a validity of 60 days after issued from the date of the issue of eVisa and you need to travel to Laos within that period. Once entering into Laos, you can stay for a maximum of 30 days Per Entry in the country.
How can I apply for an eVisa?
Applying for a Laos eVisa is very easy. This procedure is divided into three simple steps and at any step, if you find it difficult, you can call our customer care representatives.
Firstly, you need to fill the application form online. It will take only fifteen minutes and also select your procedure time.
Then, you must review all the details you have given and pay for your eVisa.
For the last step, you will be required to upload your passport photo and the information about the passport photo.
Can I trust iVisa.com?
IVisa.com is a well-known platform for providing assistance in travel documents for many years. Your information will be in safe hands. That's our guarantee. So, yes, you can completely trust us for Laos eVisa.
Where can I read more?
If you still have queries related to Laos eVisa, you can visit our page and get more info.