Do you love animals? Do you wish to educate your children about elephants and their habitats? If yes, then plan your trip now to the Elephant Village Sanctuary in Luang Prabang in Laos. This is a perfect destination for those visitors who want to learn about elephants. This facility is specially dedicated to the protection and rehabilitation of Asian elephants. You can enjoy this trip by applying for Laos eVisa. This day trip will provide you with a chance of interaction with elephants. You will also learn how to care and bathe the elephants.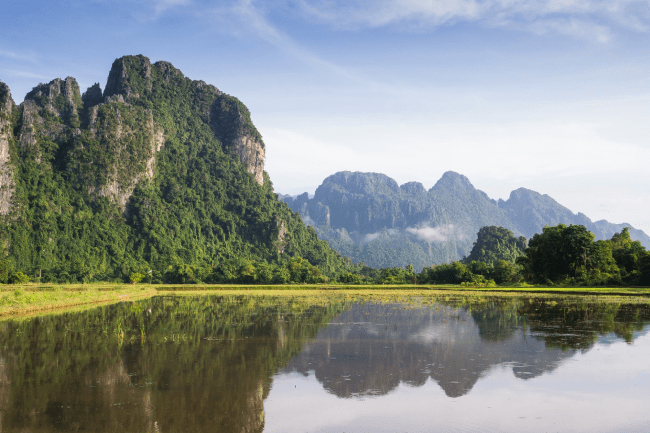 Get your Laos eVisa now and get an opportunity to have this magnificent experience in Laos. If you don't have time to apply for this travel document before your travel, contact iVisa.com and avail our services to save your time and effort. We will get your document ready in the shortest possible time. We will need some of your personal details from your end and to submit this information, you have to fill an application form that will take only fifteen to twenty minutes.
For more details about Laos eVisa for the citizens of Switzerland, please check the following FAQs:
Frequently Asked Questions
Do I need to apply for Laos eVisa if I am a citizen of Switzerland?
Yes, if you are a citizen of any country other than Laos, you will have to apply for Laos eVisa. So, if you are visiting Laos from Switzerland and a Swiss citizen, you will definitely require this travel document for tourism purposes.
What are the requirements to submit an application for Laos eVisa?
To submit an application for Laos eVisa, you don't need a lot of documents or information. The list of data and documents is very short for this purpose and you can easily acquire all of these. To successfully submit your application, you will need:
A valid Passport with at least six months of validity from the date of arrival in Laos. Also, your passport must have a blank page to get stamped
A recent passport size photograph of yourself that follow proper guidelines as instructed in the application form
You will also have to provide your travel itinerary
You will also be required to provide information about your stay in Laos
You will also need a valid email address to receive a response for your application
Payment alternatives like PayPal account or credit/debit card
What are the prices and processing times of Laos eVisa for the citizens of Switzerland?
The cost of Laos eVisa depends on your nationality and you can check the cost for your travel document by using iVisa.com Visa Checker Tool. The range of cost for this travel document is between USD 46.58 and USD 65.21. You will also have to pay a service fee that ranges from USD 30.00 to USD 70.00 depending on the processing time option you select for the process of your application. These are the options:
Standard Procedure Options:

USD 82.00

Rush Procedure Options:

USD 102.00

Super Rush Procedure Options:

USD 122.00
How can I apply for my ETIAS?
iVisa.com has designed an effortless procedure that it won't take you more than 20 minutes to complete. Follow these steps:
First, complete the application form with your personal information. After that, choose your processing time.
Second, check if your information is correct, and in case you have any error, just edit it. Then, pay for your online form using a credit/debit card, or a PayPal account.
Third, attach your documents and submit your form.
Don't hesitate to contact our super agents if you have any questions. They will be very happy to assist you.
Do I get guaranteed entry to Laos after obtaining Laos eVisa?
No, Laos eVisa is just your travel authorization document. You will also need to clear the customs of Laos that include checking procedure after arrival and then you will be allowed to enter Laos.
Is it safe to use iVisa.com services to obtain Laos eVisa for the citizens of Switzerland?
Yes, iVisa.com services are completely safe to use for obtaining Laos eVisa for the citizens of Switzerland. By associating with us, you will be assured to get your travel document on time. You don't have to worry about information breaches as we have been utilizing advanced and secure security systems that can be operated by only authorized professionals.
What if I have more unresolved queries?
If you have more unresolved queries, you can check our website and get more info about Laos eVisa and other travel documents.
Get ready for this unique and thrilling experience now in Laos with us.