Are you interested in getting knowledge about different plants? Do you wish to understand nature's relationship with the people of Laos? If this is what you are looking for, then you must plan your trip to Pha Tad Ke Botanical Garden in Laos now. Visiting this botanical garden will give you an opportunity to see a spectacular display of a variety of plants and flowers that are native to Laos. When you go there, the facility will educate about the relationship that Laos citizens share with the natural surroundings. You can reach this botanical garden by taking a boat from Luang Prabang. To reach Luang Prabang from Lithuania, if you have to apply for a Laos eVisa.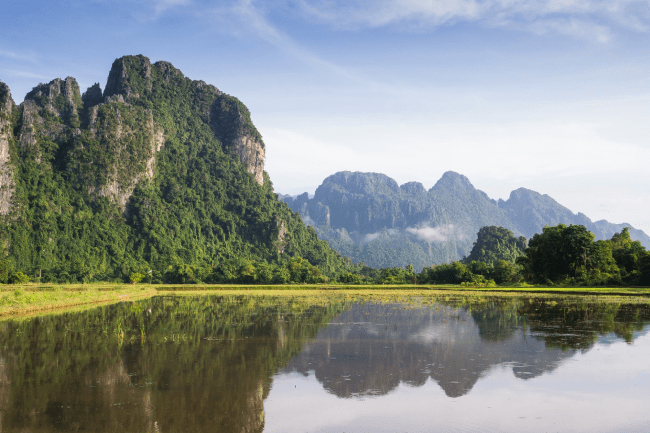 This eVisa will allow you to enter Laos without any hassle. This will save your time and effort of standing in a long line for a visa on arrival. You can get your Laos eVisa quickly when you apply with iVisa.com. We are helping our customers in getting their eVisas for a very long time and our customers are more than happy with our services.
You can check the requirements for Laos eVisa for the citizens of Lithuania by reading the questionnaire given below:
FREQUENTLY ASKED QUESTIONS
What does Laos eVisa mean?
When you travel from another country to Laos for tourism purposes, you will need a travel authorization to enter the country. This travel authorization document is Laos eVisa. You have to apply for this document online. Apply for eVisa now with iVisa.com and start packing your bags for the vacation.
Does a citizen of Lithuania need Laos eVisa?
Yes, Laos eVisa is needed by every citizen of Lithuania traveling to Laos for tourism purposes. You can check every requirement that you need to submit your application form online by using the iVisa.com Visa Checker Tool.
What is the cost of Laos eVisa?
The cost of Laos eVisa depends on the nationality of the applicant and the type of processing time that you select. The sooner you wish to have your travel document, the more you will have to pay for it.
Standard Processing:

USD $77.49

.
Rush Processing:

USD $96.49

.
Super Rush Processing:

USD $117.99

.
What are the conditions that must meet for the applicant's passport applying for Laos eVisa?
If you are applying for a Laos eVisa, it is important to keep in mind the following:
Your passport must have a validity of at least six months from the date of arrival to Laos.
Your passport must have a blank page.
Email: you need to provide a valid email address.
Photo: acquire a perfect photo using iVisa.com Photos.
Method of payment: make your payment using a debit/credit card or a Paypal account.
What are the steps to follow to acquire my Laos eVisa?
If you decide to apply with iVisa.com, you will only have to follow 3 simple steps:
First, fill out your form with your basic details and select the processing option.
Second, verify the spelling and the rest of your information, and then proceed with the payment using a credit/debit card or your Paypal account.
Third, upload the documents and attach them to your form.
Once you're ready and don't worry because we will take care of the rest. Don't forget that if you have doubts, you can simply contact iVisa.com's customer support.
What do I need to present upon arrival in the country?
You will be required to present your passport when you reach Laos. Also, you must have a printed copy of your eVisa that you will have to present to the immigration authorities in Laos. After performing all custom checking, you will be allowed to enter the country.
I wish to get an eVisa for Laos. Can I rely on iVisa.com for the same?
iVisa.com is a well-known organization for offering assistance in getting travel-related documents. Many customers rely on our amazing services for many years and you can also rely on our services to get your Laos eVisa. We utilize an advanced system for security, so you will be guaranteed the safety of your personal details. We assign only one authorized professional to handle all your details and get your document ready on time.
I still have doubts. Where should I go?
Still, have doubts regarding eVisa procedure? Don't worry, email our customer care executive with your query. We will revert to you with solutions to all your queries. You can also check our page to get more info.