Laos is a hidden gem in Southeast Asian countries like Thailand, China, Vietnam, and Cambodia. When you plan a trip to visit this amazing country with rich cultural diversity, you will get to know how the forty-nine ethnic groups make an impact on arts, food, festivals, and customs in the country. You will find central, north, and southern regions in this country. Each part of the country offers a scenic view of lush landscapes and a pleasant atmosphere. Visiting this country will also give you a chance of seeing an elephant strolling on your way or monks walking on the pathways because of the unspoiled jungle habitat.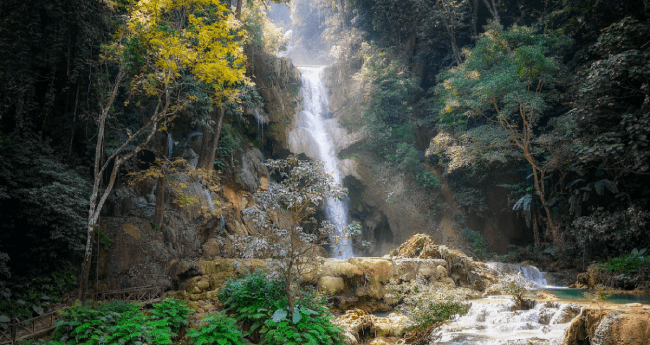 Planning a trip to this country, you will need to apply for an eVisa. Laos eVisa is a travel authorization document that is required by the citizens of all countries visiting Laos. This document allows every visitor to enter Laos without applying for a standard paper visa. You can get your Laos eVisa fast and easy by contacting iVisa.com. We work 24/7 to assist our customers in getting a visa in the shortest possible time.
To know more about Laos eVisa or visa on arrival, read the following FAQs and clear all your doubts.
FREQUENTLY ASKED QUESTIONS
What do you mean by Laos eVisa?
If you are planning a trip to Laos from any country, you will need to apply for Laos eVisa. This is a travel authorization document that allows you to enter Laos without going through the standard paper visa procedure. You will need to apply for an eVisa a minimum of three days before your travel. Opt for eVisa instead of visa on arrival and save your time from standing in a long queue to get your authorization for entrance in Laos.
What is the cost of a Laos eVisa?
The cost of the eVisa of Laos depends on the citizenship of the visitor traveling to Laos. You can check the cost of Laos eVisa for your nationality with the utilization of our Visa Checker Tool. Also, you will be required to pay a service fee depending on your processing time option selection.
Standard Procedure:

USD $107.99

Rush Procedure:

USD $149.99

Super Rush Procedure:

USD $194.99
What is the validity of Laos eVisa?
You will get a validity of 60 days after issued of your e-visa. You can stay in the country with this eVisa for a maximum of 30 days Per Entry under a period of 60 days.
What documents do I need to present upon arrival in Laos?
When you arrive at Laos airport or other port of entry, you will be required to present your passport and eVisa. You must have a printed copy of the tourist eVisa so that you can easily present it to immigration authorities and get an entry into the country.
How should I submit my application for Laos eVisa?
Getting Laos eVisa is a simple procedure that shouldn't take you more than 20 minutes to complete. The steps are:
First, check the questionnaire and answer carefully with your personal details. then, select your processing alternative.
Second, read your information and avoid any mistakes. After that, pay for your form using your preferred mean of payment.
Third, upload the documents required and send your application form.
Keep in mind that in case you have extra questions, you can contact our customer agents at any time.
Is iVisa.com safe to utilize for Laos evisa?
Yes, you can completely depend on iVisa.com services to get your Laos eVisa fast and easy. We use an advanced security system to protect all your personal information and only an authorized professional is allowed to see your personal details. We value your time and money. Thus, you will find our services quick, affordable, and simple to use.
I have a few more queries. Where should I go?
To resolve all your queries and clear your doubts about eVisa, you can visit our page. Visiting our website will provide you with more info about our services. Still, have doubts? Check our clients' reviews and get a better understanding of our services.
Plan your trip now and get ready to experience unspoiled jungle habitats in Laos.