Since the start of the Covid19 pandemic, several countries have proposed entry restrictions for all tourists and Laos is no exception.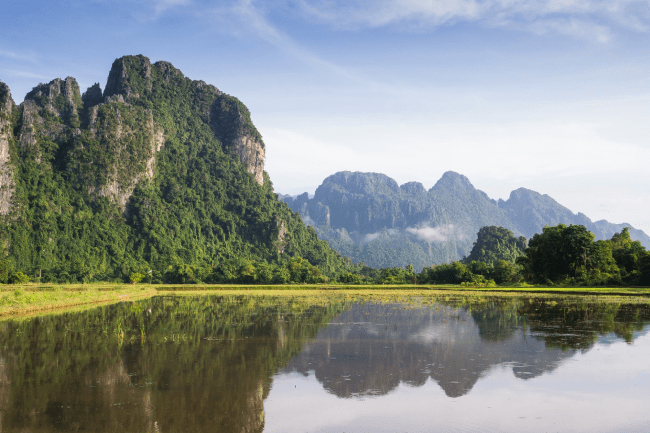 The restrictions do not include a certificate of vaccination but do include a certificate of a negative PCR Covid19 test, and a quarantine. Also, tourists must have a Laos eVisa to enter the country and iVisa.com can help you with this.
Laos Covid Entry Restrictions - Continue learning more on our FAQs down below.
Frequently Asked Questions
What are the Covid restrictions to enter Laos?
All tourists are recommended to enter the country vaccinated against Covid19. However, this is not a mandatory health certificate to enter. In addition, unvaccinated travelers also need to present a negative rapid antigen Covid19 test result taken within 48 hours before departure.
The Covid19 information is changing constantly, we recommend checking out our FAQ section to get the most updated information.
Laos Covid Entry Restrictions - You also need to purchase Covid19 insurance
What is the Laos eVisa and how can I apply for it?
The Laos eVisa is an electronic travel visa that allows visitors from all over the world to enter the country. This visa is for a single entry only and has a validity of 60 days after being issued. However, you can only travel around for a maximum of 30 days upon entry.
This document is only available for use at the border of Wattay International Airport or the Lao-Thai friendship bridge.
Laos Covid Entry Restrictions - Just follow these 3 steps to get your eVisa.
Step 1: Complete our questionnaire, and then choose the processing time that fits your budget.
Step 2: Review that all information is correct before selecting your method of payment.
Step 3: Scan all the required documents and wait.
Laos Covid Entry Restrictions - Trust in iVisa.com with your travel documents.
What documents do I need to apply for my Laos eVisa?
Passport personal information, with at least 6 months of validity.
A recently taken passport-size photo.
An e-mail address.
A payment method, you can use a credit or debit card.
Laos Covid Entry Restrictions - You need to scan all these documents to apply.
What is the cost to obtain the Laos eVisa?
At *iVisa.com you will find the Standard option for the Laos eVisa.
Standard Processing Time:

7 Business Days

-

USD $69.99

Rush Processing Time:

5 Business Days

-

USD $82.99

Super Rush Processing Time:

3 Business Days

-

USD $97.49
Laos Covid Entry Restrictions - You will find the best prices at iVisa.com
Can iVisa.com be trustworthy?
Yes! iVisa.com has the best processes to obtain your travel documents. Your personal information will always be safe with us and that is why hundreds of customers continue to use our services.
Laos Covid Entry Restrictions - You can read all about it in our review section.
What happens if I need to talk to someone about the Laos eVisa?
If you have any concerns about our services, you can contact our customer service team, they are available all the time to help you with anything you need.
iVisa.com Recommends
In Laos, you can find some tourist destinations that mix culture and history. One destination that is highly sought after by foreign tourists is Wat Phu.
Also known as Wat Pa Phu Phu Kon is a ranger protection service located in the forests of Na Yung and Num Chom Bankong in Udonthani province. This sanctuary was built and protected by Puttaborrisatsee, a renowned Buddhist in the area, to help remember the forests that were destroyed in 1984.
Wat Pa Phu Phu Kon is a perfect place for tourists not only to visit and take amazing pictures but also to use the space to practice Buddhist meditation. All this can be achieved in front of the marble statue of Buddha in the shrine.
When you enter the attraction you will see an anecdote about Buddha, made with a dividing painting. This painting tells the story of ten resurrections of Buddha, and each of the incarnations he had after his death. It also tells about Buddha's activities, for example, his industriousness and the benevolence that the following incarnations provoke. Immerse yourself in the magic of Buddhism and visit this temple.