Traveling during the pandemic has made us careful travelers, which is why it is important to know about the entry policies for Laos.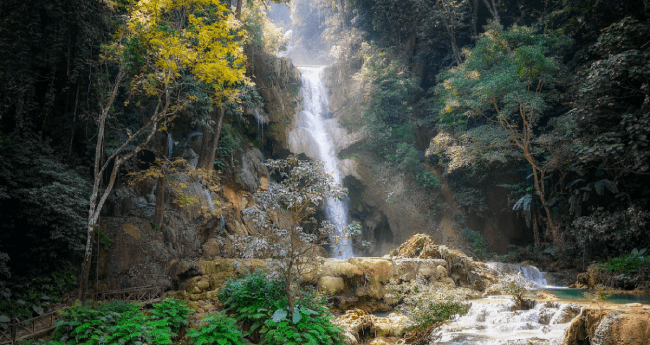 To visit Laos, one not only needs to know about Covid-19 entry requirements but also about travel documents. Laos has the Laos eVisa, a document that allows you to enter the country.
Laos Covid Policy: Learn all about it! - Read all about it on our FAQs.
Frequently Asked Questions
What are the Covid-19 restrictions to enter Laos?
All visitors are suggested to enter the country being vaccinated against Covid-19, to guarantee the safety of tourists and local citizens.
First of all the travelers must present a negative PCR Covid-19 test result taken within 72 hours before leaving the country of origin. Also, you will need to take a PCR test upon arrival.
Besides the test results, travelers need to quarantine for 14 days in an approved hotel facility. Additionally to the quarantine, the purchase of Covid-19 insurance is mandatory to travel around the country.
Laos Covid Policy: Learn all about it! - Check all new information on our FAQ section.
Which countries are on the elegible list to enter Laos?
Fully vaccinated travelers coming from China, Vietnam, Cambodia, Thailand, Malaysia, Singapore, South Korea, Japan, France, United Kingdom, Germany, the Netherlands, Spain, Italy, United States, Canada, Australia, Brunei, Indonesia, the Philippines, Russia, Norway, Switzerland, Sweden, Finland, Israel, Ireland, Hungary, Austria, Luxembourg, New Zealand, Poland, Denmark, and Belgium with tours arranged by authorized tour operators under the Lao Travel Green Zone Plan can enter Laos.
Do I need a negative COVID-19 test result to enter Laos?
COVID test prior to arrival: PCR test taken within 72 hours

COVID test on arrival: all travelers, including those from the travel green zone plan.
Do I have to quarantine in Laos?
Travelers from the green zone plan: quarantine on arrival until receiving testing results.

All other travelers: 48 hours quarantine at an approved quarantine location. If they receive a negative result on arrival, they must follow a 7-day home quarantine.
What is the Laos eVisa and how can I apply for it?
The Laos eVisa is an electronic visa that allows visitors to enter the country without any problems. This document is a single entry that has a validity of 60 days after being issued and can be used for a maximum of 30 days upon entry.
This visa is only available if you enter the country through the Wattay International Airport or the Lao-Thai friendship bridge immigration agencies.
Laos Covid Policy: Learn all about it! - There are 3 steps you must follow to apply for the Laos eVisa
Step 1: Fill out our forms with your personal information, and then choose the processing time.
Step 2: Check that all your personal information entered is correct, then select the method of payment.
Step 3: Upload all the required documents.
Laos Covid Policy: Learn all about it! - Continue reading about it in this article.
What documents do I need to apply for my Laos eVisa?
A copy of the information page on your passport. Must have at least 6 months of validity.
A passport-size photograph recently taken.
An e-mail address, so you can get your electronic document.
A payment method. It can be a credit or debit card.
Laos Covid Policy: Learn all about it! - Don't forget that your passport must be valid and in good shape.
What is the cost to obtain the Laos eVisa?
You will the the Standard alternatives to apply for your Laos eVisa.
Standard Processing Time:

7 Business Days

-

USD $69.99

Rush Processing Time:

5 Business Days

-

USD $82.99

Super Rush Processing Time:

3 Business Days

-

USD $97.49
Laos Covid Policy: Learn all about it! - Get your documents on time for your trip.
Can I trust iVisa.com?
Yes! iVisa.com has been in the market for years and that is why hundreds of customers trust our processes. If you have any questions you can read all the comments in our review section.
Laos Covid Policy: Learn all about it! - iVisa.com will protect all your personal information.
What happens if I need to talk to someone about the Laos eVisa?
Whenever you have a question you can contact our customer service team, they are available around the clock to assist you.
iVisa.com Recommends
Laos is a spiritual country full of mystery, culture, and history. Many of the tourists who visit the country do so to learn about its religion and Buddha. No matter the religion, tourists are always attracted to the history and life of Buddha.
One destination to learn more about him is The Buddha Park, also known as Xieng Khuan. A famous park in the country with more than 200 religious statues, including the huge reclining Buddha image approximately 40 meters high. The entrance to the park is designed to resemble a demon's mouth, with a stone staircase inside leading to a viewing platform where you can see the entire Xieng Khuan Park. This is the best place to take pictures.
Among the most outstanding statues in the park are Indra, the king of the Hindu gods who rides a three-headed elephant, known as Erawan and Airavata, a four-armed deity sitting on a horse, and an artistic deity with 12 faces and many hands. These are just a few examples of the wonders you can find while touring the park. Don't forget to get the park map guide so you don't get lost.