You will require a Laos eVisa for the citizens of Germany to visit Laos if you are a citizen of Germany. An eVisa is a necessary document to enter the country. You can easily apply for the eVisa by completing the process of application on iVisa.com.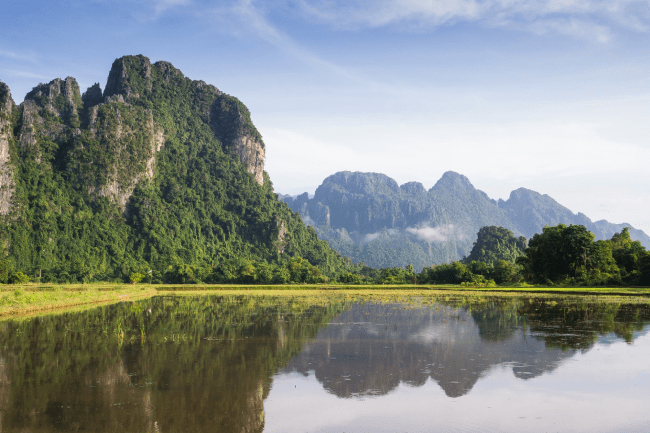 An eVisa is an electronic visa and is just like any other visa but it is in electronic form. This means that you can complete the application online and also receive your visa online. All of the steps in the process can be completed from any corner of the world from your smart device. To make things easier iVisa.com also provides you support in the form of customer support service so that you do not face any issues while applying.
How to get an eVisa?
Visit iVisa.com.
Find application form there.
Fill in the form.
Make sure that all the information that you enter is correct and is up to date
Recheck the form to be sure that there are no mistakes.
Attach the supporting documents and then submit the form.
iVisa.com would then have your application reviewed.
Once your application gets approved, it will be sent to you.
Why should I apply in advance?
An application for Laos eVisa for the citizens of Germany should be made in advance to make sure that it gets approved in time for your trip. If you fail to apply early then the chances are that your visa would get delayed and because of it, you may also have to postpone your trip.
Frequently Asked Questions
Can I use the Laos eVisa at any point of entry in Laos?
Laos eVisa for the citizens of Germany would allow you to enter the country from the following points:
Wattay International Airport
Thai-Lao Friendship Bridge
What is the cost of processing?
Standard Processing has a price of

USD $113.99

and takes

7 Business Days

to process the visa.
Rush Processing has a price of 104.34 USD and takes 5 DAYS to process the application.
Super Rush Processing has a price of 124.34 USD and takes 3 DAYS.
What is needed to apply?
A valid passport.
Digital passport size photo.
Details of your trip.
For paying the fees of processing the application, PayPal or credit or debit card will be required.
How many times can I use the eVisa?
Laos eVisa for the citizens of Germany can only be used once. You can enter the country after the issue of your visa only once. If you want to visit again, you will have to apply for the visa again.
What is the validity of an eVisa?
Laos eVisa for the citizens of Germany has a validity of 30 days Per Entry. This means that the visa would remain valid for only 60 days after issued. So make sure to apply accordingly.
Is it safe to use iVisa.com?
It is extremely safe to make an application for Laos eVisa for the citizens of Germany on iVisa.com. The site has the right practices and a fully functioning privacy policy that has been put in place to maintain the privacy of all the people who use the site.
How can I get more information?
If you require more information while completing your application for Laos eVisa for the citizens of Germany you can contact the customer support service of iVisa.com by visiting the site. They will easily provide you with any information that you might need.
iVisa.com Recommends
iVisa.com has some of the best recommendations of things to do in Laos. One of the places that you should not miss when you are in the country is Vang Vieng. Vang Vieng is a mountain town that has a rugged feel. It is frequented by people from all around the world because it is not only peaceful but has some of the most beautiful places.
The city has a scenic landscape as it has a nearby river along with limestone cliffs. If you also wish to witness a touch of nature then you can also explore the various rice fields in the city. There is a lot to do in the city despite it not being very big. You can go tubing in the Nam Song river and get a sense of adventure. To visit all of these places apply now for Laos eVisa for the citizens of Germany. Get Laos eVisa for the citizens of Germany today with iVisa.com.