Traveling since the pandemic began has been quite an adventure, fortunately, as the world has been getting vaccinated, restrictions have been reduced and travel has been possible.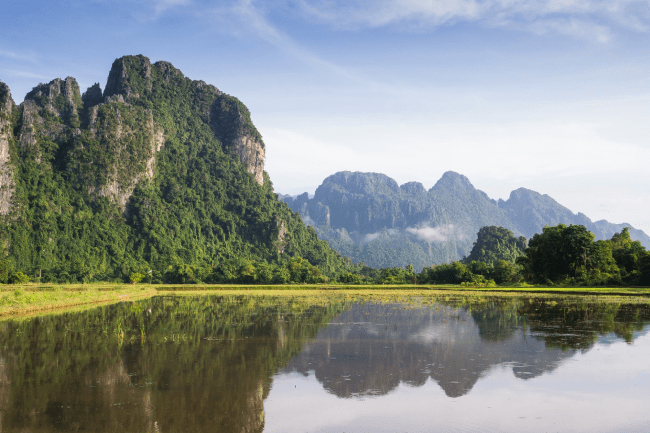 Therefore we recommend you to take advantage and visit Laos, you only need to process your Laos eVisa online from any electronic device. iVisa.com will help you by advising and processing the necessary travel documents to enter the country.
Laos Tourist Visa Covid: All you need to know! Learn more on our FAQs.
Frequently Asked Questions
What are the COVID restrictions to enter Laos?
It is recommended that all visitors travel to Laos vaccinated against COVID19. However, it is not mandatory.
All unvaccinated travelers aged 12 and over must present a negative rapid antigen test result taken within 48 hours before departure. There are no quarantine requirements.
Laos Tourist Visa Covid: All you need to know! - This information is changing constantly, that is why we recommend you to check our FAQ section
What is the Laos eVisa and how can I apply for it?
The Laos eVisa is an electronic travel document that allows travelers from all countries to enter the country without having to present the standard paper visa. This visa has a validity of 60 days after being issued. However, you can only stay in the country for a maximum of 30 days upon entry.
The Laos eVisa is only available for use to enter the country through the Wattay International Airport or the Lao-Thai friendship bridge. And you can only use this electronic visa once per entry. Laos Tourist Visa Covid: All you need to know! - iVisa.com has three steps for you to apply for the Laos eVisa.
Step 1: Complete the electronic forms with your personal information, and then choose the processing time that fits your travel needs the best.
Step 2: Check that all your information is correct before selecting your method of payment.
Step 3: Scan and upload the required documents and wait for iVisa.com to send your electronic visa.
Laos Tourist Visa Covid: All you need to know! - Follow these easy steps to get your electronic visa.
What documents do I need to apply for my Laos eVisa?
A copy of the information page on your Passport.
A passport-size photograph taken recently in digital format.
An e-mail address.
A payment method. It can be a credit or debit card.
Laos Tourist Visa Covid: All you need to know! - Don't forget to scan and upload all the required documents to get your visa.
What is the cost to obtain the Laos eVisa?
At iVisa.com we work with an only option for the Laos eVisa.
Standard Processing Time:

7 Business Days

-

USD $69.99

Rush Processing Time:

5 Business Days

-

USD $82.99

Super Rush Processing Time:

3 Business Days

-

USD $97.49
Laos Tourist Visa Covid: All you need to know! - The best prices with iVisa.com
Can iVisa.com be trustworthy?
Of course! iVisa.com has years of experience in advising and processing travel documents. That is why thousands of customers trust us, you can read all about it in our review section.
Laos Tourist Visa Covid: All you need to know! - iVisa.com is the best place to get your electronic visa.
What happens if I need to talk to someone about the Laos eVisa?
If you have any questions you can contact our customer service team, they are available 24/7 to alleviate any concerns you might have.
iVisa.com Recommends
Laos is a magical country that has hundreds of destinations to offer its visitors, among some popular ones is the Pak Ou Caves. This destination is particularly chosen by tourists for its mysterious legends and spectacular history.
The Pak Ou Caves is a popular destination consisting of a set of limestone rocks located near the Mekong River. This place has been known as a place of worship for thousands of years, not only for the Pak Ou Cave, but also for the Tham Thing, and the Tham Theung, all located in front of the Mekong River 25 kilometers north of Luang Prabang. Some of the main features of the caves are the miniature sculptures of Buddha, one will be able to observe countless small wooden Buddhist figures including peace, rain, meditation, teaching, and rest.
One can reach the Pak Ou caves by boat on a trip that takes about 2 hours upstream from Luang Prabang. During this journey on the river, you can enjoy wonderful scenery until you reach your destination. If you do not wish to go by boat, you can always take the private tuk-tuk to the village of Ban Pak Ou.