Applying for a Laos eVisa has never been easier. Thanks to iVisa.com you can do the whole process from the comfort of your home. It is a simple and easy process.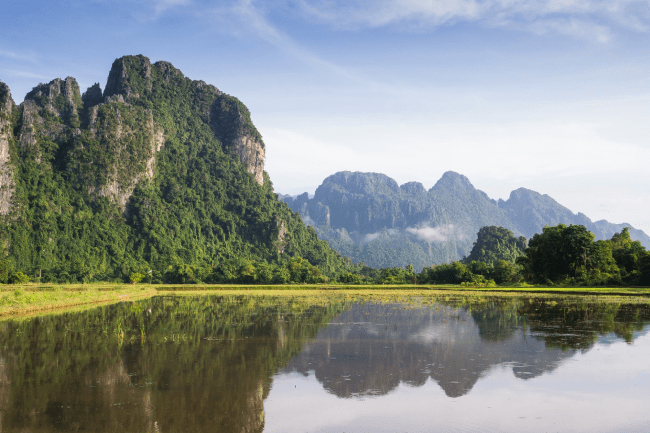 Just contact us and we will advise and guide you to obtain all the travel documents you need to travel to Laos.
Laos Visa Application: Get it online! - Learn more about the Laos eVisa on our FAQs down below.
Frequently Asked Questions
What are the COVID restrictions to enter Laos?
In Laos, it is not necessary to have a COVID19 certificate to enter the country. However, what is required is a negative COVID19 test. The Laos government requires visitors to present a negative test 72 hours before take-off and to take a test upon entering the country.
In addition to the negative test, visitors must quarantine for 14 days in an approved hotel facility and purchase COVID19 insurance to travel around the country.
Laos Visa Application: Get it online! - COVID19 information is changing constantly, that is why we recommend you to review our FAQ section for updates.
What is the Laos eVisa and how can I apply for it?
The Laos eVisa is an electronic visa that allows travelers to enter the country without having any problems. This visa is a single entry document that has a validity of 60 days after being issued with a maximum of 30 days to travel around upon entry.
This document can only be used to enter the country through the Wattay International Airport or the Lao-Thai friendship bridge.
Laos Visa Application: Get it online! - You need to follow these 3 steps to apply for the Laos eVisa.
Step 1: Fill out our online questionnaire, and then choose the processing time that fits your travel budget.
Step 2: Check that all your information is correct and then choose the method of payment.
Step 3: Upload all the required documents and wait for iVisa.com to send your Laos eVisa.
Laos Visa Application: Get it online! - Get your electronic visa with iVisa.com
What documents do I need to apply for my Laos eVisa?
Passport information copy with at least 6 months validity.
A passport-size photograph taken recently.
An e-mail address.
A payment method. It can be a credit or debit card.
Laos Visa Application: Get it online! - Don't forget to scan all the documents and don't send originals.
What is the cost to obtain the Laos eVisa?
At *iVisa.com you can get your Laos eVisa with the Standard option.
Standard Processing Time:

7 Business Days

-

USD $69.99

Rush Processing Time:

5 Business Days

-

USD $82.99

Super Rush Processing Time:

3 Business Days

-

USD $97.49
Laos Visa Application: Get it online! - You will always get the best prices with iVisa.com
Can iVisa.com be trustworthy?
Of course! Our company has high-quality data protection processes and this allows us to guarantee the security of our clients' information. You can read all about it in our review section.
Laos Visa Application: Get it online! - You can always trust in iVisa.com.
What happens if I need to talk to someone about the Laos eVisa?
If you have any concerns you should contact our customer service team, they are available at any moment to help you with anything you need.
iVisa.com Recommends
One of the most important natural attractions of the country is the Pathet Lao Caves, located in the province of Houaphanh in the northeastern side of Laos is a system of collapsed limestone mountains. Legend has it that approximately 480 of these spaces were used by the Pathet Lao during the Second Indochinese World War to protect themselves from attack by American soldiers.
Approximately 23,000 people lived in these holes, and they contained a healing center, a school, workplaces, bakery kitchens, stores, and even a theater, among other things. The area housed the country's armed force fighting against the royalist forces, located in Vientiane.
These caves were used for living and acting as part of the fact that the U.S. aviation-based armed forces were bombing the territory so heavily it was almost impossible to live above ground. Local people say that the ranchers needed to farm around the afternoon time to refrain from air raids. Don't hesitate to visit these caves and relive how these people lived for a long time until the end of World War II.