There has been a round of travel updates released by the government of Laos. These updates come with directives regarding documentary requirements that foreigners would need in order to enter the country or prolong their stay within its borders. Under these directives, there will be automatic visa extensions for foreigners who are holding current and valid Laos visas, especially if they are still inside the country. The reason for this is the government is trying to manage the number of foreigners who are going to government offices to make a request for the documents, thereby also reducing the risk of diseases infecting the locals.
At the moment, there are no updates about the extension of the program. According to the most recent information, the program will be ending on July 31st, 2020. However, the program comes to an assurance to foreigners with Laos visas that they will not be made to make a report or pay additional fees. They won't even be required to submit documents in order to extend the duration of their visas or their stay within the country.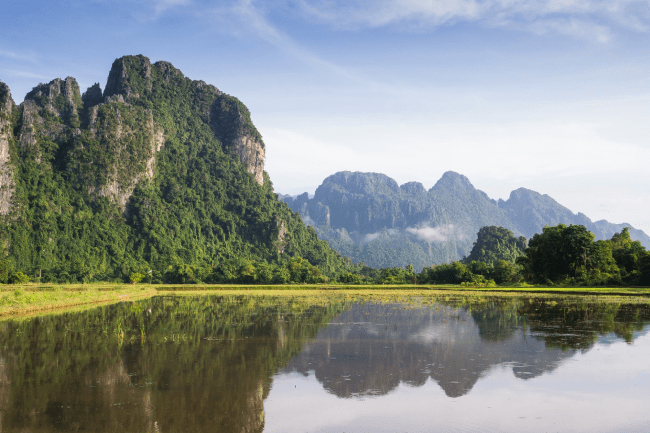 There is a caveat, though. Most incoming foreign travelers will have to provide a visa if they want to enter the country unless they are from a visa-exempt country. And, aside from having a visa, they will also need to present a Laos Health Declaration Form if they are to be allowed entry.
There are countries that enjoy visa-exempt privileges with Laos. But unless the traveler came from any of these countries, they will have to provide an evisa upon inspection so they will be allowed to enter the country. The evisa is considered a pre-registration of its holder, and the application is completed online. Once the traveler reaches his destination, the evisa will be switched to a visa on arrival once the inspection is finished. This is why getting their Laos evisa beforehand is essential for travelers so they don't waste time and money.
Another document required for entry into Laos is the Laos Health Declaration Form. What that document basically functions as is a statement about the health and medical condition of the holder of the documents. Other than that, it also shows the travel history of the holder, specifically within 14 days prior to his trip to Laos. The best way to get one is to apply online through iVisa.com services.
iVisa.com was developed precisely for this reason. The information on the visa needs to be accurate and the process should not be very stressful for the traveler. As it so happens, iVisa.com has been a trusted name in the international travel business for years, providing correctly processed documents to customers and making the application convenient, fast, and easy.
This article contains information about how to apply for the documents that you will need to enter Laos or other destinations that you may want. You don't need to drive to Laotian missions or wait in line for hours to get your hands on the paperwork. You can do it from the safety and comfort of your own home with iVisa.com.
Frequently Asked Questions
Are travelers bound to Laos going to need a visa and a Health Declaration Form?
Citizens of most countries will be required to present a visa when they decide to go to Laos, save those that are from visa-exempt nations. Countries with visa-exempt arrangements with Laos include all members of the ASEAN, republics that comprise the former USSR, and some non-ASEAN member nations.
And that's not all. They will also be expected to provide a Laos Health Declaration Form. The form makes it easier to identify those travelers who do not show symptoms of any viral respiratory diseases, which in turn facilitates their entry into Laos. This allows the country to redirect its resources to process and speed up the entry of other cases. Get the correct document by using iVisa.com services to apply for the Health Declaration Form.
Which countries enjoy visa-free benefits with Laos?
As stated above, all members of ASEAN are free to enter Laos without a visa. These countries include Brunei, Cambodia, Indonesia, Malaysia, Myanmar, the Philippines, Singapore, Thailand, and Vietnam. There are also non-ASEAN member countries with visa-exempt status. These are Bangladesh, Brazil, China, Cuba, DPR Korea, Hungary, India, Japan, Mongolia, Peru, Luxembourg, Switzerland, Poland, Russia, South Korea, and Timor Leste.
Some countries who were members of the former USSR also enjoy visa-free status. These include Armenia, Azerbaijan, Belarus, Estonia, Georgia, Kazakhstan, Kyrgyzstan, Latvia, Lithuania, Moldova, Tajikistan, Turkmenistan, Ukraine, and Uzbekistan.
Citizens of the countries stated above do not need a visa to enter Laos, but all others will need to apply for one before going on a trip to this Southeast Asian country.
Why do you need to apply for both documents before going to Laos?
Also stated above is the fact that Laos requires both an eVisa and a Laos Health Declaration Form for all foreigners, excepting those from visa-exempt nations. That is why it is strongly advised to have both documents on hand before even getting on the plane to Laos so you will not have to subject yourself to the stress of requesting the document at the airport. You will also avoid wasting money and time by having all the required documents ready. Get your own Laos evisa and Laos Health Declaration Form with iVisa.com.
What are the requirements for a Laos evisa application?
It's easy to apply for a Laos eVisa. You only need to submit a clear digital copy of a passport quality photo as well as a clear scanned copy of the personal details page on your valid passport. All you have to do after that is to wait for the documents to be sent to your email.
Is the iVisa.com service safe and reliable?
iVisa.com's platform is very reliable since the website itself is safeguarded by top security software. This makes all the information put in by the customer safe and secure from leakage to unauthorized users, like identity thieves and hackers.
Where do I need to go if I need more information?
Information about eVisas, Health Declaration Forms, and digital documents for international travel, in general, are available for perusal on the iVisa.com website. For any other concerns or questions, please drop us an email at [email protected].