Do you love coffee? Ever got a chance to see a coffee plantation? Sinouk Coffee is the prominent coffee supplier in southern Laos and provides you with the freshest coffee you will ever relish. Visiting Sinouk Coffee plantation with the Bolaven Plateau will be one of the unforgettable experiences of your life. When you stroll through the lush gardens, you can take a tour to learn about planting and roasting. To feel the aroma of the coffee every morning you wake in Laos, plan your stay in the Sinouk Coffee Resorts. Experience all this in Laos by booking your ticket to Laos and applying for an e-visa.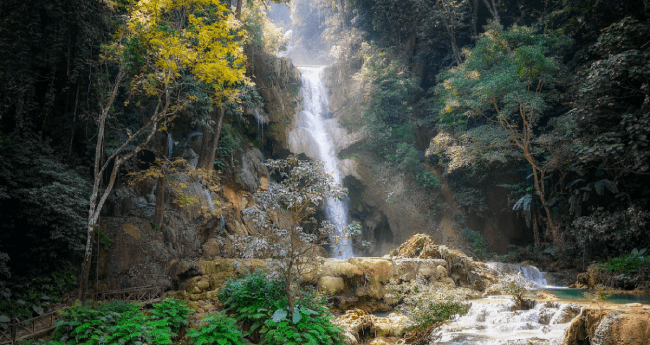 To simplify this procedure of Laos eVisa, we offer our affordable services to you so that you can plan your vacation, pack your bags, and complete your daily tasks before leaving. You will have to fill an application form that will require a few of your personal information. It will take only fifteen to twenty minutes to fill this application form and leave all other things on us and you will get your travel document ready in a few days.
You can get more information about Laos eVisa eligible countries by reading the following FAQs:
FREQUENTLY ASKED QUESTIONS
What does Laos eVisa mean?
When you plan a trip to Laos, you will be allowed to enter there when you have a travel authorization document named Laos eVisa. This is an online document for which you have to submit an online application form. You will have to present the printed copy of your eVisa when you reach Laos.
How much do I have to spend on getting Laos eVisa?
Getting eVisa for Laos is very simple when you contact iVisa.com and avail our amazing services. The cost you will have to spend on getting Laos eVisa depends on the processing time alternative you select. That means how quickly you will get your eVisa, the more is the amount you need to pay. Here is the list of options for price:
Standard Processing Time Option: This is the most affordable option that is

USD $90.49

only and you will get your travel document in

7 Business Days

.
Rush Processing Time Option: Choosing this option will cost you

USD $119.99

and you will get your travel document in

5 Business Days

only.
Super Rush Processing Time Option: This is the most expensive option that will cost

USD $150.99

and your eVisa will be ready in only

3 Business Days

.
Can I use the Laos eVisa at any point of entry?
No, you can only use Laos eVisa at two points of entry in Laos. Thai-Lao Friendship Bridge and Wattay International Airport are two airports where you can utilize Laos eVisa. If you are choosing another point of entry in Laos, you will have to apply for a standard visa at a Laotian consulate.
Which countries are eligible for Laos eVisa?
The citizens of all countries in the world are eligible for applying for an eVisa in Laos. They will have to keep in mind the point of entry before applying for the same as they can utilize this eVisa for only two points of entry in Laos.
Can I rely on iVisa.com services for Laos eVisa?
Yes, you can completely rely on our services for Laos eVisa as we are offering services for many years to our customers. You can check their reviews on our website. They find our services reliable, safe, transparent, affordable, and simple to use.
What should I do to clear my doubts?
If you have more doubts regarding Laos eVisa and other travel-related documents, you can visit our page and contact our friendly customer care representatives to get more info.
Vacation plays an important role in our lives and it is significant to plan one to rejuvenate. When you plan a trip to a country like Laos, your vacation becomes one of the treasured experiences.