Laos is a great country that is rich in culture and heritage. To get a glimpse of its culture, you can visit Vientiane Morning Market. This market is a perfect place for those visitors who are looking for Laos silk scarves or souvenirs for their loved ones. This is a traditional open-air village market that offers almost everything from fresh produce to religious statue replicas. If you love the thrill of hunting and bargaining in the market, this market is a must-visit for you in Laos. If you are planning a trip to Laos from another country, you should have a Laos eVisa.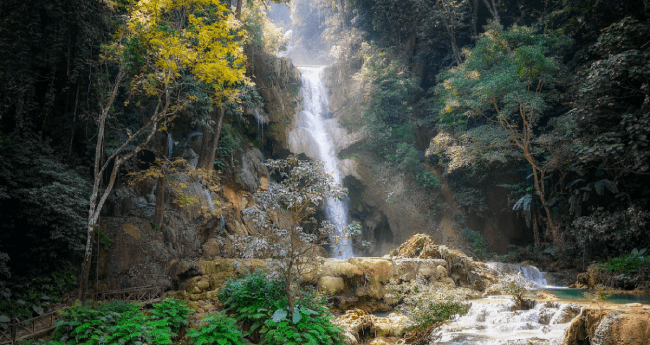 Contact iVisa.com to obtain Laos eVisa fast and easy. We offer hassle-free services for travel documents to our valuable customers. We understand the value of time and money of our customers. That's why we offer the services to our customers for the application of Laos eVisa. Taking advantage of our affordable services will benefit you in many ways like saving time from standing in a long queue for a visa on arrival, saving effort in applying for e-visa, and spending this time and effort on something more useful.
Check following FAQs to get more details about Laos Visa Types and its processing:
FREQUENTLY ASKED QUESTIONS
What is the Laos eVisa?
Laos eVisa is a mandatory travel authorization document that is required by Laos immigration authorities from every citizen of another country traveling to Laos. This is an online document, so you will have to apply online to get your eVisa through email.
What are the documents that I should collect?
If you apply with iVisa.com, the documents you must have are very simple to get. Collect the following requirements:
Passport: ensure that your passport scan is visible and it has a valid expiration date.
Photo: use iVisa.com Photos to obtain a good quality of photo.
Your valid email Address: your eVisa will be sent by email.
Payment: use a debit/credit card or a Paypal account.
What are the steps for the application of a Laos eVisa?
The steps to follow for the application of a Laos eVisa are very simple. You can take assistance from iVisa.com support services if you need help at any step. These are the steps:
Firstly, you will have to apply online by completing the application form.
Secondly, you will have to recheck the information you have submitted and pay the fee for your e-visa.
Thirdly, you will have to upload your passport photo and photo of yourself.
What are the processing times and prices?
All the prices that we will show you below include the service fee. Remember that the faster you want to get your Laos eVisa, the more you will have to pay.
These options we have for you:
Standard:

7 Business Days

-

USD 79.49

.
Rush:

5 Business Days

-

USD 141.99

.
Super Rush:

3 Business Days

-

USD 183.99

.
What are the types of Laos visa?
Laos visa types are divided into three categories. The first category for the Laos visa includes the citizens of visa waiver countries. There are around fifteen countries that are visa-free for Laos. That means the citizens of these countries require only a valid passport to enter Laos. They can stay in Laos for 14 to 30 days based on their citizenship. As per the second category, the citizens of all countries are eligible for a visa on arrival if they are traveling for tourism purposes. If you are eligible for a visa on arrival, this implies that you can also apply for a Laos eVisa to simplify all the procedures. According to the third category of Laos visa, you will have to go to a Laotian embassy to apply for a standard visa if you are not eligible for any of the two categories.
How many times I can visit Laos with Laos eVisa?
Laos eVisa allows only a Single Entry entry to Laos. When you apply for an e-visa, you will get a validity of a maximum of 60 days after issued. You must visit the country within that period.
With the utilization of a Laos eVisa, how many days can I stay in Laos?
With the utilization of a Laos eVisa, you can stay in the country for a maximum of 30 days Per Entry within a period of 60 days after issued.
Why should I believe in iVisa.com services for getting Laos eVisa?
iVisa.com services are genuine and you can rely on them for your Laos eVisa or other travel-related documents. You can check our clients' feedback and reviews on our website to know how safe and reliable our services are.
Where can I get more info for Laos eVisa?
If you have more questions regarding Laos eVisa, you can email our customer care representative with your query. Your query will be resolved as soon as possible. You will get more details by visiting our page.