There is much to tempt the citizens of Dominica to the dazzling cities and quaint villages of Latvia. With laid-back beaches to visit, snow sports, and stunning national parks, Latvia is known for retaining large, well-preserved natural spaces, and for the foodie readers from Dominica, you'll be thrilled to hear that gastronomy is one of this area's most popular attractions.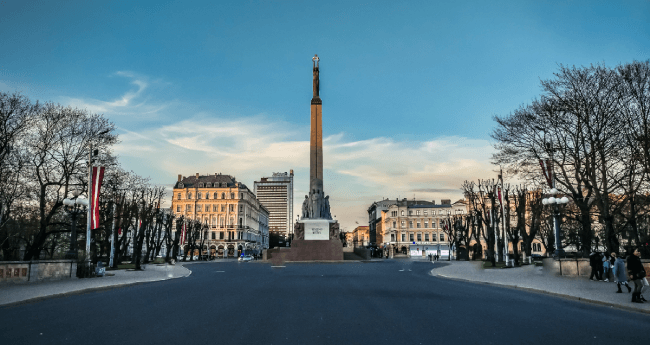 Visiting Latvia has never been easier, and soon getting the Latvia ETIAS for the citizens of Dominica will also be easy. Check out this helpful question section that covers everything our readers in Dominica need to know about planning a successful trip to Latvia, or maybe even enjoy their first visit thanks to the travel tips on the iVisa.com website. Read on for more information.
Frequently Asked Questions
What is the ETIAS form?
The ETIAS application process on the iVisa.com website is so easy that you'll be surprised when you finish it so quickly. There are only three straightforward steps to follow and your application will be reviewed by an official. Just follow the steps below.
Fill out the online form with your biometric passport information, as well as answering any additional questions that are relevant to you.
Double-check your answers, because errors can result in a denial. Pay for the processing time fee you choose.
Upload scans of your documents and submit your application. Now you're on your way.
It's really that easy!
What price ranges does iVisa.com offer?
iVisa.com offers three different processing options, with prices matched accordingly. You can choose the option that best suits your needs, depending on how soon you want it delivered to your email inbox.
Standard option: Provides the document in an average time period at the best value price.
Rush Option: You'll pay more for a faster service.
Super Rush Option: You will pay more than the other two for this processing speed, but you should have it in time for a flight later on the same day. How convenient!
Why do the citizens of Dominica need an ETIAS authorization?
ETIAS, which means European Travel Information and Authorization System will aim,in the long term, to substantially reduce security concerns through its information and data collection systems. This means that the Latvia ETIAS for citizens of Dominica will detect whether a person is somehow a threat to the security of Schengen countries and also control the increase in illegal immigration. it is reasonable for the authorities to try to reduce the security risk incoming travelers pose to residents.
What should I do if my application is rejected?
If the results of your ETIAS application were not what you expected, you will receive a denial message. In the denial message, you will also find a reason why ETIAS was denied. You may appeal this decision by formally accessing a team member through the customer service center or depending on the reason for refusal, you can adjust your request and reapply if the names or passport numbers have been entered incorrectly.
How does ETIAS know who is a security threat?
ETIAS will be connected to many databases that can verify your information. This will check the records of various agencies around the world, including those used by agencies like Interpol. That is why it is important that all applicants give honest answers, as the system will immediately identify any discrepancies in their application responses and subsequently restrict their access.
Do I have to apply for ETIAS even if I have a Schengen visa?
No, because if you already have a Schengen visa, this means that you will not need an ETIAS authorization. You can present your visa to the border authorities when you wish to enter the Schengen countries. When your visa expires, you can apply for ETIAS if you become eligible because the circumstances of your Schengen visa no longer apply. We recommend that you use the convenient Visa Verification Tool on the iVisa.com website that provides users with all the information they need to visit anywhere in the world.
Is it safe to use iVisa.com?
When we learn about other companies' data inconsistencies, we feel sorry for them because they didn't protect their customers' data well enough. You don't have to worry about your personal information when applying through iVisa.com, because for us, privacy is goal number one. Handling confidential documents for a living makes us security experts, and if you're still not sure, check out what our users are saying about iVisa.com on the customer review page.
Where can I read more information?
If you've read all these questions and haven't found the answer you were looking for yet, then maybe it's time to contact one of our customer service advisors, who are waiting to hear from you in the non-stop chat feature. Click on over to the customer service center for much more interesting travel news articles and updates.