Latvia is located in the east of Europe and its refreshing coast borders part of the Baltic Sea. The name of this ocean says a lot about the temperatures in this part of the world, so as you can imagine in winter you can find different activities for all the family to enjoy. The summer months, however, tend to be warmer- and that's the perfect time to enjoy all those beautiful beaches. We are positive that you'll have a wonderful time, no matter what you choose to do.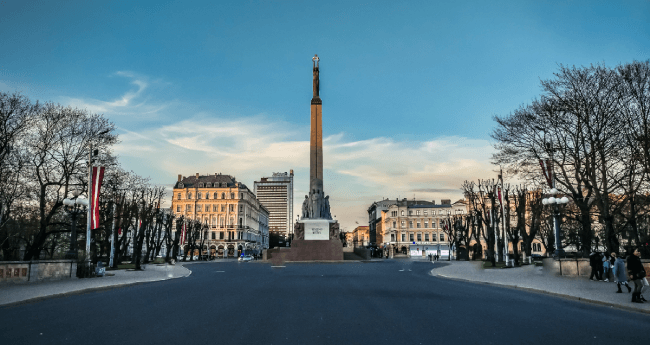 Spend your holiday in Latvia nestled up with your partner in a cottage in one of the countless scenic villages. When you're ready to hit the town you'll soon discover that they're full of gastronomic activities. At iVisa.com you will find all the information you need to prepare yourself for a fantastic trip. We have gathered together all the answers to those burning questions and finally, they're here- all ready and waiting for readers from Georgia who want to go to Latvia, and anyone else looking for details about the Latvia ETIAS. This vital travel document will soon be an essential requirement for all visitors who do not need to apply for a visa in order to enter the Schengen area.
Read on to find out how to get your hands on the Latvia ETIAS for citizens of Georgia.
Frequently Asked Questions
What is Latvia ETIAS for citizens of Georgia?
ETIAS is a border control system so you'll need to know that the words for this acronym are European Travel Information and Authorization System .
The ETIAS is designed to facilitate safe border entry and controls for the countries that make up the Schengen Economic Area. The ETIAS will also be essential to provide the authorities with any relevant information regarding your criminal and travel history, which will be verified by additional checks before entry is granted through the Latvia ETIAS permit.
Which countries are part of the ETIAS area?
It is important to note that not all European countries are in the Schengen area . Specifically, Ireland and the United Kingdom (which recently left Europe) are not included in ETIAS coverage, so it's a good idea to check your travel plans on the Visa Checker at iVisa.com to find out any additional requirements or visas that may be necessary to visit these areas.
The ETIAS will apply to visitors wishing to enter Austria, Belgium, Luxembourg, Netherlands, Germany, France, Spain, Portugal, Sweden, Finland, Denmark, Lithuania, Latvia, Estonia, Poland, Slovakia, Hungary, Slovenia, Italy, Greece, Czech Republic, Malta, Iceland, Liechtenstein, Norway, Switzerland. Find more information at iVisa.com.
What do I need to apply for the Latvia ETIAS for citizens of Georgia?
In iVisa.com the most important thing is the time of customers and long applications are the biggest obstacle for tourists planning to travel, so you will be happy to discover that you can speed everything up for your Latvia ETIAS for citizens of Georgia in less than 20 minutes thanks to simple and clear instructions on our easy-to-use, friendly format site. All you need to get started is:
Your passport
Your email address
Your choice of payment option: credit/debit card or PayPal.
How much does ETIAS Latvia for citizens of Georgia cost?
Prices have not yet been declared, but a little bird told us that it could be fairly priced at around 7 Euros. You kind find out more about the different processing speeds that iVisa.com offers customers to obtain their document:
Standard Processing Option: This is the best option for travelers who have plenty of time before they fly.
Rush Processing Option: The option for travelers who need a faster solution.
Super Rush Processing Option: The option for travelers with no time to spare who need to travel now.
Latvian ETIAS for citizens of Georgia will be a priority for travelers from 2022, so go ahead and apply with iVisa.com.
How can I get my ETIAS?
Three steps are all it takes to start your holiday in Latvia.
Read the questions and answer them honestly. You will need to give details about your name, address, any relevant criminal history, and medical history.
Then choose the processing speed that best suits your needs. We suggest that you read your answers carefully again to make sure they are correct, and then pay with a credit or debit card. You can also pay with PayPal if you prefer.
Scan and upload the necessary documents to support your application. Click Submit and your ETIAS journey will begin. It's really as easy as it sounds!
Is it possible to visit the Schengen area with a Latvia ETIAS for citizens of Georgia more than once?
It all depends on the result of the system verification, as some applicants may find that their ETIAS permit is only valid for the duration of their trip. Currently, Georgian citizens can stay in Latvia for 90 days every 180 days and that includes multiple entries. A standard ETIAS could be valid for up to three years, so start applying now to find out how long you have the right to stay for.
Is IVisa safe to use?
The team at iVisa.com believes it is important to differentiate ourselves from our competitors by using the best possible security protection to ensure that customer data is protected from all kinds of online threats. You can trust iVisa.com to store your passport data in sealed databases that can only be accessed by authorized staff members and no one else.
Read our customer reviews to learn more about our processes.
Where can I find more information?
You can find more information about the Latvia ETIAS for citizens of Georgia, travel documents, and visas needed to enter countries around the world at iVisa.com.