There are a lot of fascinating maritime and land-themed activities for the citizens of Honduras to visit in Latvia. In Ventspils, the Seaside Open Air Museum is a fascinating and entertaining distraction with historical and cultural attractions for all the family. In the warmer months, get away from the busy capital, Riga, with a walking break in one of the preserved natural parks that this nation has. Latvia is also one of the best places in the region to enjoy the local gastronomy including fresh fish and homemade cottage cheese.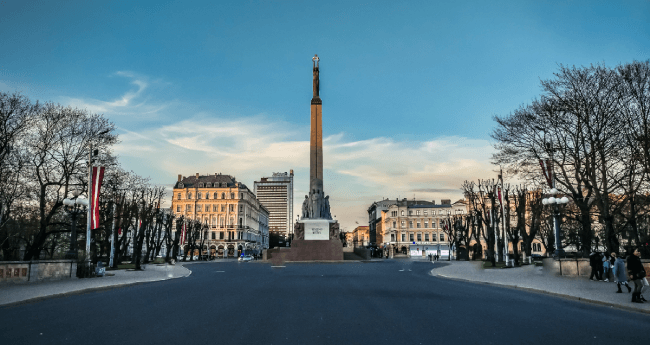 Visiting Latvia has never been easier, and soon getting the Latvia ETIAS for citizens of Honduras will also be easy. Check out this helpful question section that covers everything our Honduran readers need to know about traveling to Latvia. So why not plan a trip to the Baltic region, thanks to the practical tips you can find at iVisa.com. Read on to find out more.
Frequently Asked Questions
What is the process when completing the ETIAS form?
The ETIAS application process on the iVisa.com website is so easy that you'll not be able to believe your eyes when you complete it so quickly. Just follow three simple steps and the results of the application will be in your inbox in no time. To start traveling and apply for your Latvia ETIAS for citizens of Honduras. Simply continue to the next steps.
Complete the form online with your biometric passport information, as well as any additional questions that are relevant.
Check your answers. Pay for the chosen processing time by choosing one of the options detailed in the following response.
Upload scans of your documents and submit your request. How easy and fast was that?
What prices does iVisa.com offer?
iVisa offers three different processing options for processing your Latvia ETIAS for Citizens of Honduras. You can choose the option that best suits your needs, depending on how fast you want to travel.
Standard option: receive the document within an average timeframe at the best price.
Rush Option: You'll pay more for a faster service.
Super Rush Option: You'll pay considerably more than the other two for this processing speed, but you'll have it in your hands in time for a same-day flight.
Why do citizens of Honduras need an ETIAS authorization?
Named after the initials of this process, European Travel Information and Authorization System , the Latvia ETIAS for citizens of Honduras will aim to substantially reduce security concerns in the destination country and throughout the Schengen region through its detailed information and data collection systems. The ETIAS will facilitate streamlined processes, prevent illegal entry and possible terrorist attacks.
What should I do if my ETIAS application is rejected?
If your application for a Latvia ETIAS for citizens of Honduras is rejected, then you will find a reason why ETIAS was denied in the email response informing you of the decision. You may formally appeal this decision by contacting a team member through the [customer service center] or, depending on the reason for the denial, you can adjust your request and reapply, just in case any names or numbers are misspelled. That's why we recommend that you check your answers three times when applying!
Do I have to apply for an ETIAS even if I have a Schengen visa?
No, because if you already have a Schengen visa, this means that you will not need an ETIAS authorization. You can present your existing visa to the border authorities when you wish to enter the Schengen countries. When your Schengen visa expires, you can apply for Latvia ETIAS for citizens of Honduras if you are eligible because the circumstances of your Schengen visa no longer apply.
Why is iVisa.com safe to use?
We witnessed how other top companies have experienced data theft and we decided to take care of the security situation before it became a problem. You don't have to worry about your personal information ever being leaked at iVisa.com, because the team makes your privacy your number one priority. Handling confidential documents so much helps make them security experts, and if you're not sure, check out what our users are saying about iVisa.com in the comments.
Where can I read more information?
If you are still not satisfied with the answers to these FAQs, it may be time to contact one of the customer service advisors. They are waiting to hear from you, at any time of the day or night, in the online chat. Click on the iVisa.com homepage for much more exciting travel news and updates.