If you woke up today in the mood to visit Latvia for a freezing winter sleigh ride or to visit a spooky cave in a spotless natural park, we are sure you will be interested in learning more about Latvia ETIAS for the citizens of Malaysia. With so much for tourists to see and do, this impressive country located in the eastern region of Europe is the perfect destination for those who like to participate in winter snow activities.
But in addition to snow sports, they will also discover many activities to keep them warm and away from the cold outside, such as visiting museums or learning about the architecture of the cities that surround this great nation.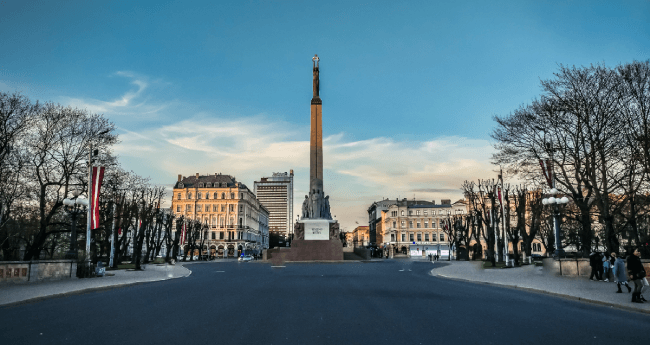 Tourists from Malaysia can currently visit Latvia without visa restrictions, but this will change soon. We will find out more about the recent developments regarding visitor access and the steps you will need to take to make sure your family doesn't miss out on this great trip. Citizens of Malaysia can obtain a Latvian ETIAS through a simple process when they apply with iVisa.com.
Our convenient FAQ section below can give readers a clear idea of ​​how the Latvia ETIAS for citizens of Malaysia works and how you can apply in a matter of minutes using iVisa.com's easy-to-use interface.
Frequently Asked Questions
What can you tell me about the Latvian ETIAS for citizens of Malaysia?
This acronym reads as European Travel Information and Authorization System . It is a security system that evaluates the applicants' personal data by comparing them with various international databases. The goal is for you to get your travel document through iVisa.com and, thanks to the new security benefit provided, real tourists and business travelers will continue to enjoy entry to the Schengen area and the region will be safer for residents and visitors alike. Obtaining the Latvia ETIAS for citizens of Malaysia is a walk in the park with iVisa.com
Can children apply for an ETIAS authorization with iVisa.com?
All travelers, including children and seniors from Malaysia, will need to present an ETIAS travel authorization upon arrival in Latvia in order to enter, starting in late 2022.
They must have their own document and if they cannot apply online, their guardian must apply for an ETIAS on their behalf with their valid passport number.
Applicants will notice a section of the iVisa.com form where parents and guardians can indicate that they are completing it for a young person. If you have any questions about how to apply for your child's visa, please speak to one of our team members at iVisa.com via the 24/7 chat feature found on the iVisa.com website.
How long could the authorization last?
The ETIAS can have a maximum validity of 3 years or a minimum validity of the duration of your vacation. Either way, it only lasts until the end of the validity of the travel document registered during the application, because once your passport expires, your ETIAS will too. Malaysian citizens will be able to obtain an ETIAS for Latvia in a few easy steps on the iVisa.com website.
Do I have to pay to get ETIAS authorization?
We cannot give you a total price at the moment, but it is rumored that it is around €7 for each application. The good news is, we've also heard a rumor that it might be free for kids and seniors.
iVisa offers 3 processing speeds so you're covered even if your trip is rapidly approaching. The options are as follows:
Standard Processing: This speed is perfect for planners who are in no rush and it has the lowest price.
Rush Processing: When your flight is this week and you need an ETIAS pronto, but you will have to pay more.
Super fast processing: If you just remembered to request your document and your flight is later today, choose this option, but you will have to pay a higher fee.
You can pay the fee with a debit or credit card, as well as with Paypal. Immediately after completing the payment, the ETIAS authorization will begin to process.
Get your Latvia ETIAS for citizens of Malaysia without breaking a sweat.
Is it safe to use the iVisa.com platform?
We know that users want to be sure that their procedures are in the right hands. That is why we use the highest quality protection software to carefully protect our platform with the best security so that your data is safe with us. You can also read some of our satisfied customer reviews to learn more about the company.
Where can I read more information?
Citizens of Malaysia who wish to obtain a Latvian ETIAS can click on iVisa.com website for more information. Stay up to date with the latest developments on the site or speak to one of the team of experts who can reach you in the chat feature.