Latvia is located in eastern Europe and its architecture is just one of the many good reasons to visit it, along with its iconic gastronomy and dreamy beaches. All of these great attractions are sure to make you want to travel today. iVisa.com has all the information you need for a fantastic trip, all ready and waiting for Mauritian citizens who are interested in obtaining the Latvian ETIAS .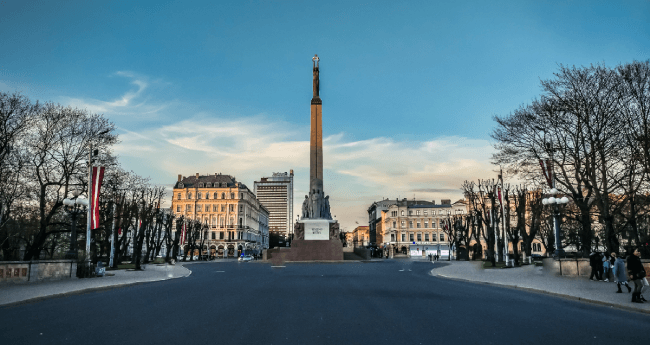 We know that you will enjoy a refreshing and delightful change as Latvia has a lot to offer visitors of all ages. This modern country is ideal for families with energetic kids because there's always a lot happening in terms of entertainment, activities in the snow, and preserved natural parks for parents and children. Read our helpful question section for the best tips and ideas for the trip of a lifetime.
You can prepare for your trip by discovering all about Latvia ETIAS for citizens of Mauritius, which will soon be an essential part of the entry requirements to this paradise. iVisa.com is the first stop for all your ETIAS requirements because we want our customers to have a hassle-free trip with everything they need to clear customs and get straight to the beautiful gothic cities of Latvia.
Read on to find out how Mauritian citizens can get a Latvian ETIAS.
Frequently Asked Questions
What is the Latvian ETIAS?
ETIAS is a border control system, and the letters of this acronym mean European Information and Travel Authorization System . It will be introduced for travelers arriving in the countries that make up the Schengen Economic Area. The ETIAS will be essential for the citizens of Mauritius, as well as the citizens of more than 62 countries who currently enjoy visa-free entry to the Schengen Area.
To control the entry and movement of non-European visitors, the ETIAS will function as a database of information about the citizens who visit. You must provide information on your criminal record and travel history, which will be verified by additional checks before entry is granted through the ETIAS permit.
How many countries are part of the ETIAS area?
The ETIAS is designed to facilitate easier entry and secure border control in the 26 countries that make up the Schengen Economic Area. It is important to note that not all European countries are in the Schengen area . Specifically, Ireland and the United Kingdom are not included in ETIAS coverage, so you should use iVisa.com Visa Checker to find out any additional requirements or visas that may be necessary to visit these areas.
The ETIAS will be implemented for visitors who wish to enter Austria, Belgium, Luxembourg, Netherlands, Germany, France, Spain, Portugal, Sweden, Finland, Denmark, Lithuania, Latvia, Estonia, Poland, Slovakia, Hungary, Slovenia, Italy, Greece, Czech Republic, Malta, Iceland, Liechtenstein, Norway, Switzerland.
What do I need to apply for ETIAS Latvia authorization?
Applying for travel documents can be intimidating and scary, especially when you use government websites with complicated questions and slow loading speeds. iVisa.com knows that stressful apps are the biggest hurdle for vacationers planning a getaway, so to eliminate those fears, Mauritian citizens can get an ETIAS from Latvia in less than 20 minutes thanks to the simple and clear instructions. All you need to get started is:
Your passport
Your e-mail
Your choice of payment option: credit / debit card or Paypal
What prices do you offer on iVisa.com?
Due to the delays in the introduction of the ETIAS, the relevant authorities have not yet published the price of the document. Keep an eye on the iVisa.com site for updates as soon as we hear more about the official cost. In the meantime, check out the different processing speeds iVisa offers to get your document:
Standard Processing Option: This is the best option for travelers who have time to spare.
Rush Processing Option: The option for travelers who don't have as much free time.
Super Rush Processing Option: The option for travelers without time to spare who need to travel now.
How can I get my ETIAS Latvia authorization?
Obtaining the ETIAS with iVisa.com will not take more than 20 minutes because the platform was designed with users in mind. Three steps are all you need to get your Latvian vacation off to a good start:
First, read the questions and answer them honestly. You will need to provide details about your name, address, criminal and medical history. Then choose the processing speed that best suits your needs.

Second, we suggest that you carefully read your answers again to make sure they are correct and then pay with a credit or debit card. You can also pay with Paypal if you prefer.

Third, scan and upload whatever documents are necessary to support your request. Click Submit and your ETIAS journey will begin.
What should I do if I travel with my family and minors?
All citizens of Mauritius must obtain the Latvian ETIAS to visit this great country, and this includes children. The minor's parent or guardian must complete the form on their behalf and indicate in the appropriate section that they are completing it for a child. The talented team at the iVisa.com service center can be of further assistance if you want to talk about your family trip.
Does the Latvia ETIAS for citizens of Mauritius allow me to visit more than once?
The ETIAS is similar to the US ESTA, so for now we expect it to be valid for up to three years. It all depends on the result of the system verification, as some applicants may find that their ETIAS permit is only valid for the duration of their trip. That is why it is important to enter all your details correctly, including the dates you plan to be in the Schengen area. Currently, Mauritian citizens can stay in Latvia for 90 days out of every 180 days and that includes multiple entries.
Is it safe to use the iVisa.com platform?
The internet is full of websites offering all kinds of services, so iVisa.com likes to differentiate itself by using the best possible security protection to ensure that customer data is protected from threats. You can trust iVisa.com to store your passport details in sealed databases that can be accessed by authorized staff members, and no one else. iVisa.com has years of experience so that Mauritian citizens can obtain the Latvian ETIAS with complete peace of mind. Read our customer reviews to get more feedback on our processes.
Where can I find more information?
You can find more information about the travel documents and visas required to enter countries around the world on the iVisa.com website. The knowledgeable staff is waiting to hear from you, so get in touch with any questions or queries about the Latvia ETIAS for citizens of Mauritius that occur to you.