Traveling is an excellent experience for any person who wants to recharge their energy and leave the stressful days behind. On this occasion, we want to show you how easy it is to plan your holidays with us. Latvia is a fascinating country, where you can find the most beautiful architecture, culture, history, and gorgeous destinations. If you are planning a trip here from South Korea, you have to apply for a Latvia ETIAS before your travel date.
You are on the right page if you are planning a great adventure! Let iVisa.com make your dreams come true and enjoy this magnificent country. Do not worry about the paperwork, we will do everything for you. Your Latvia ETIAS will be ready in a short time through a safe and simple online process.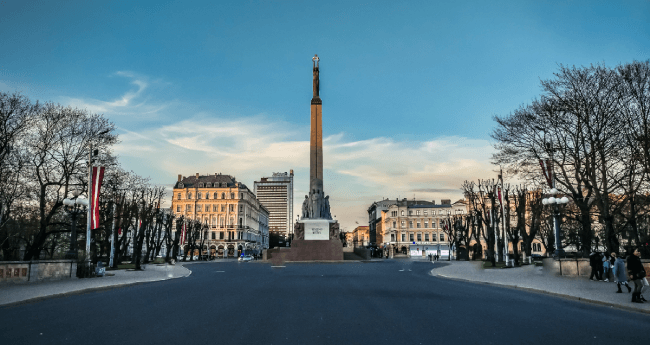 We recommend you read this article about how to apply for your Latvia ETIAS online this way you will know all the information for your next trip!
Let's see how to apply for the Latvia ETIAS for Citizens of South Korea!
Frequently Asked Questions
What is the important information I need to apply for Latvia ETIAS?
iVisa.com has created a user-friendly platform for your comfort. You can find great benefits to help you with your process. You must have a few documents for the application to Latvia ETIAS for Citizens of South Korea, so we recommend you take advantage of iVisa.com's service to get your document faster and easier.
you just need to collect the following:
Valid passport.
A professional picture. You can avail of iVisa.com's Passport Photos' service for this step, if necessary.
Email Address Make sure that you give a valid email because we will send your Latvia ETIAS to Citizens of South Korea via email.
Return ticket reservation with dates and flight numbers specifying entry and exit from
Supporting documents Some nationalities need a supporting document. If you want to know if you need any extra documents, please check our application page and insert your nationality. This can be one of the following: Letter invitation, hotel reservation, travel health insurance
Means of payment, like debit/credit card or/and Paypal profile to proceed with the payments.
If you are ready to request your application, click on the iVisa.com website.
What are the processing times for the Latvia ETIAS and what is the cost?
We cannot provide you the exact details of the processing time and cost as Latvia ETIAS is still not operational. But, we can give you an idea with three options, select the one that best suits your needs.
The three alternatives are:
Standard Processing Option: this is the standard option that allows you to get your document the most affordable way possible.
Rush Processing Option: you can obtain your Latvia ETIAS for Citizens of South Korea very fast with this alternative, but the price is a bit more expensive than before.
Super Rush Processing Option: this is the most expensive option because it allows you to receive your document faster than ever.
The Latvia ETIAS for citizens of South Korea is possible with iVisa.com.
How can I apply for my ETIAS through iVisa.com?
Applying by yourself for Latvia ETIAS is a tedious process. But when you choose iVisa.com for the application of this document, you have to complete three easy steps:
These are the steps to follow:
First, fill out your application form here. Then, choose the processing time that is most helpful for your travel needs.
Second, please double-check the information and complete the online payment through Paypal or with your valid credit or debit card.
Third, upload your passport scan or any other documents if it's required. To wrap up, hit the "submit" button. Now just wait for your Latvia ETIAS for Citizens of South Korea!
Should you have any questions or doubts, our message centers are ready to help you 24/7, so you can fully enjoy your trip and forget about the worries and frustrations of applying for a Latvia ETIAS.
How do I know if my ETIAS document is approved?
Citizens of South Korea must provide a valid email address because we will send you all details about your ETIAS document.
What should I do in case I made a mistake in my application form for a Latvia ETIAS for Citizens of South Korea?
In that case, please as soon as possible reach out to our customer support team and they will be happy to assist you.
Can I find iVisa.com is a trustworthy option?
Of course! iVisa.com is a 100% trustable platform. In iVisa.com, we have an updated system that won't leak any detail about you. You can read our reviews to confirm it.
Make the most out of your time and turn it into travel experiences by processing your electronic documents with iVisa.com. You won't regret it.
What should I do to get more info?
In case you have any questions about the Latvia ETIAS for Citizens of South Korea after reading the information on this page, connect with iVisa.com customer service agents or search for more information on iVisa.com's blog if you prefer to read more travel tips. Traveling should not be stressful. ETIAS are easy to get, start now!