Have you considered visiting the hidden beauties of Latvia? This beautiful country stands out for its fantastic architecture and nature. You have to consider how to obtain your ETIAS before 2022 because it will be necessary to enter Europe.
We would like to invite you to visit Zemgale, located in the south of Latvia. The largest part of Zemgale is flat, which makes it different from the other regions that have both uplands and deep river valleys, also the castle mounds, manor houses, castles, parks, and secular trees evidence the rich cultural history of the region, as well as making this region an attractive destination for anyone who is interested in architecture and art.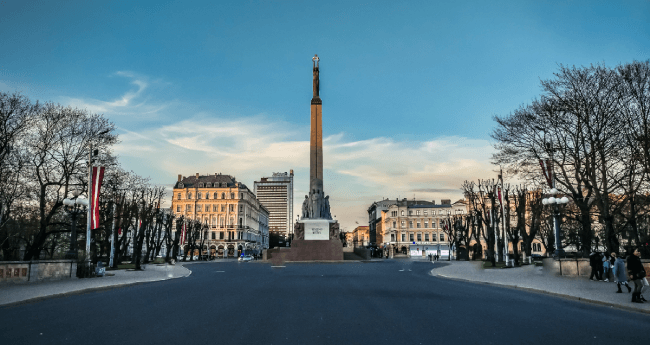 iVisa.com can help you with all the process, we know that sometimes too much paperwork becomes an obstacle, but at this time you can receive your Latvia ETIAS through a safe and simple online process. Please continue reading this article and discover how easy it is!
Apply for your Latvia ETIAS online which guarantees your document quickly and safely. This way you will know all the information about your next travel adventure!
Frequently Asked Questions
What are the indispensable requirements I need to apply for Latvia ETIAS?
iVisa.com provides you a friendly platform that won't require too much time or effort. Save time and read the following shortlist of documents before applying:
you just need to collect the following:
Valid passport.
Passport photograph. This document can be easily obtained with iVisa Passport Photos' professional service.
Email Address Our team will communicate with you using email.
Supporting documents Some nationalities need a supporting document. If you want to know if you need any extra documents, please check our application page and insert your nationality.
Means of payment, Proof of sufficient financial means for the period of stay in Latvia, as a debit/credit card or/and Paypal profile to proceed with the payments.
If you are ready to request your application, click on the iVisa.com website. Remember that if you decide to use another type of service, maybe you will need more documents.
What are the processing options and fees for the Latvia ETIAS for Citizens of Timor?
We cannot yet offer you a specific price, but we can provide you three different alternatives available and each one has a different processing time. Select the best option for you.
The three alternatives are:
Standard Processing Option: this is the standard option that allows you to get your document the most affordable way possible.
Rush Processing Option: you can obtain your Latvia ETIAS for Citizens of Timor very fast with this alternative, but the price is a bit more expensive than before.
Super Rush Processing Option: this is the most expensive option because it allows you to receive your document faster than ever.
The Latvia ETIAS for citizens of Timor is possible with iVisa.com.
How do I process my ETIAS form with iVisa.com?
We know how tedious is to fill out long questionnaires, that's why iVisa.com with its simple method can help you to obtain your ETIAS in just 20 minutes. Remember to provide us with an email address to send you your ETIAS document. You will see how easy it is to navigate on iVisa.com.
These are the steps to follow with iVisa.com:
First, fill out your application form here. Then, choose the processing time that is most helpful for your travel needs.
Second, please double-check the information you've sent by verifying it's correct. Now, you can complete the online payment through Paypal or with your valid credit or debit card.
Third, upload your passport scan or any other documents if it's required. Finally, you'll just need to wait for your Latvia ETIAS for Citizens of Timor!
If you have any questions, our service team is ready to help you 24/7, so you can fully enjoy your trip and forget about the worries and frustrations of applying for a Latvia ETIAS.
How do I know if my ETIAS document was approved?
Do not take too much time to process your ETIAS document. Citizens of Timor must provide a valid email address because we will send you all details about your ETIAS document. Please remember that if your ETIAS has not yet been approved and you do not have any other travel authorization, you will not be able to enter Latvia.
What should I do in case I made a mistake in my application form for a Latvia ETIAS for Citizens of Timor?
In that case, please as soon as possible reach out to our customer support team and they will be happy to assist you.
Remember that if you've already submitted the form, you will likely need to complete it again in a new application so be careful.
Is it safe to use iVisa.com's service?
iVisa.com created a platform that can maintain your information completely safe. You can read our reviews and their experiences to confirm it. Travelers should be confident that iVisa.com will safely store all their information.
Make the most out of your time and turn it into travel experiences by processing your electronic documents with iVisa.com. You won't regret it.
I need specific questions, where can I find more answers?
In case you have any questions about the Latvia ETIAS for Citizens of Timor after reading the information on this page, connect with iVisa.com customer service agents Also, you can read more FAQs on iVisa.com's website if you prefer.
iVisa.com brings you easy processes for your next trip to Latvia!