Latvia and all the countries forming the Schengen agreement are requesting a new entry document known as ETIAS. Traveling to Latvia is very easy with iVisa.com, so do not miss the chance to make your dreams come true.
Have you dreamed of seeing a beautiful paradise? Latvia has a great variety of towns surrounded by the most incredible nature, castles, and history. For instance, we recommend you visit Cesis medieval castle, which is very attractive for couples, because of its romantic architecture, and also there is a kitchen garden, which is kept in the castle courtyard.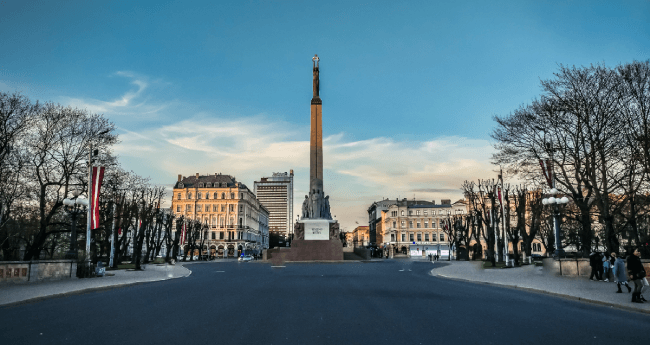 Pack your suitcase, and start a new adventure with iVisa.com. Do not worry about collecting too many documents, we provide you different benefits so you can receive your Latvia ETIAS through a safe, simple, and 100% reliable product different types of visas will apply depending on the reason for your visit.
The journey is just beginning so continue reading about Latvia ETIAS for Citizens of Tuvalu.
Frequently Asked Questions
What requirements do I need to apply for Latvia ETIAS?
Avoid a tiring experience. iVisa.com wants to save your time and make your life easier. For that reason, you do not need too much paperwork to apply for your Latvia ETIAS for Citizens of Tuvalu.
All we need is for you to provide the following documents:
Valid passport.
Email Address Make sure that you give a valid email because we will send your Latvia ETIAS for Citizens of Tuvalu via email.
Supporting documents If you want to know if you need any extra documents, please check our application page and insert your nationality.
Round trip reservation or itinerary It must include dates and flight numbers specifying entry and exit from the Schengen area.
Means of payment, Proof of sufficient financial means for the period of stay in Latvia. Plus you need a way to pay your processing fee like a debit/credit card or/and Paypal profile to proceed with the payments.
Make the decision to start an extraordinary journey with iVisa.com you won't regret it!
What are the processing options and prices for the Latvia ETIAS for Citizens of Tuvalu?
It's unrealistic to offer all the insights concerning the costs since this report is not yet active and the information is not official. Nevertheless, iVisa.com can provide you three different alternatives with different processing times and costs.
The three alternatives are:
Standard Processing Option: this is the standard option that allows you to get your document the most affordable way possible.
Rush Processing Option: you can obtain your Latvia ETIAS for Citizens of Tuvalu very fast with this alternative, but the price is a bit more expensive than before.
Super Rush Processing Option: this is the most expensive option because it allows you to receive your document faster than ever.
The Latvia ETIAS for citizens of Tuvalu is possible with iVisa.com.
How do I process my iVisa.com?
With iVisa.com, you only need to complete the three simple steps:
First, fill out your application form here. Then, choose the processing time that is most helpful for your travel needs.
Second, please double-check the information you've entered and process the online payment through Paypal or with your credit or debit card.
Third, upload your passport scan and deliver the online form by hitting the "submit" button. Now just wait for your Latvia ETIAS for Citizens of Tuvalu!
When you finish it, you'll simply need to hang tight for your ETIAS document, which will be sent through email. If you have questions or doubts, you can contact our customer service agents which are accessible all day, every day.
And remember to be careful with the information that you write, if you make a mistake this can cause your application to be rejected.
If you are ready to apply click the link here.
How do I know if my ETIAS document is approved?
Citizens of Tuvalu must provide a valid email address because we will send you all details about your ETIAS document. Remember to keep your authorization document at all times when entering Latvia or any other Schengen country.
Start the form before you set off.
What should I do in case I made a mistake in my application form for a Latvia ETIAS for Citizens of Tuvalu?
If you discover an error after submission please get in touch with us as quickly as you can by means of an online visit here and our team will be happy to assist you.
Is it safe to use iVisa.com's service?
Of course! iVisa.com is a 100% trustable platform, which has an amazing security framework that prevents any unapproved access to your information. You can read our reviews to confirm it. Make the most out of your time and turn it into travel experiences by processing your electronic documents with iVisa.com You won't regret it.
I need specific questions, where can I find more answers?
If you need personal attention about the Latvia ETIAS for Citizens of Tuvalu connect with iVisa.com customer service agents or search for more information on iVisa.com's blog if you prefer to read more travel tips. Start packing for your European trip and experience a new world with iVisa.com.