Before planning any trip to Europe, you must be sure to have all the documentation required first. This way, you can visit any country at ease and without any legal issues. That's why you shouldn't ignore the importance of the ETIAS in the future because it'll be one of the most important travel requirements to enter Luxembourg and other countries that belong to the Schengen Area. In the information below, you'll verify all the documents required to apply for the LuxembourgETIAS for Citizens of El Salvador.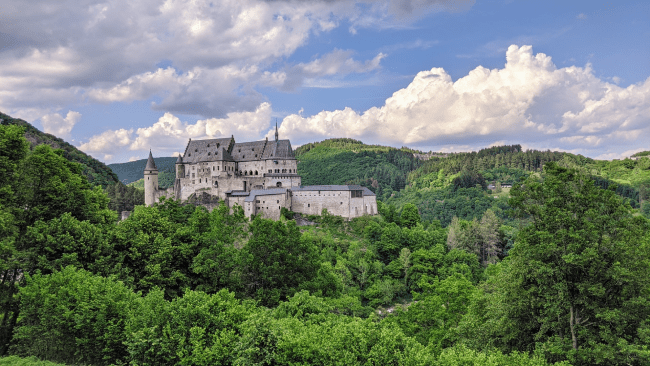 With the ETIAS pre-travel document, you'll be able to enter all of the countries that belong to the Schengen Zone. Consider that because if you don't have it at the airport, you may not be allowed to enter.
The ETIAS official website offers you a simple process, but it might be time-consuming and tedious. That's when you can use iVisa.com, a company that designed an online form easier to understand.
If you want to get more details about the Luxembourg ETIAS and iVisa.com's service, keep reading the article below.
Frequently Asked Questions
What is an ETIAS and why do I need to apply for it?
The European Travel Information and Authorization System is the official name of the ETIAS system, but as you can guess, the ETIAS is the popular acronym for it. This is an electronic visa-waiver system that offers you a pre-travel authorization to enter all of the Schengen countries. The main purpose of this document is to have better control of the foreign citizens entering the Schengen Zone so that the authorities can avoid potential threats or terrorist attacks.
With the Luxembourg ETIAS you can enter Luxembourg and any of the 26 countries that belong to the Schengen Area.
As a Salvatorian, remember that you don't need a Visa to enter the Schengen Zone countries. The only thing you have to do (starting in 2022) is to apply for an ETIAS.
How many countries can apply for the ETIAS?
All of the eligible countries for the Luxembourg ETIAS are visa-free, which is why it's available only for 60 countries by now.
Do I need this document to study or work in Europe?
You can use the Luxembourg ETIAS only for short-term stays. Your visit can be for business or entertainment purposes, but it'll still be useful to get the ETIAS as long as you stay in Schengen countries for a maximum of 90 days.
As for the validity of the ETIAS, you can use it for three years, unless your passport expires before, which will also cancel the ETIAS and you'll have to apply for a new one once you renew the passport.
What documents do I need to apply?
By using iVisa.com's application form you enjoy an easy and fast process that won't ask you to provide many things. You'll only need the following list of documents to apply for your Luxembourg ETIAS
Is iVisa.com's service secure?
We understand that security is important for you, and that's why you'll be happy to know that iVisa.com created a reliable system that keeps your information safe. So as you can see, it's absolutely secure to use iVisa.com's online form. If you still have questions about it, you can check our reviews here.
I still have unresolved questions, where can I get more information?
Do you still have questions in mind? Then don't stress, we can assist you. Reach out to our customer service for more help, or simply explore iVisa.com's website to read other useful tips about your travel plans.
If you feel ready to start, then begin the ETIAS online application here!
Your valid passport (it must have a 3-month validity).
A valid email address where you'll be able to receive your document.
A valid means of payment (credit card, debit card, or Paypal).
What are the prices and the processing times for the Luxembourg ETIAS?
The ETIAS is a process that the E.U. Commission announced just a few years ago, and it'll be public in 2022. That's why there's not an official price for the Luxembourg ETIAS yet, but we can offer you basic details about the processing alternatives with iVisa.com. We can also tell you that with iVisa.com, you can choose any of the following processing times depending on the urgency you have with your documents:
Standard Processing Alternative: It's the most affordable processing option that allows you to save money and effort. You can get your document ready in a few days.
Rush Procedure Method: With this method, you can get your ETIAS in less time, but it's also more expensive in comparison to the previous option.
Super Rush Procedure Method: If you're in a rush, you might want to choose this option because it's the fastest. However, it also has the most expensive price.
How can I apply?
Thanks to iVisa.com's effortless 3-step process, you won't suffer while applying. Our application form is quite simple and easy-to-understand, but if you have questions while completing in, then don't hesitate in contacting our agents that are available at any time. We also want to remind you that it's possible to apply with the official ETIAS website, but in that case, you'd have to wait for the authorities availability. With iVisa.com, you can apply at any time and get your document quite fast.
By using iVisa.com's application form, you'll only have to follow these steps:
Firstly, fill in the application form and select the best processing option according to your travel plans.
Secondly, check that all the information you offered is fine before paying for the service.
Thirdly, finish the process by clicking on 'submit' but only after you upload the documents necessary (if applicable).
As soon as you complete the process, you'll just have to wait for your confirmation email and your Luxembourg ETIAS according to the processing time you selected.
How much time do I need to apply?
A great benefit of using iVisa.com's online form is that it's not time-consuming and it allows you to get your document easily by just filling in a short questionnaire. That's why you'll be able to complete it in only 20 minutes of your day. Try not to feel under pressure while applying, take all the time you need if necessary, especially to avoid mistakes.
Don't forget that if you want to get your document asap, you can simply select the Super Rush processing time.
Is iVisa.com's service totally safe?
Safety is something that you shouldn't overlook, especially when applying for your Luxembourg ETIAS. That's why we want to tell you that iVisa.com has reliable software that won't put your information in danger. We also have a trustworthy work team that's been working with this system for many years, so it's almost impossible to have any trouble with the documents.
However, we can guarantee that in case there's an issue with the platform, we'll always let you know via email and we'll always safeguard your information first. This has been our aim for many years, and that's notorious in the thousands of positive reviews we've received.
I still have unresolved questions, where can I get more information?
If you still have doubts about the online process to get the Luxembourg ETIAS, then get ready to receive the best assistance possible with our customer service. Another option can be iVisa.com's website if you prefer to read other useful tips about your travel plans.
Get ready for your application form today! Apply for the ETIAS online application here!