If you're an Australian citizen looking to travel to Macao (also spelled Macau), you must know that there are some travel disruptions as international trips have been severely affected due to coronavirus pandemic all around the world.
The Government of the Macao Special Administrative Region launched the Macao Health Code in March as an effort to limit the spread of coronavirus within their community. This means Australians need a Health Declaration to enter Macao. The Macao Health Code can serve as one, and you can take it directly at the airport upon arrival or you can process your health declaration digitally through iVisa.
The good news is that there are no active cases of coronavirus diagnosed in Macao and no deaths as of June 5, 2020. So, if you're an Australian traveling to this autonomous territory located on the south coast of China for the summer, a meeting, or a business trip during COVID-19 pandemic, make sure to keep reading.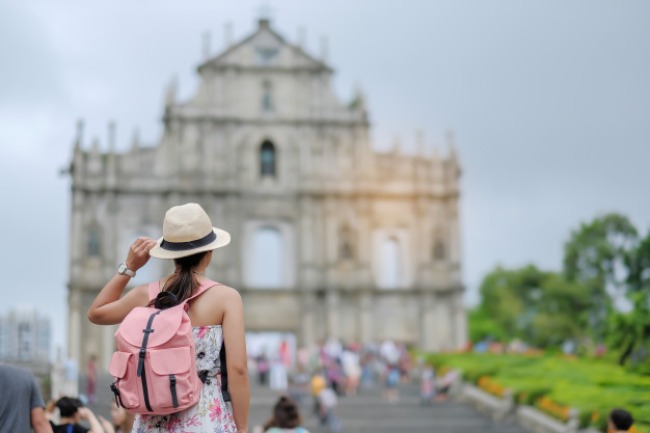 Frequently Asked Questions (FAQs)
WHAT DO AUSTRALIANS CITIZENS NEED TO ENTER MACAO DURING CORONAVIRUS?
The Macao authorities Design a special document, "The Macao Health Declaration Code" in this form you will need to answer a series of questions upon arrival about COVID-19 symptoms, patient contact, and travel history within the last 14 days. All Australian citizens entering Macao will need to declare their health condition. Luckily, you can do it online with iVisa. The process is simple and reliable.
DO AUSTRALIA PASSPORT HOLDERS NEED A VISA TO ENTER MACAO DURING CORONAVIRUS?
They do not. Australians citizens are allowed to visit Macao during the COVID-19 pandemic without the need for a tourist visa. You will need a visa if you plan to stay for over 30 days, or if you plan to study or work in Macao.
WHAT IS A MACAO HEALTH CODE?
It's an official document Created by The Macao SAR Government officially launched to stem the spread of COVID-19 in the community. You must declare your health condition in this form and your travel history of the last 14 days before your trip. Once you truthfully declare your health condition, the authorities will analyze your information and issue a Health Code with a color. Australians with the green color will be allowed to enter Macao without quarantining while citizens with the red Code won't be allowed to enter the country. Do not worry, to simplify the process iVisa has designed a simple form for you to travel safely with no inconveniences. Click here to start the process with us.
HOW CAN AUSTRALIANS GET A HEALTH DECLARATION TO ENTER MACAO?
Thinking of our customers, iVisa decided to simplify this system so Australians can get a health declaration 100% digitally from the comfort of their home desktops or even at the airport via mobile phone. Through our expert review, we will take care of what's next and ultimately provide you with the Health Declaration as a QR code that will be sent to your email. This way, you will simply have to show it to the authorities once you arrive at the port of entry. Get your health declaration with iVisa here.
HOW DOES IVISA'S APPLICATION PROCESS TO OBTAIN MY HEALTH MACAO CODE WORK?
iVisa simplifies any travel process including this process, you just need to follow three simple steps to obtain your document with us. Here they are:
First you need to apply Here and complete the form by answering some questions. Do not worry you just need to provide your basic info and indicate your actual health condition. Also, you will need to select a time of processing. In iVisa we provide three options, choose the one of your preference.
Second In this step you need to double-check the information you provided to us. Keep in mind that once you submit the application form any modification can't be done. In case you need assistance while filling the form just contact us we are available 24/7. Once you completed the form you just need to proceed with the payment. It is also online you can do it with a credit or a debit card, also PayPal is accepted.
Third upload your passport scan and any document required if it's necessary. After that just submit your form we will do the rest, once it is issued by the Macao Government we will send it to you by email. As simple as that.
WHAT DOCUMENTS DO AUSTRALIAN CITIZENS NEED TO ENTER MACAO DURING CORONAVIRUS?
Australian citizens will need a passport that's valid for one month past their intended period of stay to get stamped in and out at the beginning and end of their trip. Sufficient funds to support their visit without having to work, evidence of return transportation, and a Health Declaration upon arrival. You can also request a digital Health Declaration with iVisa.
WHAT ARE THE PROCESSING TIMES AND PRICES?
iVisa designed three different processing times that vary the final price. Here you have the options, select the one of your preference:
Standard: USD 20.00 - 3 days.

Rush: USD 30.00 - 2 days.

Super Rush: USD 55.00 - 24 hours.
HOW LONG CAN AUSTRALIANS STAY IN THE MACAO SAR GOVERNMENT DURING COVID-19 PANDEMIC?
Australian passport holders can enter Macao during coronavirus as a visitor without a visa for a maximum period of 30 days.
HOW SAFE IS IVISA' SERVICE TO OBTAIN MY MACAO HEALTH CODE?
We have the best professionals and also we have high technology that makes it easy to protect the personal data of our customers in the best way. Applying with us is totally safe, do not worry about insecurity, any information will be leaked. You can read what our clients' comments about us here.
WHERE CAN I FIND MORE INFORMATION ABOUT THIS HEALTH CODE?
If you have more doubts or require extra information just click here and contact one of our agents, we are available 24/7. You can contact us by chat, phone, or our email: help@ivisa.com.
Now that you understand that you need a health declaration to travel to Macao during the COVID-19 pandemic, get your Macao Health Code with iVisa from the comfort of your home today. Declaring your health at the airport could be complex and a bit confusing, but with iVisa, the process is simple, fast, and reliable.