If you're traveling to Macao you should know that in order for you to be allowed entry to the country, you must truthfully declare your health condition at the moment of arrival.
This is because the Macao Sar Government has come up with a way to stop the spread of the novel coronavirus in their community. This system is called The Macao Health Code and it serves as a method of health declaration upon arrival.
Once you get to the airport and declare your health condition, the Macao authorities will thoroughly examine the information you provide and issue a QR health code with a color. There are three different colors you can get. Green, yellow or red.
Depending on which color you get, you will be allowed or denied to enter the Macao Sar Government. The good news is you can also process a digital health declaration with iVisa before your trip, the process is simple, fast, and reliable. Click here to request your Macao Health Code.
So, if you need to visit Macao soon, continue reading so you can fully understand what Macao Health Code's green, yellow and red colors each means.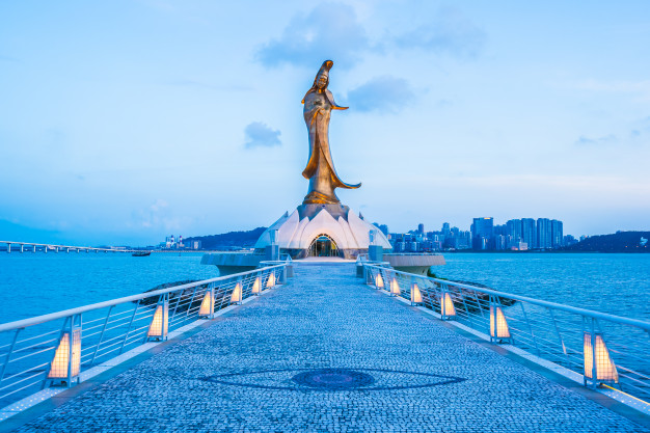 FREQUENTLY ASKED QUESTIONS (FAQs)
WHAT IS THE MACAO HEALTH CODE?
The Macao Health Code is the official document created by Macao to curb the spread of coronavirus in their community. In order to enter the Macao Sar Government, you will need to disclose your health condition and your travel history, which means you will need to state the places you've been in the past 14 days. Next, the Macau authorities will provide you with a green, yellow, or red QR code color which will let you know if you can enter the country or not. To make this process simpler, iVisa created a fast and secure method for you to process your digital health declaration prior to your trip. This way, you will only have to show it to Macao authorities once you arrive at the airport. Click here to process your Macau Health Code through iVisa today.
WHAT DOES THE GREEN COLOR OF THE MACAO HEALTH CODE MEAN?
Green means that the individual is not a formerly or currently confirmed or suspected coronavirus case. If you get the green color, it means you are allowed to enter Macao without having to quarantine.
WHAT DOES THE YELLOW HEALTH CODE MEAN?
Yellow is provided to any person who indicates that he or she has been in contact with confirmed COVID-19 patients, or someone who indicates that he or she has come down with a fever, cough, sore throat, and/or shortness of breath. If you're given the yellow QR health code, then you will have to quarantine as indicated by the Macao Health Authorities, check your temperature at least twice a day, and try to avoid crowded places.
WHAT DOES THE RED MACAO HEALTH CODE MEAN?
The red QR code is given to a certain or presumed coronavirus case, or to a person that has been in close contact with confirmed COVID-19 patients, including people who confirm in the health declaration that they have in fact been in unsafe contact with a confirmed coronavirus case within the past 14 days. The red Macao Health Code color is also provided to a person who registers that within the past 14 days he or she has traveled to countries whose visit requires quarantine and medical observation. Red also implies that the person is banned from accessing public administration premises, casinos, and other private facilities like banks.
Visitants whose color code is red will be denied entry to Macau whereas residents will be directly transferred to the public hospitals for medical examinations and possible hospitalization.
HOW IS THE APPLICATION PROCESS TO GET A MACAO HEALTH CODE DIGITALLY WITH IVISA?
First you will apply here and complete a form answering just a few questions. We will only require basic information and ask you to indicate your health condition. Then, you will choose the processing time that best accommodates your travel needs.
Second you'll need to double-check your information. Remember that once you submit the application form no changes can be made. In case you need help while filling your application just contact us at any moment. We are available 24/7. After you've filled out the form, you will proceed with the payment. You can do it via Paypal or with your credit or debit cards.
Third you will upload your passport scan and any other document that is required. Then, just send your form and we'll help you with the rest. Once your document is issued by the Macao Sar Government, we will send the QR health code to your email so you can show it to the authorities when you arrive.
WHAT ARE THE PROCESSING TIMES AND CHARGES?
We have three different processing times that alter the final price. These are the options for you to select the one you like best:
Standard: USD 20.00 - 3 days

Rush: USD 30.00 - 2 days

Super Rush: USD 55.00 - 24 hours
WHERE CAN I READ MORE INFORMATION ABOUT THE MACAU HEALTH CODE?
If you need further information, please click here to reach one of our agents. We are available 24/7 by chat, phone or by emailing help@ivisa.com
Now that you know what each of the three QR codes of The Macao Health Code means, you can request yours with iVisa from the comfort of your own home here. Our expert team will review your application quickly and issue your code without you having to spend unnecessary time at the airport. We understand that this process might be a bit nerve-racking and confusing if performed directly in Macao, that's why you can process yours 100% online with iVisa today. Our platform is extremely secure, quick, and trustworthy.