Lithuanian nationals are allowed to enter Malawi as long as they have the appropriate visa documents. Normally, many citizens go to an embassy or consulate to get a visa. But travelers can now get into Malawi by applying for a visa online. This e-Visa program was designed to inspire more travel to Malawi by making it easier to get there.
The application process for an e-Visa is easier than having to go to the consulate or embassy. We will send your e-Visa to your email address, and you will be able to print it out if you prefer. It is the exact same as a standard visa.

The Malawi e-Visa Process | Frequently Asked Questions
e-Visa Prices with Processing
The final cost for applying for a visa online is based on your processing speed selection:
Standard: With Standard Processing and your visa cost, the total will be

USD 77.00

.
Rush: With Rush Processing and your visa cost, the total will be

USD 102.00

.
Super Rush: With Super Rush Processing and your visa cost, the total will be

USD 127.00

.
When will my visa expire?
As an Lithuanian citizen, you will have up to 90 days after issued to take advantage of your visa before it ceases to be valid.
What is the Malawi visa? Why do I need it?
The Malawi e-Visa allows you to enter Malawi legally. Your e-Visa will be electronically attached to your passport as well.
Choosing a Processing Speed for Your Application
We offer three different processing speeds. Choose one based on how fast you want your e-Visa.
Standard Processing normally takes about

8 days

to approve your application.
Rush Processing takes around

7 days

to approve your visa application.
Super Rush Processing normally takes about

5 days

to approve the online application form for travel documents.
e-Visa Travel Allowance Per Visa
The maximum stay with this specific visa is 30 days Per Entry.
What does the e-Visa for Malawi look like?
Your e-Visa contains your personal information, your travel information, a QR code for scanning at the Malawi border, and a bar code for security.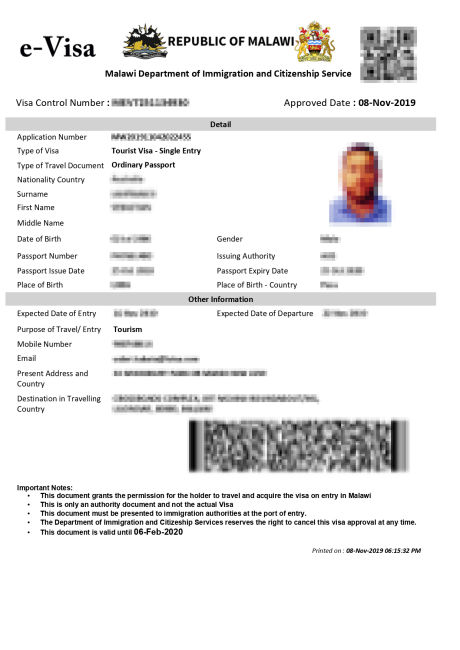 Application Information Needed and What to Have for Entry into Malawi
You will need to have the following ready to apply for an e-Visa:
Passport Personal Details Scan - 6 months of validity from your entry date for your trip and a detailed bio page scan from your passport for application.
Applicant Photo - Please, have a passport photo ready to submit for your visa.
Vaccination Certificate (if applicable) - You must show a Yellow Fever Vaccination Certificate to Malawi officials if you have been in a country with a high risk of getting yellow fever.
Proof of Accommodation - Show you have a place to stay while in Malawi.
Entry Class for the Visa
The e-Visa for Malawi is a Single Entry visa.
Single-entry visa means you can enter one time. If you exit, you will need another visa to get back into Malawi.
Simple e-Visa Process for Malawi | Citizens of Lithuania
Those from Lithuania will be happy to have an online source for Malawi e-Visas. Whether for business or travel, be sure to have your visa documents ready for your trip.
iVisa can help. Chat with one of our specialists if you have any issues with the online application form for Malawi e-Visas.
Safe travel.