Malawi is sometimes referred to as the Warm Heart of Africa due to the kindness of Malawi residents to strangers. Citizens of the Solomon Islands are welcome to explore the diverse culture of Malawi as long as they have a visa.
Getting a visa used to require going to a consulate or embassy. Now, many countries, including Malawi, have released an e-Visa programs where foreign nationals can get a visa online that works as a standard visa to travel.

The Malawi e-Visa Process | Frequently Asked Questions
How will my e-Visa look?
Your e-Visa contains your personal information, your travel information, a QR code for scanning at the Malawi border, and a bar code for security. See below sample: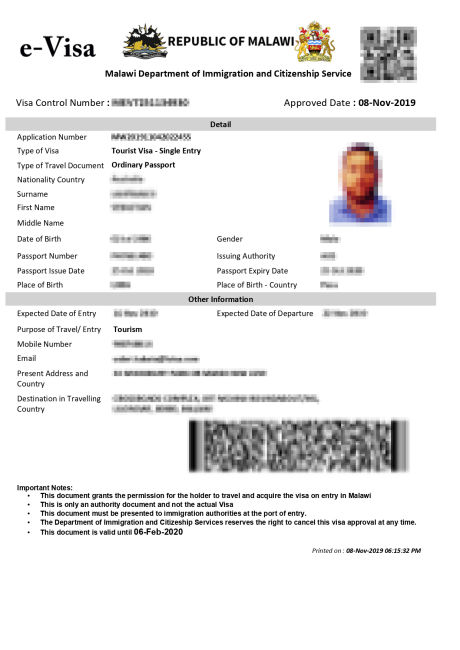 Max Days Allowed to Stay as a Foreign Traveler to Malawi
You will have a maximum of 30 days Per Entry to explore or do business in Malawi.
What do I need to apply?
You will need to have the following ready to apply for an e-Visa:
Passport Personal Details Scan - 6 months of validity from your entry date for your trip and a detail bio page scan from your passport for application.
Applicant Photo - Please, have a passport photo ready to submit for your visa.
Vaccination Certificate (if applicable) - You must show a Yellow Fever Vaccination Certificate to Malawi officials if you have been in a country with a high risk of getting yellow fever.
Proof of Accommodation - Show you have a place to stay while in Malawi.
Payment Method - We accept PayPal and major credit cards like Visa and Mastercard.
What are the entry allotments for this visa?
The e-Visa for Malawi is a Single Entry visa.
Single entry visas mean you can enter one time. If you exit, you will need another visa to get back to Malawi.
Malawi's e-Visa Program - The Cost
The total cost for applying for a visa online changes based on your processing speed selection:
Standard: With Standard Processing and your visa cost, the total is

USD 77.00

.
Rush: With Rush Processing and your visa cost, the total is

USD 102.00

.
Super Rush: With Super Rush Processing and your visa cost, the total is

USD 127.00

.
How long do I have to use my visa once it is issued?
As a citizen of the Solomon Islands, you will have up to 90 days after issued to take advantage of your visa before it ceases to be valid.
The Malawi e-Visa: Why You Need One
The Malawi e-Visa allows you to enter Malawi legally. Without one, a Solomon Islander will not be able to get to Malawi's ports of entry.
Your Choice: Three Processing Speeds
We offer three different visa application processing speeds. Select one based on how fast you want your e-Visa.
Standard Processing takes about

8 days

to approve your application.
Rush Processing takes around

7 days

to approve your visa application.
Super Rush Processing takes about

5 days

to approve the online application form for travel documents.
Simple e-Visa Process for Malawi | Citizens of the Solomon Islands
Getting to Malawi is now easier than ever. If you are from the Solomon Islands, you now have access to an online system that is designed to make the visa application process as simple and secure as possible.
iVisa prides itself in helping thousands of others like you reach their destination. Obtaining a visa online saves our clients a lot of time and effort.
Let us do the same for you.