The Malawi Department of Immigration and Citizenship initiated an online visa program in November 2019. Residents from more than 200 countries, including Turks and Caicos Islands have access to the Malawi e-Visa process. The e-Visa allows users to utilize any smart device to store and display their legal visa to customs officials and airport personnel, to streamline travel and eliminate problems like unwanted trips to the consulate or embassy for a lost paper visa. When you are approved, we'll send you a digital version of your Malawi e-Visa for use on your holiday to Malawi.

This is a revolutionary and modern way to save time when planning your trip to Malawi. Getting your e-Visa for Malawi is an incredibly easy and secure process that should take less than an hour to complete.
Questions & Answers | The Malawi e-Visa
What is the Malawi e-Visa?
The Malawi e-Visa allows you to enter Malawi legally, just as with a paper visa. The e-Visa is electronically linked to your personal passport, making travel easier than ever.
How long will it take to get a Malawi e-Visa? Can I get one quickly?
We offer three options for your convenience, based upon your personal needs:
Standard Processing takes about

8 days

to approve your application.
Rush Processing takes approximately

7 days

to approve your visa application.
Super Rush Processingtakes only about

5 days

to approve the online application form for travel documents.
What will the e-Visa cost me?
The total price of applying for a visa online is based on your processing speed selection. Expedited methods of processing are available, for an additional charge, for those who have the need to obtain a visa quickly:
Standard: With Standard Processing and your visa cost, the total is

USD 77.00

.
Rush: With Rush Processing and your visa cost, the total is

USD 102.00

.
Super Rush: With Super Rush Processing and your visa cost, the total is

USD 127.00

.
How many entries into Malawi do I have available to me with my e-Visa?
The e-Visa for Malawi is a Single Entry visa.
When will my e-Visa expire?
As a citizen of Turks and Caicos Islands, you will have 90 days after issued to use your visa before it is no longer valid.
What is the maximum amount of time I can stay in Malawi with a visa?
Every visa has a limit on how long you can stay in a foreign country. Make sure to plan your trip accordingly so you leave before your last day.
The maximum stay with this specific visa is 30 days Per Entry.
Should I print a paper copy of my visa, just in case?
Although your e-Visa eliminates the need for a paper visa, it's wise to carry a paper printout of your visa with you during travel days, in case you have any kind of technical issues with your smart device (dead battery at an inopportune time, for instance) or experience loss or stolen device while traveling.
Which documents do I need in order to apply for the visa and enter Malawi?
You will need to have the following items ready to apply for an e-Visa:
Applicant Photo - Please have a suitable passport photo-ready when applying. Check your country's specifications regarding passport photos if you aren't sure what your picture should look like. Passport photos can easily be obtained from online vendors, from the federal agency where you obtained your passport, as well as where you go to develop camera film or get digital prints of photos.
Passport Personal Details Scan - The bio page of your passport will need to be scanned and submitted with your application. Your passport must be valid for at least six months after the date you plan to arrive in Malawi for your vacation.
Proof of Accommodation - Where are you staying during your trip? Have a reservation page or letter from your friend or family host.
*Vaccination Certificate (if applicable)** - Have you ever traveled to a country that has a risk of yellow fever? If so, you need to obtain proof of your vaccination against yellow fever before applying for a visa to enter Malawi. Contact the practitioner, clinic or hospital who administered your vaccine if you need to obtain a copy of your vaccination records.
What will my completed e-Visa look like, and what information will it contain?
Your e-Visa has a QR (scannable) barcode that can be scanned upon entry into Malawi by customs officials. It also contains your personal information, including your travel information. Below is a sample of e-Visa: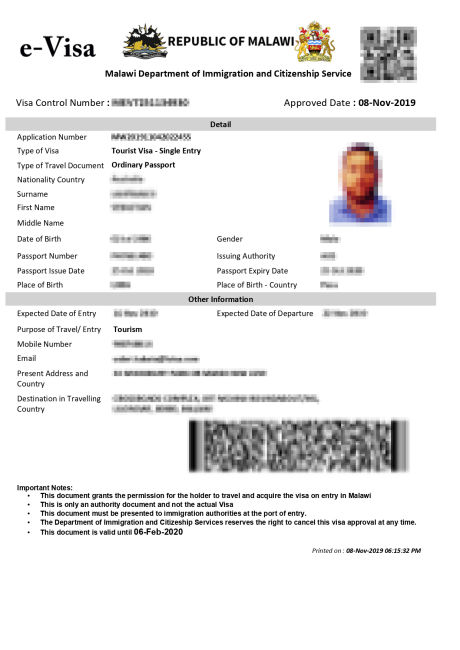 Fast and Easy e-Visa Process for Malawi | Citizens of Turks and Caicos Islands
When planning your trip to Malawi, there is no need to make a cumbersome and tedious journey to the embassy or consulate to retrieve your travel visa. By electronically filling out an e-Visa application online, getting your legal Malawi travel visa has never been easier. The e-Visa has been designed to work on any smart device, such as your laptop, tablet, or smartphone, eliminating the need to carry extraneous paperwork when you navigate the airport and in your travels around Malawi.
Can we answer any questions you might have? Click on the chat bubble in the lower right corner of the page if we can assist you with any concerns or questions regarding obtaining your Malawi e-Visa.