If you are planning a vacation trip to Malaysia, you may have heard about something called an ENTRI. It is a document that grants visitors entry into Malaysia. However, an ENTRI is not meant for everyone, and you need to meet a series of requirements to be able to apply for one. Below, you will find all the conditions.

Frequently Asked Questions (FAQs)
How do I know if I require a visa to enter Malaysia?
All will depend on the nationality. Unfortunately, only Indian and Chinese citizens qualify for an ENTRI. Hong Kong SAR citizens and Macao SAR citizens are also excluded. If you are from another nationality, you need to check and see what your status is. You may be visa-exempt or qualify for a Malaysia eVisa.
For that purpose, you can use iVisa's Visa Checker. This feature is located on iVisa's homepage. First select your nationality in the box on the left, and put Malaysia in the box on the right. If you qualify for any type of electronic visa, we can help you apply.
What does Malaysia ENTRI signifies?
The ENTRI, also known as ''Electronic Travel Registration and Information," is part of a program of visa exception that helps some nationalities, as Indian and Chinese, to obtain it and enter Malaysia for a short period of time. When people hear the word ENTRI they associated with a visa. This is understandable because the process is similar: you need to apply before arriving in Malaysia, obtain the ENTRI, and then show the registration document to the Immigration Officer to enter Malaysia.
For how much time can I use the ENTRI?
Once you obtain the ENTRI, you will have 90 days after issued. With the eNTRI you will have a Single Entry to the country with a max staying of 15 days in Total.
Which documents do I need to present for the online application?
We require the following to submit your application:
Applicant Photo

Passport Personal Details Scan

Proof of Residence (if applicable)

Airline Confirmation

Return Ticket (if applicable)

Proof of Accommodation

Cover Letter (if applicable)
Please note: Additional documents can be required from the Government of Malaysia. This will depend on individual situations. If that happens to your application, we will contact you by email to inform you about it.
Does it take too much time to obtain the ENTRI?
iVisa offers three options for them:
Standard processing (24 hours) - USD 72.49.

Rush processing (4 hours) - USD 124.49.

Super Rush processing (1 hour) - USD 158.49.
Click here to start your application.
How does the Malaysia eNTRI Visa work?
Applicants for the Malaysia eNTRI will receive their visas via email, after filling the application form with the necessary information and once the online payment is completed. The document must be presented upon arrival in Malaysia.
How long does it take to apply for a Malaysia eNTRI Visa?
The application for a Malaysia eNTRI Visa is really easy and should take you less than 10 minutes.
How does the online application form work?
It has only three easy steps:
It is focused on personal information, means of travel, and processing time. As for the latter, you need to choose a processing timeframe for your application.
Then you have to make the payment and review your form so that it does not contain any mistakes. A simple error such as a typo can invalidate your ENTRI.
This last step is reserved for supporting documents. You will be asked to upload them and finally, you just need to click the submit button.
Do not waste more time and apply here. If you need extra support, then you can call our support service 24/7.
Can I apply for family and friends?
If you wish to travel with friends or family, then you can apply for them as long as they obviously have the same requirements asked before. Remember that this is important in order to proceed properly with their tourist cards. In case of just adding one person, then you can do it only selecting 'Add new applicant' in the application form and complete it with their information.
Does the eVisa to Malaysia guarantee entry into the country?
NO. The approval of the Malaysian eVisa does not guarantee the applicant the right to enter Malaysia. It will be determined by the sole discretion of a Malaysia Immigration Officer at point of entry into Malaysia.
How does the Malaysia eNTRI Visa look like?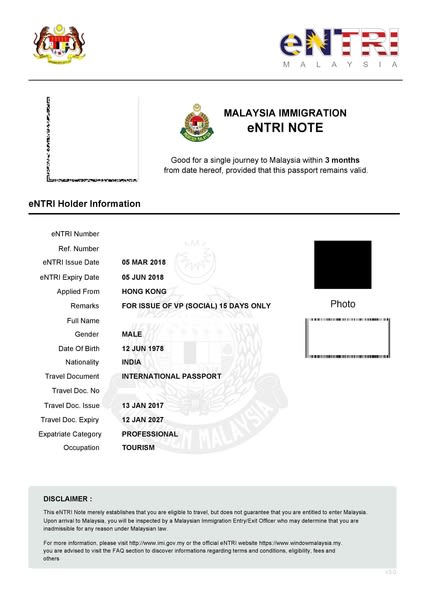 What can I do if I make a mistake in my application?
Please contact us as soon as you can via online chat to assist you.
IMPORTANT NOTE: If we already submitted your application with the Government of Malaysia, we can not make any change on your form. Keep in mind that your passport number is electronically linked to your application and the only way to change any information is making a new form and paying again for the document (the service fee will not be pay again.)
Is it safe to use iVisa to get my Malaysia eVisa?
Of course, it is! Our company always seeks the welfare and safety of our customers. For this reason, we have special data that allows us to protect your personal information from being exposed to the Internet. In addition, we have a list of positive comments that we receive from our customers on our iVisa website. To receive more information about it, please click here.
I have more unresolved questions, where can I find more info?
Still having some doubts? Do not worry! You can easily contact our customer center here to receive personalized attention.