The Maldives is one of the prettiest countries to visit in the world, and it is considered a natural paradise for its beautiful landscapes. If you plan to go there for your future vacation, you will need to fulfill some health requirements for a safe trip. That is why iVisa.com will explain to you about the Maldives Vaccination Requirements: Do I need a vaccine to travel to the Maldives?
You might also need to get other travel documents to visit and stay in the country (even if it is short). If you do not know which ones you will need and how you can get them quickly, we recommend using iVisa.com. Our fantastic team will help you with the paperwork while you only complete our application form.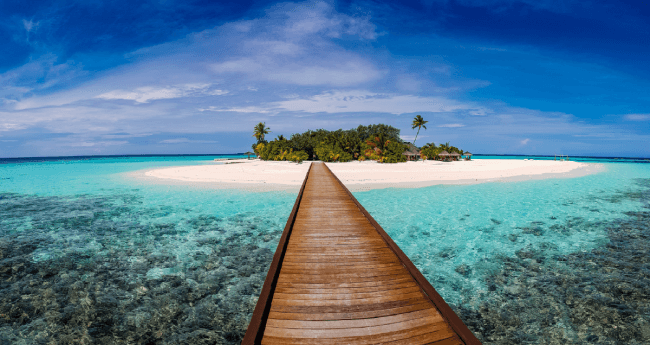 Keep reading and learn more about the Maldives Vaccination Requirements: Do I need a vaccine to travel to the Maldives?
How can I obtain my travel documents with iVisa.com's services?
It's very easy to apply with iVisa.com! You only have to complete the list of steps below:
Fill out the application request form and pick a processing speed.
Make sure the information is correct and pay for the document's fee.
Add the necessary items to the request form to finish the process.
After clicking on 'submit', you'll only have to wait for your travel papers via email inbox and that's all!
Frequently Asked Questions
Do I need a vaccine to travel to the Maldives?
Depending on where you are coming from, you might not need to get some vaccines to enter the Maldives. All visitors may need the Yellow Fever vaccine. However, if you want to get the other ones that are optional for your safety during your visit, you should contact your doctor first. We prepared the following list of vaccines so that you can take them into account.
Measles.
Diphtheria-Tetanus-Pertussis.
Influenza.
Varicella.
Mumps.
Rubella.
Polio.
Hepatitis A.
Typhoid.
As you can see, they are not mandatory, but you should consider them while planning to visit the Maldives. If you want to go there and do not know what other conditions you will need to fulfill to enter the country, we recommend keeping reading.
Apply with iVisa.com to get your documents in the simplest way possible.
Do I need a COVID vaccine or vaccination certificate to enter Maldives?
No, you don't. As of today, COVID vaccination passports or certificates are not a mandatory to enter Maldives. Since information may change quickly, we advise you to follow up on the latest Maldives travel updates and/or contact your local embassy.
Do I have to stay in quarantine once in Maldives?
No, tourists do not need to quarantine on arrival.
Do I need a coronavirus test to get the Maldives Health Declaration?
No, you don't. However, to enter the country all travelers must have a negative PCR test issued no more than 96 hours prior to departure. For travelers to India, the PCR test needs to be issued no more than 72 hours prior to departure. Infants aged less than one year old are exempted from the testing requirement.
What other documents do I need to visit the Maldives?
If you want to visit the Maldives and do not know which documents you will need, we suggest using the iVisa.com visa checker tool to verify it. You will also have the opportunity to use iVisa.com to get your required documents easily by completing the application form.
Keep in mind that most of the time we ask travelers to have the following items:
A passport that shouldn't be expired.
An email address to obtain the travel documents safely.
Means of payment, including Paypal accounts and debit/credit cards.
Get started here and do not overthink getting your documents.
Can you speed up my process if I have an urgency?
Yes, we can do that! But remember that the faster you want your document, the more you have to pay. Besides, the prices vary depending on the type of document and your country of origin. Here's the list of processing options for the Maldives Health Declaration Form:
Standard Processing Option:

24 hours

-

USD 20.00

Rush Processing Option:

8 hours

-

USD 20.00

Super Rush Processing Option:

4 hours

-

USD 20.00
Why should I trust iVisa.com?
There are tons of reasons why you should use iVisa.com. We have one of the most secure platforms that will protect your information at all costs, so you don't have to worry about it. On the other hand, it is an alternative for those looking for the simplest way to get their travel documents, and our experts will help you with most of the paperwork. That is why our satisfied clients recommend our services as you can see in the reviews section.
Do not think twice and apply right now!.
I still have some questions; how can I solve them?
If you still have unresolved inquiries about the Maldives Vaccination Requirements: Do I need a vaccine to travel to the Maldives? Do not worry because you can reach out to our support agents ready to clarify all you need to know about it. We also suggest you read more about the Maldives and other travel documents on the iVisa.com website, where you will find articles explaining more about it.
Start right now with iVisa.com and let us help you to achieve your biggest dreams!
iVisa.com Recommends
There are thousands of things to do in the Maldives, and it is the best place to visit, no matter if you want to relax or start a new adventure. If you still don't know where to go, and you want to create your must-visit list, don't worry! We will recommend a couple of places that you shouldn't miss for your future vacations.
Would you like to spend time in a remote place to enjoy contact with nature and relax on the beach? If that's the case, you should go to Addu Atoll. It is one of the calmest places to stay. Here you won't be around the noise of the big cities, but the tropical silence from the island. It is the perfect place to go if you want to avoid the typical stress from work.
If you want to know more about their culture, do not hesitate to visit Malé, the capital city. Here you will find traditional mosques to market places. Speaking about the mosque, we forgot to mention that it was built with coral stones found in the sea.
There are even more places that you should consider. That's why you should use iVisa.com because we will help you to achieve your biggest dreams.