The Maldives is a paradise destination for many travelers, especially for a relaxing summer vacation. Even tho, despite being a location without many demands to travel, the Health Declaration is still something necessary to enter its territory. The good thing is that everything you need to get the Maldives 14 day quarantine requirement can be easily found in the information of this article.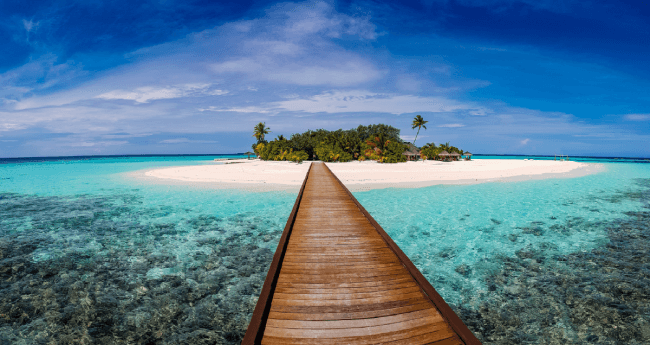 The first thing you should know is that you can only get this document with an online application. You can carry out this process with iVisa.com, a third-party company that offers you a fast and reliable service for traveling requirements that are not easy to obtain by official means. Rest assured that with the iVisa.com system you won't spend more than 20 minutes of your day completing a series of steps.
In this article, we'll gradually explain to you what are the necessary steps to be able to apply for the Maldives Health Statement.
Frequently Asked Questions about the Maldives Health Declaration
Why do I need a Health Declaration?
The Health Declaration is the official name for the Maldives 14 day quarantine requirement, and you need this document to preserve your health and also to avoid the spread of the COVID-19 virus in the country. If you don't take this document with you when traveling, you could find issues at the airport, and the Immigration officers could even deny your entry.
Due to the current COVID-19 Pandemic, many countries have been working hard to provide travel authorizations that allow them to have better control over the entry of tourists. That's why you can now apply for the Health Declaration in some nations like the Maldives.
What documents do I need to apply for the Maldives Health Declaration?
A great advantage of this travel requirement is that you don't need to go to an embassy to apply, you can do the process online without having to collect a lot of documents. Remember that the most important Maldives 14 day quarantine requirement is your valid passport. Here's the rest:
Copy of your passport information page
Valid email address: it's necessary to have an email address to receive the document and the QR code.
Payment options: this process isn't free, but the fees aren't expensive and you can pay for them with a Paypal account or a debit/credit card.
Do I need a COVID vaccine or vaccination certificate to enter Maldives?
No, you don't. As of today, COVID vaccination passports or certificates are not a mandatory to enter Maldives. Since information may change quickly, we advise you to follow up on the latest Maldives travel updates and/or contact your local embassy.
Do I have to stay in quarantine once in Maldives?
No, tourists do not need to quarantine on arrival.
Do I need a coronavirus test to get the Maldives Health Declaration?
No, you don't. However, to enter the country all travelers must have a negative PCR test issued no more than 96 hours prior to departure. For travelers to India, the PCR test needs to be issued no more than 72 hours prior to departure. Infants aged less than one year old are exempted from the testing requirement.
How much does it cost the Maldives Health Declaration?
It's not possible to have precise information about the price of this document by now, especially because it doesn't work through an official government website. Still, you can rest easy knowing that iVisa.com has 3 options with different prices that vary according to your needs.
These prices are not official, but they can be useful to give you an idea of ​​the stipulated rate.
Standard Procedure: With a price of USD 20.00, your document will be ready in 24 hours.

Rush Procedure: This time, the waiting is 8 hours for a price of USD 35.00.

Super Rush Procedure: It has a price of USD 60.00 because it's the fastest option, you'll only wait 4 hours.
How is the application process to apply for the Maldives Health Declaration?
There are only 3 easy steps to follow to get your Maldives Health Declaration. These are the steps:
First, read all the information about the initial questionnaire and fill it in with your details. Then, choose the processing time you prefer.
Second, double-check and verify your information (the one you gave in the step one) and pay for iVisa.com's fee.
Third, attach the scanned copy of your passport and click on the submit button to send the application form.
Don't forget to always read carefully all the information and double-check the spelling. If you make any mistake and send the online form, it might be difficult for us to help you because this process is fast and automated.
Once you receive your Health Declaration, you'll also obtain a QR code via email.
How will I get the Health Declaration?
As you read above, there's an important QR code among the Health Declaration. We suggest you to download this QR code on your phone so it can be a lot easier for you to enter the Maldives. As soon as you arrive at the airport, the Immigration officers will inspect your documentation, so they'll ask you for the QR Code with the Health Declaration. Once this code is verified through the official checkout system, you'll be ready to enter the nation. Just keep in mind that you have to follow up on the 14-day quarantine as well.
I'm traveling with my kids, do they need Health Declarations as well?
Kids also need Health Declarations. This requirement is necessary for any foreign traveler, regardless of the age the traveler has. However, if you have any questions or doubt about it, you can contact us here, we'll be happy to help you.
Is it safe to apply with iVisa.com?
Yes, it's totally safe to use iVisa.com's service if you want to receive your quarantine requirement. We understand that this helpful tool works as an important option for you, and more when you want to avoid difficult processes. Therefore, we count on a modern system and trustworthy software that permits you to obtain a high-quality result for a nice price. You can check out our reviews here if you want to read more information.
Where can I find more info about the Maldives 14 day quarantine requirement?
Remember that if you still have doubts in mind, you can contact our customer service to receive personal assistance, or you can check out more information on iVisa.com's website.
Don't lose the chance to enjoy the beauties in the Maldives and apply for your Health Declaration today! This way, you won't need to worry about special conditions related to the COVID-19 while planning your dream adventure that should be an exciting pleasure.