Malta may not be the most popular destination in Europe, but it's a country that you could fall in love with, especially for its ancient architecture and beautiful coastline. To enter this country, it's necessary to obtain a Malta Travel Declaration because it is the main requirement while the COVID-19 pandemic lasts.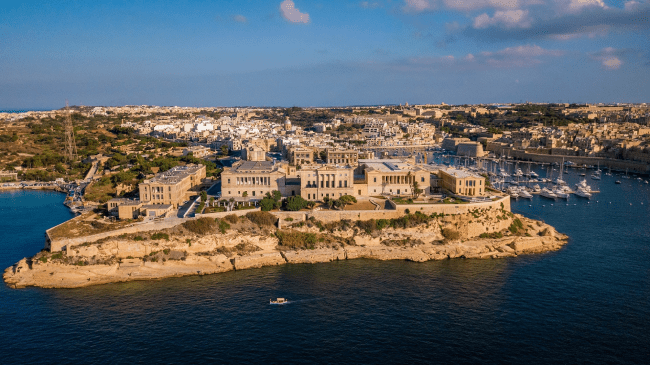 In this article, you'll find valuable information that will teach you how the citizens of France Can Enter Malta During Coronavirus. The FAQs below will inform you about the requirements, the processing options, and even all the steps you have to complete to obtain the document via email inbox.
The best benefit of the Malta Travel Declaration is that you can easily get it with an online application form. You should know that iVisa.com offers an excellent platform to apply online because you don't need to spend too much time answering questions. All you have to do to apply with iVisa.com is to find an electronic device with a WiFi connection and nothing else!
Frequently Asked Questions / FAQs
Do I need a COVID vaccine or vaccination certificate to enter Malta?
Yes, Malta has been taking steps to restore travel within its borders. In order to enter Malta, you'll need to display your COVID vaccine passport or vaccination certificate.
Approved vaccines are Pfizer, AstraZeneca, Moderna, Janssen.
The current list of COVID-19 vaccination certificates recognized by the Superintendent of Public Health are:
The Official Maltese vaccination certificate 
The EU Digital COVID vaccination certificate, issued by EU, EEA and non-EU countries connected to the EUDCC ​gateway, Turkey, Ukraine and Vatican City.
The United Kingdom NHS Coronavirus Vaccination Certificate
The UAE Al Hosn vaccine certificate
The UAE vaccine certificate issued by the Dubai Health Authorities with a readable QR Code
The Turkish vaccine certificate of full course of vaccination.
The United States CDC COVID-19 Vaccination Record Card
The Serbian "Digital Green Certificate" with a readable QR Code 
The Gibraltar, Jersey and Guernsey  vaccination certificate
The Covid 19 vaccination certificate issued by the Ministry of Public Health, Doha, Qatar
The Albanian Digital Covid Certificate // Certifikate dixhitale shqiptare COVID
The Australian COVID-19 Digital Certificate
The Arab Republic of Egypt COVID-19 vaccine certificate
The Lebanese COVID-19 vaccination record card
The Canadian COVID-19 Provincial Immunisation Records
The Ministry of Health, Singapore Vaccination Certificate
The State of Kuwait Ministry of Health SARS-COV-2 Vaccination Certificate​
The Saudi Arabia vaccine certificate
The Malaysian -Covid 19 Digital certificate
The Republic of Rwanda – covid19 vaccination certificate
EU Digital COVID Recovery Certificates are not accepted.
What is the Malta Travel Declaration and why should I apply for it?
Due to the crisis that COVID-19 brought, some countries decided to launch special requirements so that the travelers can enter them without risking anyone's health. Malta is no exception, which is why the head of Public Health for Malta stated that any foreign citizen wishing to enter this territory, would have to apply for the Malta Travel Declaration.
This declaration works as an online travel authorization that allows you to enter the country while the COVID-19 lasts. This document is mandatory for all foreign travelers, including France, which is a visa-free country.
Documents like the Malta Travel Declaration are important because they allow immigration officers to have better control of the entry of tourists in the territory.
Please keep in mind that this document is also necessary for Maltese citizens that are returning home after traveling abroad for several months.
What are the country risk categories?
Red Countries: Albania, Andorra, Argentina, Armenia, Australia, Austria, ​​​Azerbaijan, Bahrain, Belarus, Belize, ​Belgium, ​Bermuda​, Bhutan, Bulgaria, Canada, Cayman Islands, Chile, Cape Verde​, China (including Taiwan, Macau and Hong Kong), Colombia, Croatia​, Cuba, Cyprus, Czechia, Denmark, Djibouti, Equatorial Guinea, Estonia, Falkland Islands, Faroe Islands, Fiji, Finland, France, Gabon, Georgia, Germany, Gibraltar, Greece, Hungary, Iceland, Indonesia, India, Iran, Ireland, ​Iraq​, Israel, Jamaica, Italy, Japan, Jordan, Kosovo, Laos, Kuwait, Latvia, Lebanon, Libya, Liechtenstein, Lithuania, Luxembourg, Malaysia, Mauritania, Maldives​, Moldova, Monaco, ​Morocco, Myanmar, Namibia​, Netherlands, New Zealand, North Macedonia, Norway, Oman, Panama, Poland, Portugal, Qatar, Romania, Russia, Rwanda, Saint Kitts and Nevis​, Sao Tome and Principe, San Marino, Saudi Arabia, Singapore, Slovakia, Slovenia, South Africa, South Korea, Spain, Sweden, Switzerland, Timor, Trinidad and Tobago​, Tunisia, Turkey, United Arab Emirates, United Kingdom, Uruguay, United States of America​, Vatican City, Vietnam

Dark Red Countries: Afghanistan, Algeria, Angola, Anguilla, Antarctica, Antigua and Barbuda, Aruba, Bahamas, Bangladesh, Barbados, Benin, Bolivia, Bonaire, Bosnia and Herzegovina, Sint Eustatius and Saba, Botswana, Bouvet Island, Brazil, British Virgin Islands, Brunei, Brunei Darussalam, Burkina Faso, Burundi, Cambodia, Cameroon, Central African Republic, Chad, Comoros, Congo, Cook Islands, Costa Rica, Cote d'Ivoire, Curacao, Democratic Republic of Congo, Dominican Republic, Dominica, Ecuador, El Salvador, Eritrea, Eswatini, Ethiopia, French Guiana, Gambia, Ghana, Grenada, Guatemala, Guadeloupe, Guinea, Guinea-Bissau, Guyana, Haiti, Honduras, Ivory Coast, Kazakhstan​, Kenya, Kiribati, Kyrgyzstan, Lesotho, Liberia, Madagascar, Malawi, Mali, Martinique, Mayotte, Marshall Islands, Mauritius, Mayotte, Mexico, Mongolia​, Micronesia, Montenegro​, Montserrat, Mozambique, Nauru, Nepal, New Caledonia, Nicaragua, Niger, Nigeria, Niue, Norfolk Island, Northern Cyprus, Pakistan, Papua New Guinea, Paraguay, Peru, Philippines, Pitcairn, Reunion, Saint Barts, Saint Lucia, Saint Maartin, Saint Pierre and Miquelon, Saint Vincent and the Grenadines, Samoa, Serbia, Senegal, Seychelles, Sierra Leone, Sint Maarten, Solomon Islands, Somalia, South Sudan, Sri Lanka, Sudan, Suriname, Syria, Tajikistan, Tanzania, Thailand, Timor-Leste, Togo, Tonga, Turkmenistan, Turks and Caicos Islands, Tuvalu, Ukraine, Uganda, United States minor outlying Islands, Uzbekistan, Vanuatu, Venezuela, Virgin Islands (British), Wallis and Futuna, Western Sahara, Yemen, Zambia, Zimbabwe
Do the citizens of France need a Travel Declaration to enter Malta?
Yes, citizens of France need a Travel Declaration to visit Malta. France may be a country that doesn't need a visa to enter Malta, but even so, it's still necessary to obtain a Travel Declaration.
The Minister for Public Health in Malta recently stated that anyone wishing to enter Malta would have to apply for the Travel Declaration before arriving at the airport. There are no exceptions to this rule.
It might be necessary to obtain other documents if you're a foreign citizen currently living in France and wishing to enter Malta. If that's your case, then we recommend you to use Visa Checker Tool to verify what documents you could need. Just remember to choose your country of origin and leave 'Malta' as the destination in the upper menu.
What are the requirements to apply?
iVisa.com's online form is uncomplicated and it's a real time saver. But like any other online process, it requires a short list of documents to apply successfully.
First of all, you have to take the COVID-19 test before applying. It is important to state on the Travel Declaration Form that you didn't get positive results with this test.
The rest of the documents required are easier, especially if you use iVisa.com's form, you'll just have to get:
Your passport with 6-months of validity minimum.
Your email address where you'll obtain the travel declaration.
Your credit/debit card or your PayPal account for payments.
One last thing you should remember is that providing false information on the declaration will be considered a criminal act, so be careful with your personal details, and don't forget to take the COVID-19 test. Do not give false test results.
Do I have to quarantine when I get to Malta?
Red country quarantine requirements: 14 days
Red country quarantine exemption: Fully vaccinated travelers
Dark red country quarantine requirements: 14 days
Dark red country quarantine exemption: There are no exemptions
What are the processing options and prices with iVisa.com?
Something great about applying with iVisa.com's form is that you can select one of the following processing times and avoid wasting time. Each option mentioned below has a different price depending on how quickly you want to obtain the document.
To make it simple, think that if you want your declaration as fast as possible, then you'll have to pay a higher price. Also, take note that these prices include the Government's fee.
Standard Procedure Time (

24 hours

): This option is the cheapest (

USD 20.00

), but also the slowest.
Rush Procedure Time (

8 hours

): This option has a higher price (

USD 35.00

), and also quicker processing time.
Super Rush Procedure Time (

4 hours

): This alternative allows you to get your document as fast as possible by paying the most expensive price (

USD 60.00

).
How can I apply with iVisa.com?
When you use iVisa.com's service you get a lot of benefits because you can receive your document fast by simply completing these steps:
First, add your basic information to the application form and select the processing time according to how fast you want to get your travel declaration.
Second, check that the information you gave before is well-written and continue to the payment part carefully
Third, add the documents iVisa.com requests to finish the 3-step process.
After that, you can click on the 'submit' button and receive your confirmation email immediately! Click here if you want to apply.
Reach out to iVisa.com's customer service center if you want personal assistance.
How much time do I need to apply for my Malta Travel Declaration?
Filling in this online form is possible in only 20 minutes. In fact, you can be ready in less time if you feel comfortable while answering the questions because they're not difficult. Just remember that there's no rush, take all the time you want.
Is it safe to use iVisa.com's online form?
When using services like this one, it's ok to feel a little bit unsure about safety. That's why we always emphasize that you don't have to worry about that with us because you can obtain the Malta Travel Declaration with a reliable system. iVisa.com has a top-notch security system that won't put your personal details in danger.
Our customers are the most important part of our company, therefore, we have received thousands of good reviews on this link, because we always work hard for them!
I still have other questions about this document, where can I get more info?
Since the Malta Travel Declaration is a new travel requirement, there might be more information to publish in the following days. Nevertheless, you can contact our customer service if you have questions about it. You can also get other useful tips and recommendations on iVisa.com's blog.