Malta is a charming destination located in the Mediterranean Sea. Its great tourist attraction is characterized by breathtaking landscapes, architectural wealth, historical monuments, and an immense variety of nautical activities such as diving.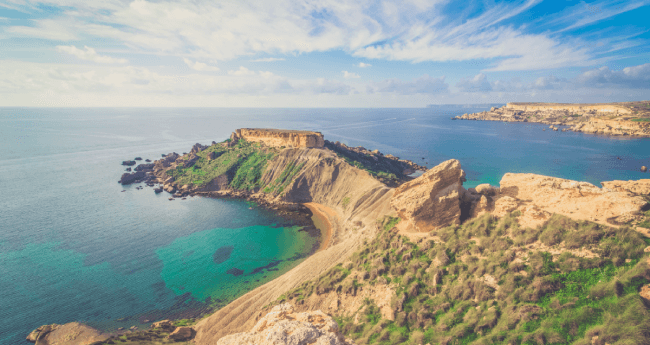 Around 2.6 million tourists visit Malta yearly. English is one of the main languages, which facilitates communication in this splendid place. Valletta is the capital of Malta, and it is a must-see. In this peninsula, travelers can taste delicious typical dishes, such as lampuki pie (fish pie), bragoli (beef olives), and the dessert Cannoli.
In this article, we will show you how to apply for an ETIAS visa waiver to travel to Malta, if you are a citizen from Brazil.
Frequently Asked Questions
What is the ETIAS program?
The term ETIAS Visa can be misleading as it is not really a visa but rather an authorization to enter Schengen Area without a visa. Its acronym corresponds to the European Travel Information and Authorization System and is a program created by the European Union (28 sovereign nations) that evaluates travelers prior to their entry to Europe, to guarantee safety in this destination. On July 5, 2018, The European Parliament gave its final agreement to this system.
Eu-LISA agency is responsible for corroborating the traveler's information with the databases of Europol, Interpol, the Schengen Information System, Eurodac, and the Visa Information System.
Will there be an ETIAS authorization needed to enter Malta from Brazil?
Yes. An ETIAS will become a mandatory entry requirement for non-EU citizens going to Malta for tourism, business, or transit purposes, and it will work as a form of electronic travel authorization from late 2022.
Is it easy to visit other ETIAS countries from Malta?
Yes. Citizens from Brazil will be able to visit other ETIAS countries such as Italy, directly from Malta. The border-free policy of the Schengen Area makes it easy.
How difficult will be the registration on ETIAS?
Registering with the European Travel Information and Authorization System will be quick and hassle-free. You only need to submit a valid travel document and it will not take more than ten minutes to complete.
You can do the application online and complete it days before you travel. Once the ETIAS visa exemption is granted, it will be valid for three years, during which time you can enter the Schengen Area multiple times from Brazil.
How long can visitors with an ETIAS authorization stay in Malta?
Tourists and business people can enjoy up to 90 days in Malta.
Do I need medical insurance for Malta?
Citizens from Brazil must not need to show that they have insurance. However, medical insurance is recommended so that you can enjoy your trip with the tranquility that you are protected against any eventuality that may affect your health or physical integrity.
What is the ETIAS registration form?
The ETIAS Europe application system will allow the European Union to determine the eligibility of citizens of visa waiver countries or countries eligible for ETIAS, such as Brazil. At the time of application, travelers will have to complete an ETIAS registration form prior to entering Europe. The information you submit will be analyzed to determine if your entry to the Schengen Area involves security, health, or immigration risks. You can contact us if you have any doubts about this procedure.
If your application is rejected, do not worry. You will receive a request to submit additional documentation, and you will have 96 hours to provide it. Within four weeks, the national authority of the respective Schengen member country will communicate the decision.
How do I submit my ETIAS?
We know it is tedious to fill out questionnaires, so iVisa.com makes the process easy with a few simple steps. In addition, we have 24/7 attention for you.
First, fill out your application form here. Then, choose the processing time that is most helpful for your travel needs.
Second, please double-check the information you've sent by verifying it's correct. Now, you can complete the online payment through Paypal or with your valid credit or debit card.
Third, upload your passport scan or any other documents if it's required. To wrap up, please deliver the online form by hitting the "submit" button.
What are the processing times and fees?
We are the best option because we guarantee simplicity and agility in the process, the convenience of doing it 100% online, and without confusing instructions. Our team of immigration experts will be in charge of reviewing your documents and clear any doubts so that you put stress aside and focus on enjoying yourself.
Standard Processing Option: with this standard option, you will get the document in an affordable way.
Rush Processing Option: in a hurry? you will get your ETIAS as fast as possible, but there will be a higher cost.
Super Rush Processing Option: this option allows you to receive your document asap. Is the most expensive alternative but worth it.
What documents do I need to provide you to process my ETIAS?
You will start to process your Etias through iVisa.com's reliable platform only by providing these documents:
Scan of your valid passport: this is important because this is how we have access to your details and contact information.
Valid Email Address: you will receive in your inbox the electronic visa. Our expert team needs a valid email address to make sure that you receive it.
Method of Payment: The options are Paypal, valid credit or debit card.
Start now your online application for the ETIAS Visa!